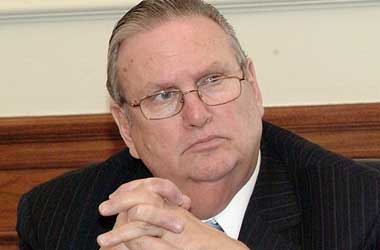 A lawmaker in the state of New Jersey is exploring alternate methods through which slot machines could be introduced to the state's racetracks without having to go through a public referendum.
Assemblyman Ralph Caputo has indicated that he is likely to amend two bills he had introduced in January to allow video lottery machines (VLTs), which are essentially slot machines, to be installed in state's racetracks such as the Monmouth Park in Oceanport and Meadowlands in East Rutherford.
The bill would make use of superficial differences in definition of slots versus VLTs to avoid having to go to the state's voters to approve the measure. An already-existing ballot question on the expansion of casinos in the state is facing defeat according to recent polls conducted in the state, making Caputo cautious of going to voters for approving future bills. The referendum to be held in November is seeking approval to amend the state constitution to allow casinos outside the current gambling hub of Atlantic City.
Caputo is planning to amend his bills to take advantage of a 1982 opinion given by Irwin Kimmelman the then-state Attorney General who had stated that VLTs do not require an amendment to the state constitution. With these two bills, Caputo hopes to set aside a ruling made in 1983 by Republican Gov. Tom Kean that prohibited the state lottery from allowing video lottery machines. The Attorney-General's office is yet to comment on Caputo's measure.
This is not the first time this method is being adopted to bypass the requirement of public approval. A 2003 proposal to introduce slot machines in racetracks ended with the state requiring Atlantic City casinos to pay the horse racing industry a compensatory amount of $30 million a year to keep the slots out. Gov. Chris Christie ended this payment system in 2011, redirecting the money to the Atlantic City Alliance, a group that promoted the resort city as a tourist destination throughout the country.
New Jersey's horse racing industry has been keen to introduce slot machines to their facilities in order to compete effectively with racinos in neighboring states of Pennsylvania and New York. Caputo's bills will allow for a faster and cheaper expansion of gambling in the state.
Rather than developing casinos, it will just need installation of slot machines inside existing buildings. Income generated by the machines will be used to pay prize winnings, cover expenses incurred by state towards administrating them and fund the horse racing industry through supplementing track purses.