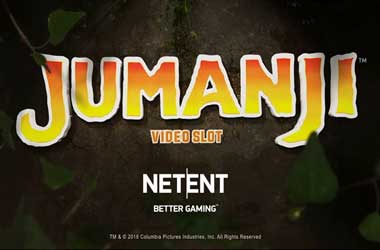 Sony Pictures Entertainment has collaborated with the Swedish online casino games developer NetEnt in order to launch the new Jumanji video slot game.
NetEnt reached an agreement with Sony Pictures Consumer Products and obtained a license to develop and launch its new video slot machine game that's based on the 1995 American fantasy adventure film Jumanji starring the late Robin Williams, Bonnie Hunt and Kirsten Dunst.
The 1995 film had a production budget of $65 million and was well received worldwide.
It grossed $100 million domestically and brought in $162 million from foreign markets. The new video Jumanji video slot machine game is expected to be released a little later this year. The timing of the release is spot on as a new Jumanji movie called Jumanji: Welcome to the Jungle released towards the end of 2017 and is currently being shown in theatres worldwide. Both Jumanji films are based on a 1981 children's book called Jumanji which was authored by Chris Van Allsburg.
Jumanji: Welcome to the Jungle stars Dwayne 'The Rock' Johnson, Kevin Hart, Karen Gillan, Jack Black and is directed by Jake Kasdan. The 2017 film had a production budget of $90 million and has so far grossed $316 million domestically and $450 million from foreign markets.
NetEnt is looking to capitalize on the popularity of the new Jumanji movie and is confident that its new slot machine game will be well received. NetEnt Chief Product Officer Henrik Fagerlund is confident that the slot machine game will have cross-generational appeal and will be successful like both Jumanji movies.
In a statement, Fagerlund said
Being able to secure a deal for another high-profile title showcases the moves we're making in diversifying our roster of games. The original Jumanji movie, which debuted in 1995, remains a movie-goer favourite and continues to demonstrate its cross-generational appeal more than 20 years later! Also, with the recent release of the new film, the Jumanji brand is more popular than ever. We're excited for the game launch in 2018
NetEnt is one of the leading online casino game developers and over the years has released a number of high profile games including Planet of the Apes, Guns N' Roses and Motörhead Video slots. NetEnt expects the new Jumanji game to be yet another success in its long list of themed slot games.