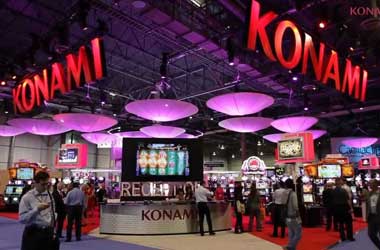 Konami Gaming, a subsidiary of Japanese based Konami Holding Corp recently installed its new Frogger-themed slot machines in a few casinos as a part of a test run.
The game Frogger is a video arcade cult-classic from the 1980s and has been licensed from its sister company Konami Digital Entertainment.
This new type of slot is part of the company's experiment to expand into Las Vegas and reach out to the new generation of casino gamblers.
In a statement Steve Sutherland, Konami Gaming's chief operating officer and executive vice president said
To grow, we need to find a way to address the future gamer. The gaming replacement segment we have been designing for doesn't necessarily play the games their parents and grandparents played. What Konami is doing, is we're looking at is how do we appeal to that next generation of players, and Konami as well as all of the competitors will get there.
Konami has been licensed to operate in Nevada since 2000 and is currently placed fourth in the list of slot manufacturers, shipping between 10 to 14 percent of slot machines. The company's penetration in North America ranges from 7 to 20 percent of a casino floor. In Las Vegas however, those numbers drop and fall between 7 to 10 percent.
Sutherland said that the company performed best in America's regional markets and in Native American casinos. The company started with outlying markets such as California and the Midwest since it was the easiest way to enter the market.
Sutherland stated that the key to being more successful in the Las Vegas market was additional research and development. The company has recently constructed a $65 million headquarters in Las Vegas meant for its 500 employees, the majority of whom are engineers from all parts of the world including Silicon Valley.
According to Konami the company designs slot machines that suit visitors who go to local casinos like a Station or Boyd. Sutherland said that games from competitors are more entertaining and take in a lot more bonus rounds. His company focuses more on the gambling aspect.
Its top five games are Dragon's Law, China Shores, Rapid Revolver Northern Treasure, Lotus Land and China Mystery. Tom Jingoli, chief administrative officer and senior vice president said that the company kept away from licensing games since it proved to be too expensive preferring to build its own product line.
Sutherland said that although skill-based slots might be seen as the future for Las Vegas slots, it may not appeal to all and casinos need to decide on the amount of advantage play they want. He however noted that millennials liked having a social component to games which could be an opportunity for gaming companies.