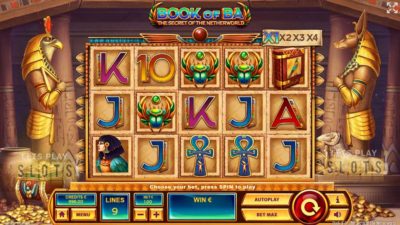 Tom Horn Gaming is adding another slot to the list of Egyptian themed slots. The latest release is known as "Book Of Ba: The Secret Of The Netherworld". If the name sounds familiar, it should be. The game is another Book of Ra clone for slot game lovers who are crazy about this series!
Players will start this game as soon as they are dropped into the netherworld. Players will be trying to escape this dark realm by claiming the Book of Ba, which will return them to life and provide them with riches.
Anyone who has played Egyptian-themed slots will know the themes and symbols.
This slot has the basic five reels and three rows set-up, with the pillars of an Egyptian palace as the background. Egyptian gods are also visible on both sides.
The game has nine paylines and is very volatile. Players should be looking to score some of the fancier symbols that include the recognizable Cleopatra, Eye of Ra, Ankh and Scarab. There are also the card royals but they don't pay much.
The game's RTP is at 96 percent so players will have a good chance at winning, when they keep spinning!
Fun Features
The game interface is rather simple and has two special options. Players can trigger the Autoplay option so that they don't always have to spin the reels manually. They can also set their wagers to the maximum with Bet Max.
As for gameplay, the game has Tom Horn Gambling's classic Shatter Mode. This is triggered when players get a winning combination. During each win, players get a multiplier for their next win. The maximum is 4x. Besides that, each consecutive win adds both the original bet that started the shatter mode and the current bet.
The game also two special symbols. There are the Wilds that allow easier combinations. There are also scatters that give free spins when players score three of them. Players can get 10 free spins if they do so. Players can keep on getting free spins if they are lucky. The game also has Special Expanding Symbols. Players can randomly get the Book of Ba bonus and see symbols expand across the grid to make it easier to win.
Though the Egyptian theme can get a bit boring at times, there are enough special features to keep players engaged! Do give it a try when it arrives at your online casino!