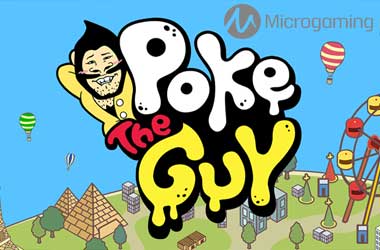 Microgaming which is one of the oldest and most popular online casino game developers in the world recently announced the launch of a new online slot title called 'Poke The Guy'. The company which is based out of Isle of Man is looking to bring a unique slot theme to the market in an effort to give online slot lovers something new to play.
The guy in question in 'Poke The Guy' happens to be a silly-looking character dressed in an onesie and the game is packed with some very funny animation and graphics.
The initial impression of the game is that it breaks the mold and delivers a unique gaming experience. The main thing that people first notice is that though this is advertised as a slot game, this is not one of your traditional slot games.
The goal of the game is to literally "poke" the guy. Players will be doing this as the background map features a wide variety of impressive landmarks. This includes the Sphinx, the Pyramids, and more. The players are trying to do this to save these landmarks from whatever weird thing the guy is doing.
Players have a choice of weapons by which they can poke the guy. The arsenal includes a butcher knife, a rubber ruck, a tree and a piranha. All of these are thrown at the target via a super slingshot that crackles with electricity.
Microgaming
How The Game Works
The game itself is pretty simple to follow and play. Players will have a chance to place a bet. This can range from €0.05 to €30. Each bet has a particular weapon assigned to it. Once selected, players then have a chance to hit the guy with the spin button. There's no aiming or anything. Just pick a weapon and launch. It won't be easy though since the target is nimble and will keep on stomping on landmarks until he is stopped.
If the player's chose weapon hits the guy in the face, they get a random multiplier. The range for the multiplier starts from 2x and starts doubling from there until 18x. The top prize though is 500x.
Though announced as a slots game, many think that this is more like a scratch card game. People just need to select a bet. There are no bonus games and free spins for players in "Poke The Guy". Players will soon be able to enjoy these games on multiple Microgaming and Quickfire operators.