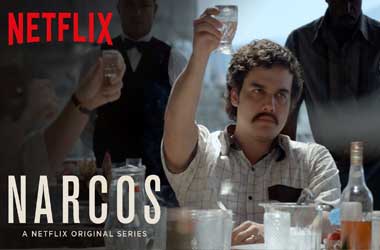 Fans of the crime show Narcos will appreciate the latest piece of news coming from this year's ICE 2018. NetEnt has announced that they have entered into a deal with Gaumont International Television that will give them the license to develop an online slot game that revolves around the popular crime web TV show called Narcos.
Narcos is an Emmy and Golden Globe-nominated series and has a massive following all over the world. The show has completed three seasons already and Narcos fans are eagerly waiting for season four to be released.
The TV show first debuted in 2015 and detailed the rise of the Colombian drug cartels. The first two seasons covered the rise and fall of drug lord Pablo Escobar. The third season focused on the Cali Cartel after the death of Escobar and many fans are excited to see what the upcoming season has to offer.
Netflix
With all the excitement surrounding the fourth season release, NetEnt picked the right time to announce the release of a licensed slot game revolving around Narcos. NetEnt is no stranger to working with such movie themed online slot games. The Sweden-based developer has developed popular online movie themed slot games such as Jumanji and Planet of the Apes.
NetEnt Official
In a statement, Henrik Fagerlund, Chief Product Officer for NetEnt said
We're continuing to push boundaries with our branded games and Narcos is certainly one of our biggest deals to date. The series became an overnight sensation with a huge fan base all over the world and it gives us yet another demographic who can have fun playing our games.
NetEnt is one of the biggest online casino game developers in the market and has a massive portfolio of successful online slot games. The company has been in the business of developing online casino games for close to two decades now. They have over 200 games in their portfolio and each of them delivers a unique experience.
Gaumont International Television which developed Narcos was thrilled to be working with NetEnt. Tim Stephen, who is the head of legal and business affairs for Gaumont said the company trusted NetEnt to develop an online slot game that would thrill Narcos fans all over the world. This new online slot game would give millions of fans yet another opportunity to interact with their favorite characters and follow a new Narcos plot which will be played out via the slot.