Looking for slot games to play this Christmas while drinking mulled wine? You'd like to see what are the classics you can not miss and would like to play some new releases as well?
12 of The Best Xmas Slots To Play Right Now
We're bringing you the 12 best Christmas slots to enjoy in the 12th month of the year.
Secrets of Christmas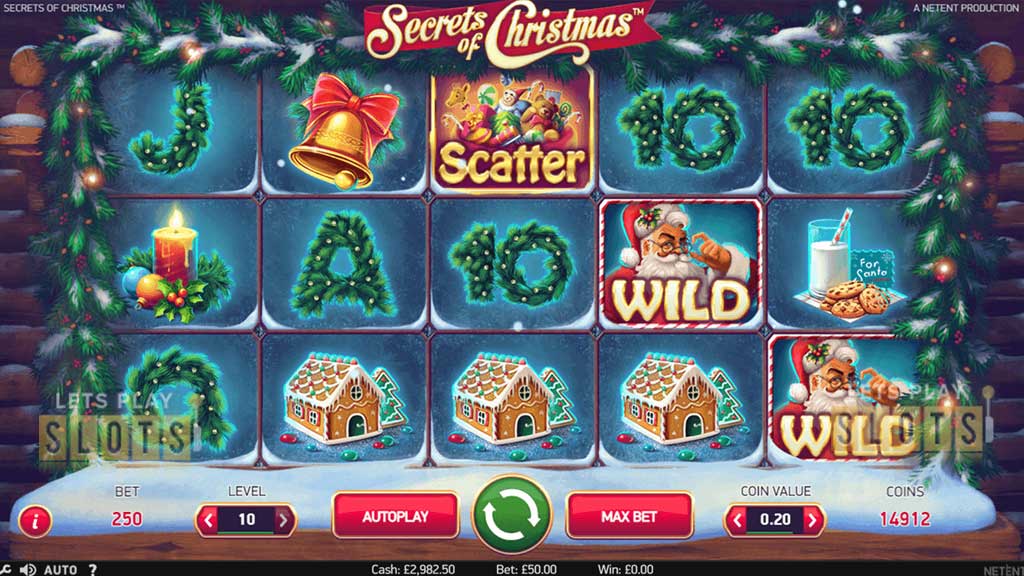 Secrets of Christmas is a NetEnt slot game that was released in time for Christmas 2016, and it remains one of the most popular Christmas slots. This one has excellent graphics few slots can match, and a very good bonus game in which you get to pick presents that sit under a tree. The game is so much fun to play but it also offers a chance of a good payout, as you can win up to 350,000 coins in this game.
There is no doubt many players will be choosing this one this year as their go-to Christmas slot machine because of low variance, fun and easy gameplay, and a chance to win big. As this is a NetEnt slot, it means it is limited to regulated markets and if you aren't in one then you'll have to choose one of the slots by other developers.
The Elf Wars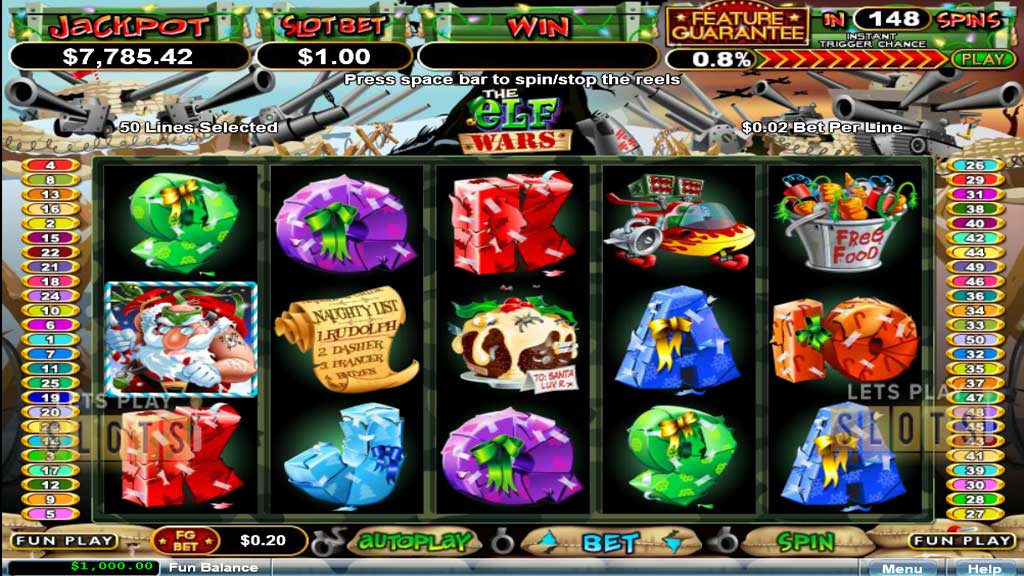 The Elf Wars is an older Realtime Gaming title but it remains popular because Americans can play it, as well as pretty much everyone else. This slot game has a ridiculous theme in which Elves actually go to war against one another, and there are toy guns, dynamite, even tanks. This is an over the top kind of game in which there's constant action, and there are plenty of bonus rounds and a bonus wheel. If you want a crazy Christmas experience with lots of action, then this is the slot game for you.
It also has tons of features, free spins, even jackpot spins in which you can win the progressive jackpot. When it comes to payout and a chance to win big, The Elf Wars is the best slot game on this list. You will get to spin the Jackpot Wheel and even if you don't win the progressive jackpot you'll win a good cash prize. Also, this is a feature guarantee slot game that will give you a bonus feature if you go 150 spins without triggering one.
Secret Santa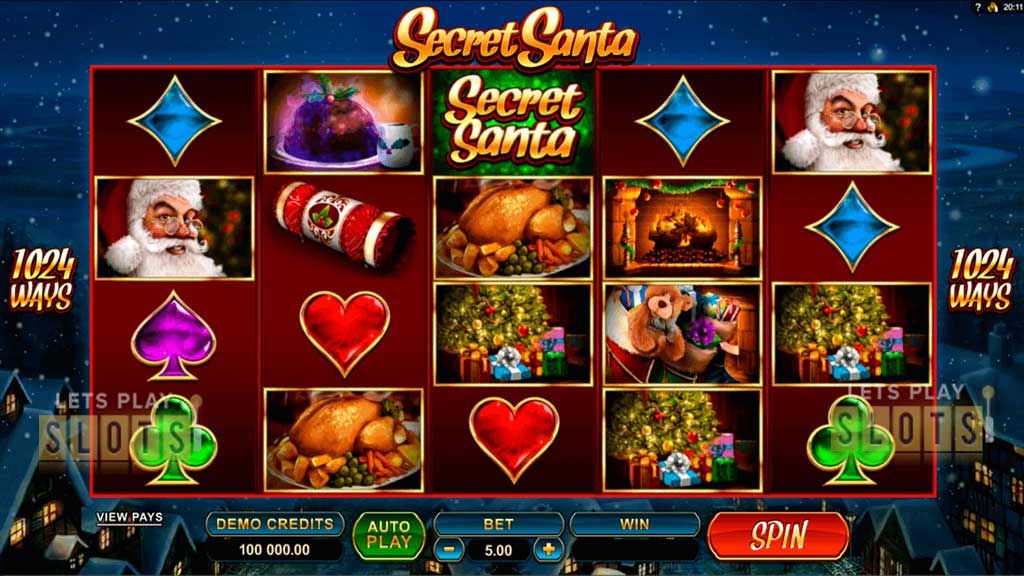 Secret Santa is one of the best Christmas slots ever made, and it was released in 2013. The slot game features 1024 ways to win on a 5×3 board, and it has excellent graphics you won't be able to get enough of.
A really superb theme makes this probably the most pleasant festive slot game. Secret Santa bonus is randomly triggered and you'll get some wild reels, wild boost, free spins, mystery multiplier, dashing wilds, scatter spree or rolling wilds. There's no shortage of bonus features with this slot game, and it's a title you should definitely play.
A Christmas Carol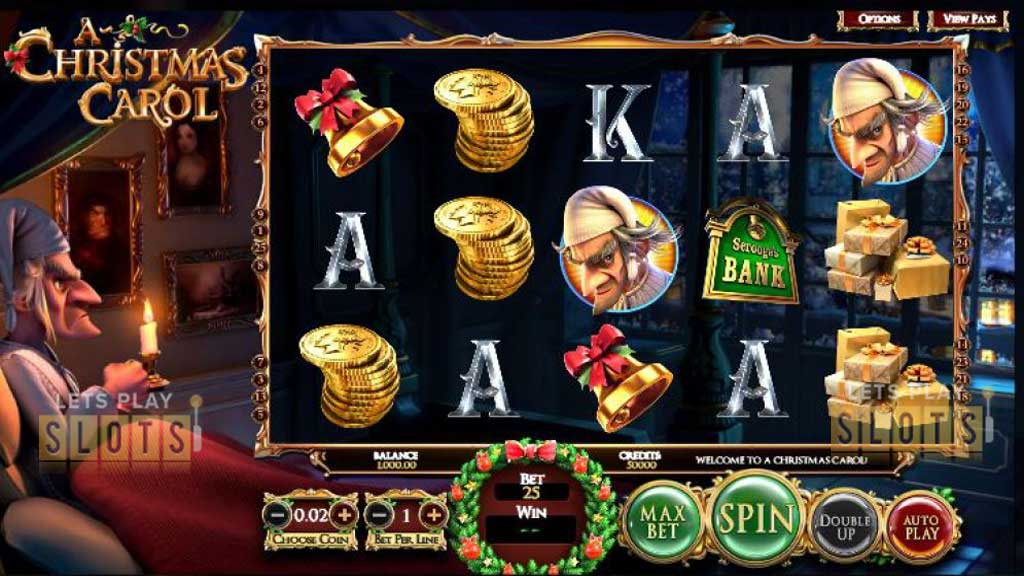 A Christmas Carol is one of the most visually stunning slots ever made, and since it's by Betsoft, USA players can play it. This is a dreamy slot game in which ghosts of past, present and future will join your reels and bring prizes and horror.
Perhaps most importantly, this slot game can pay well as the bonus features are very rewarding. This isn't your usual Christmas game with presents, reindeer, Santa and the usual stuff, and precisely because of that it's arguably one of the best Christmas slot games ever made.
Snowmania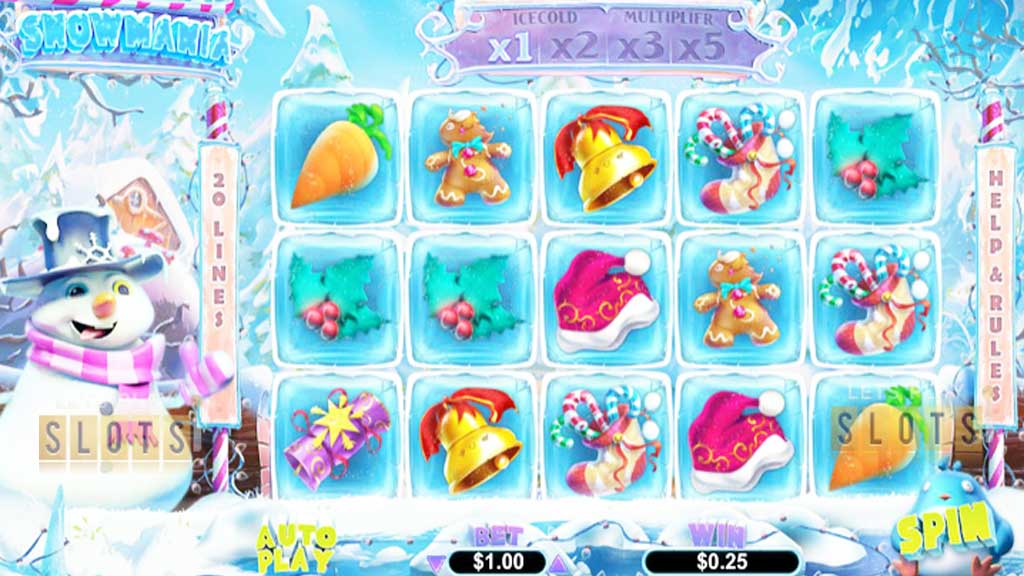 Snowmania is an action-packed fun game that's simple to play, and it was released by Realtime Gaming in time for Christmas 2016. Snowmania is a special little slot game as it has medium variance yet it feels like it's paying well all the time, so you'll definitely enjoy playing this one. This game has win multipliers that can go up to x15 during the free spins game, so there's a good chance you might make some money playing Snowmania.
The Naughty List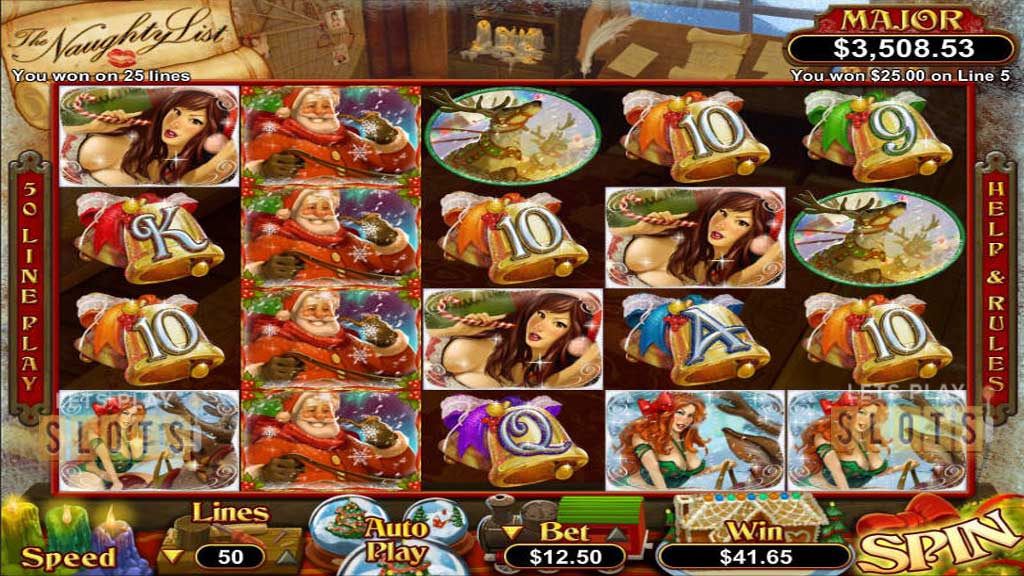 The Naughty List is probably one of the most recognizable and most played Christmas slots ever made. It's a Realtime Gaming release from 2014, and the game is just so good that it should be played all year long. Everything about it is balanced. The game has medium variance so it's easy to play, yet it's capable of paying big, and all that is wrapped in a very warm and friendly theme that will appeal to most men.
This is an excellent slot game and probably one of the best Christmas slots of all time, just make sure you find a casino in which the payout is set to high, as this game's RTP is configurable by the casino.
The Nice List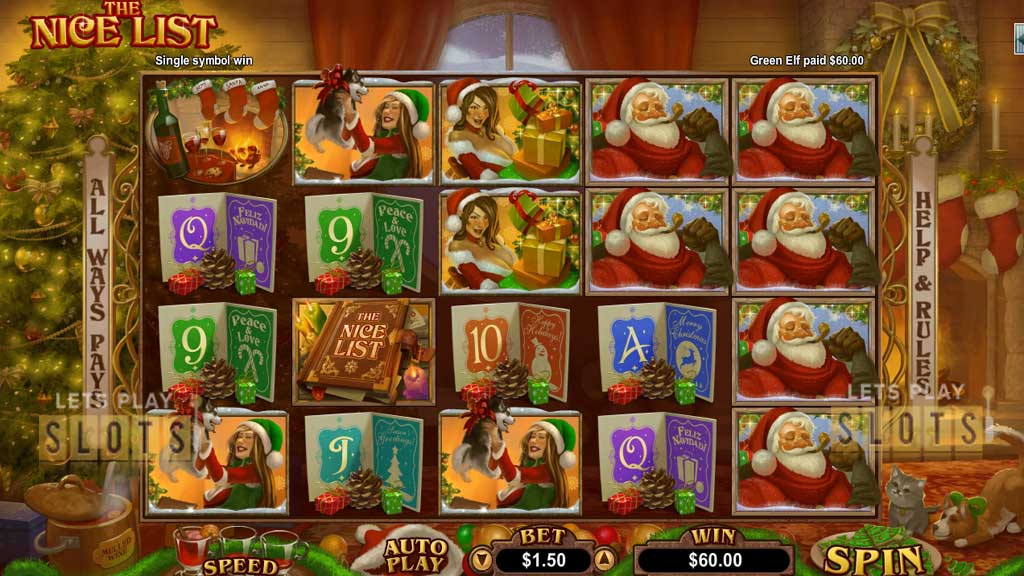 The Nice List came out a year after The Naughty List, in 2015, and it features improved graphics, 1024 paylines, and improved gameplay. The main three characters are still here, looking better than ever, and most players choose to play this title over the original because the game is more fun.
Theoretical payout is a bit reduced but that doesn't take away anything from this fantastic slot game by Realtime Gaming. Just like The Naughty List, this game has three different payout settings so it's important to choose a casino that has this game set up at high payout, which is 97.50% RTP. This is a quality slot game that will again be one of the most popular titles played this Christmas as well.
Rudolph's Revenge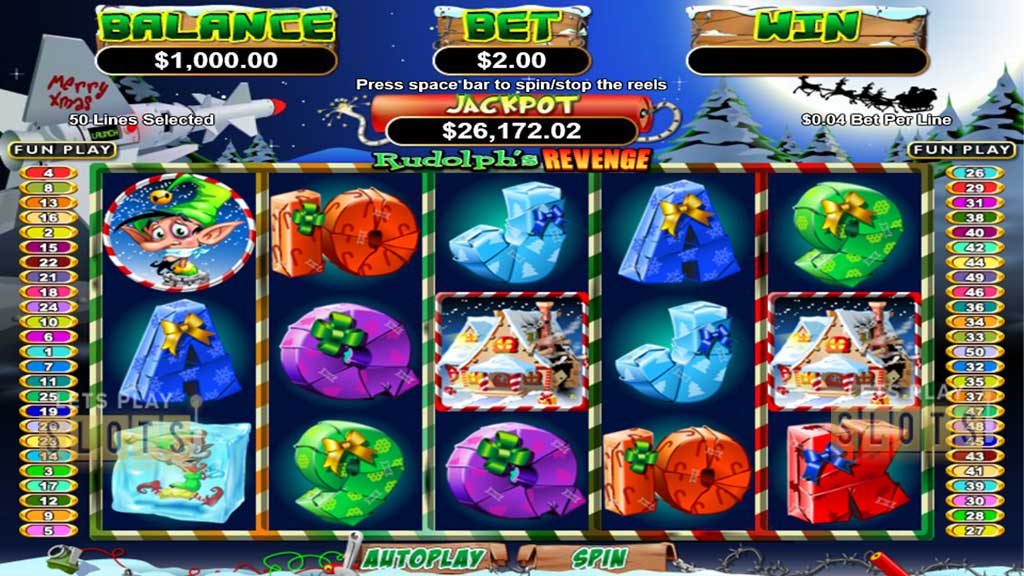 Rudolph's Revenge is among the oldest titles on this list as it was released back in 2009, but the game remains popular today because it's so much fun. This is one of those slots that takes an alternative approach to Christmas, and in this case Rudolph the reindeer decided he doesn't want to work for Santa Claus anymore.
This is one of those slot games in which the only goal is to reach the free spins game because it's so rewarding, and you'll definitely make money whenever you trigger it. There's also a jackpot to be won, and this is rare among other slots, so Rudolph's Revenge can give you a big pile of cash for Christmas while most other slots on this list can just give you a few hundred dollars if you're lucky.
Happy Holidays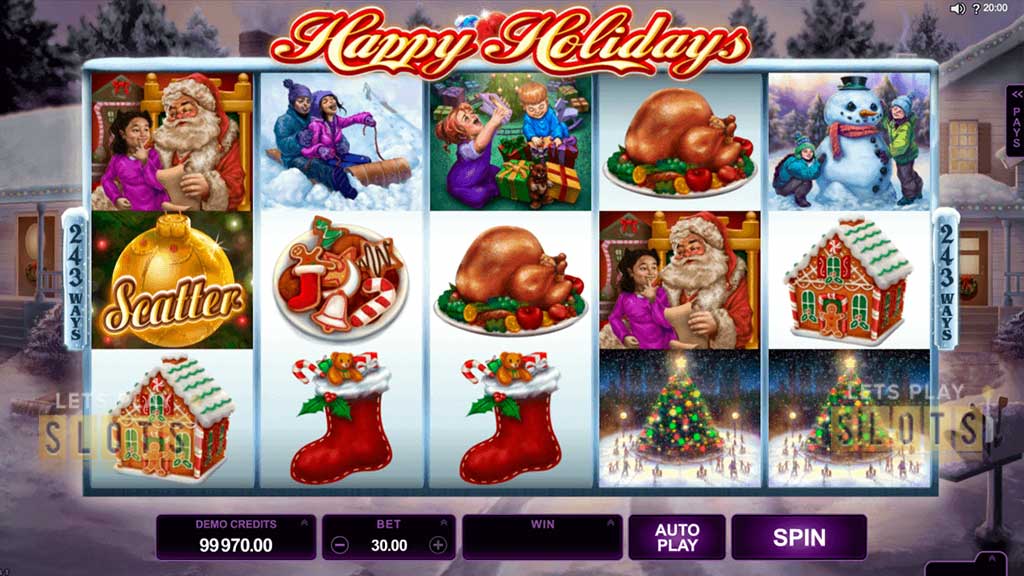 If there are some dark humour games on this list, and some that try to take a different angle on Christmas, then Happy Holidays is a game that brings the true spirit of Christmas to your desktop. The game is themed around children who are happily playing in snow, drawn in style of some old books, so you can't help but feel nostalgic for your own childhood. The game has 243 ways to win and this can go up to 1024, making the game very easy to play, and graphics are just excellent.
In the main game you can't expect to win much, perhaps 5x your bet, but the game really comes to life during the free spins feature, where you can win up to 3000x your bet. That's an excellent proposal, and the free spins game does get triggered often enough to keep you happy. This title isn't available to USA players but everyone else should play it.
Santastic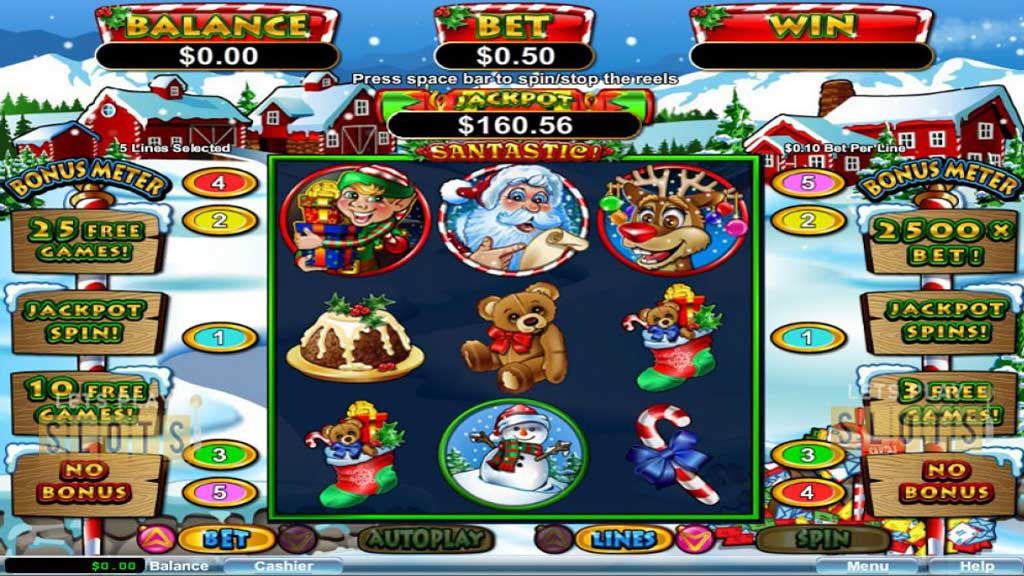 Santastic is a fun little slot game in which you can play from $0.50 to $1.25 per spin and win a few hundred bucks to buy some more presents – or to recover the money paid for them! Whenever you land three of a kind, the Festive Feast feature will trigger and you'll get some free spins, free bets, jackpot spins or the big prize of 2500x your bet.
This slot game can pay big anytime, you just need some luck with the Festive Feast feature. Santastic slot is easy to play as it pays often and variance is low, so many people choose this as their main Christmas slot game.
Merry Xmas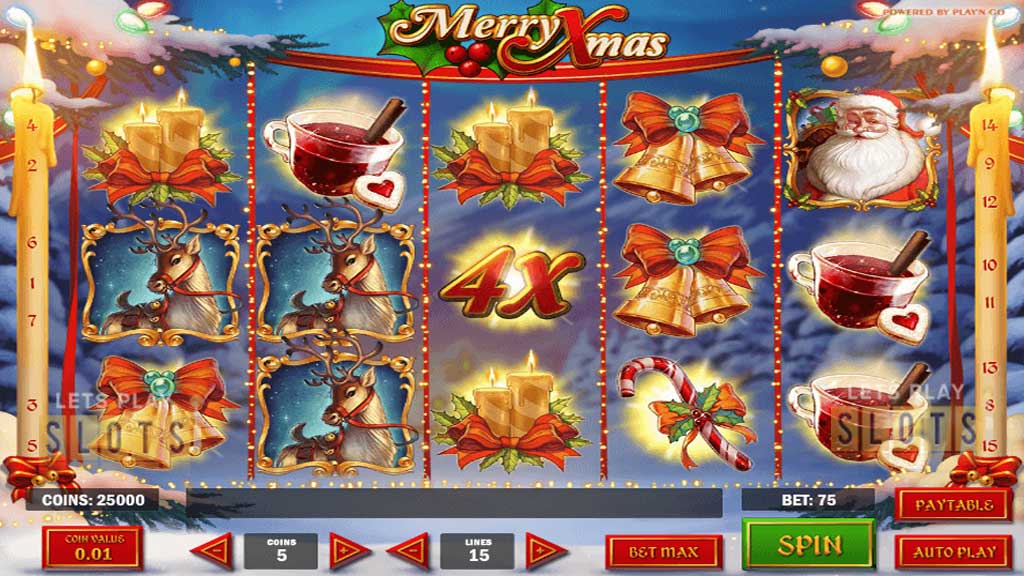 This Play'n GO slot game is just beautiful. It features all the usual things you'd expect from a Christmas themed slot, such as candles, mulled wine, reindeer, decorations, Santa and snow. All the cliché are here and they look great. When you look beyond the theme it's just another 5×3 slot game with 15 paylines, medium variance and a relatively good payout.
Most players will therefore be familiar with this game as it offers zero surprises, just a simple slot game playing experience with a very attractive Christmas theme.
Jingle Spin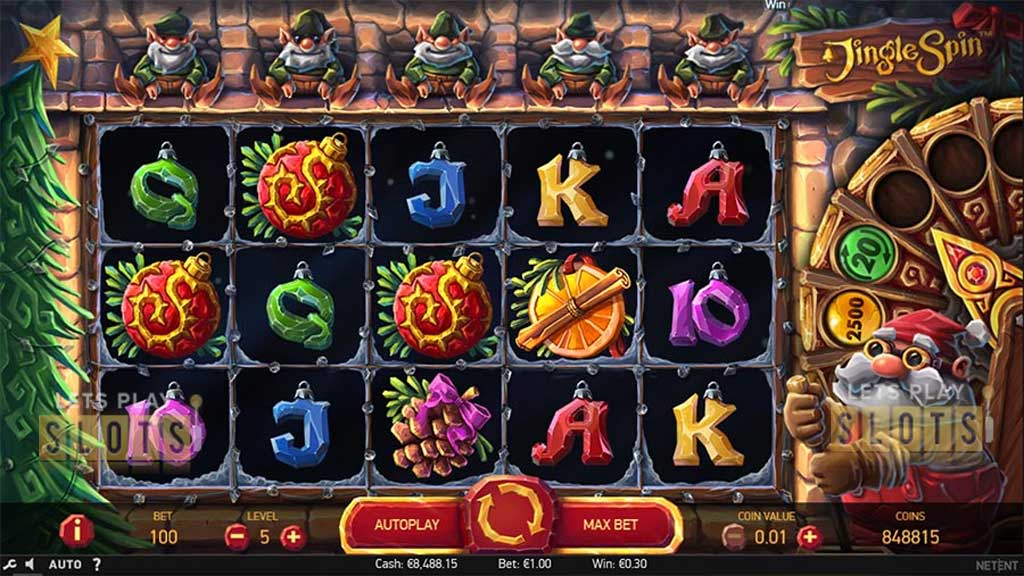 Jingle Spin is a 2018 release by NetEnt, and while some players may resent the fact that this is just EggOMatic slot game with a new skin, EggOMatic is a fun slot and it deserves a Christmas theme. This was actually a good idea by NetEnt, to use one of their most successful game mechanics for a Christmas slot. Makes sense – as this time instead of eggs the presents will be falling down from the conveyor belt that's above the reels. While it was a bit boring to play that egg slot game for years, now we have a new version that can be played during Christmas. This slot is exactly the same as EggOMatic, and that's not a bad thing.
If you would only want to play one slot game, you should probably go with Jingle Spin as it's a new title, and A Christmas Carol is the best of the rest. That slot game is the most impressive visual experience on this list and is also a slot game that pays very well and has exciting features. While many Christmas slots fall into the trap of just putting many decorations and Santa on your reels, this one took it a step further and became one of the best slots ever made. Or, if you are into Santa and his helpers, just play The Elf Wars or The Naughty List.