Best Casino To Play This Slot for Real Money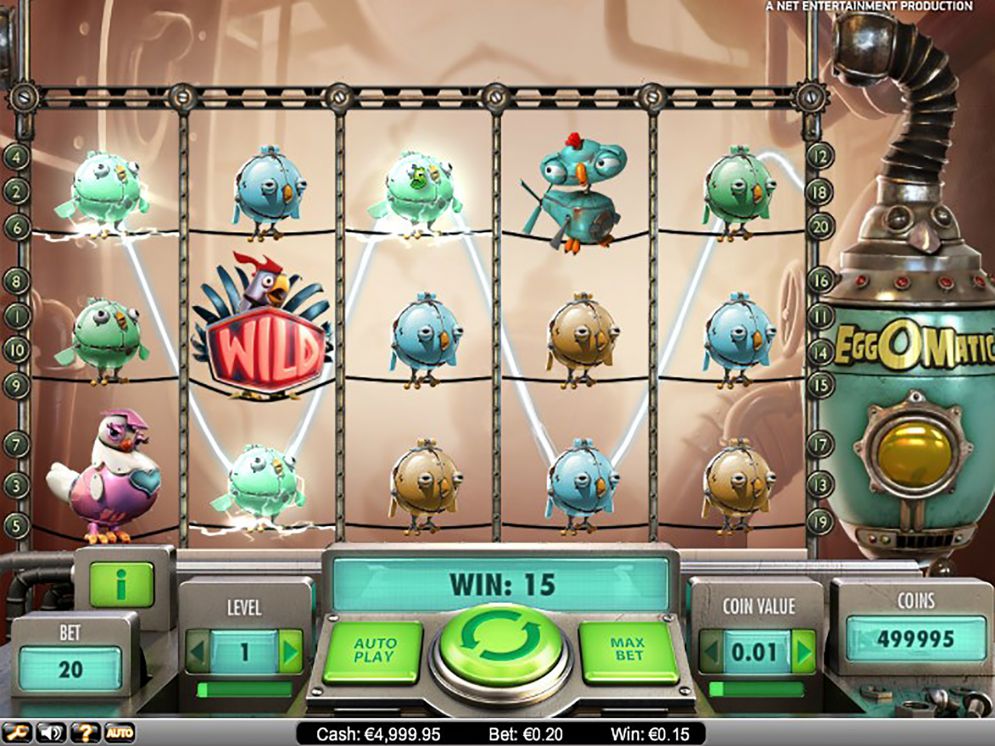 Rotate your device to start Play
Best Casinos to Play EggOMatic for Real Money :
EggOMatic was released back in 2013 by NetEnt, but the game feels contemporary as the innovative gameplay will keep this slot game fresh for a long time. I've recently played this slot in order to be able to give you an honest opinion about it, so let's go through the details of this excellent slot game.
EggOMatic is a unique experience as it offers a conveyor belt prizes fall from, and this is what brings most fun in this game as the reels themselves don't matter as much. The game has theoretical return to player (RTP) of 96.50%, more than good enough for a fun innovative game, and I felt the game pays often enough. Seemingly this is a medium variance game, but in fact variance is a bit high as there's a chance of big prizes such as 50 free spins yet it's very rare to actually get that.
Main game and paytable
The game is played on a 5×3 board with 20 fixed paylines, but this matters little as every player's eyes will only be monitoring the conveyor belt above the reels. The EggOMatic feature occasionally produces eggs with random prizes and puts them on the conveyor belt. The eggs start traveling from the right, and move one position to the left on each spin. That means it will take a total of five spins for an Egg to expire. Minimum bet per spin is €0.20 while the maximum is whopping €200.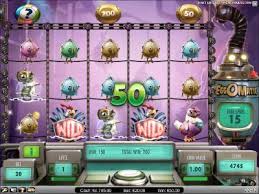 Each Egg will have one of the following prizes: cash prize, free spins, or Spreading Wilds. You know in advance what kind of prize you'll get but not the exact prize. Coin prizes range from 50 to 2500 coins, and different free spins numbers are 7, 10, 12, 15, 20, 25, 30 and 50. Spreading Wilds turn all adjacent and diagonal symbols Wild, and this will result in multiple winning paylines. There is also a Surprise Egg which can carry any of these three types of prizes.
The way you claim the prize carried by the Egg is that you land a Wild symbol on the same reel where the Egg is at. In that case, the Egg will fall down and the Rooster will catch it, crack it open, and you'll claim your prize.
Let's say a few words about the paytable. It consists of ten symbols divided into two strict groups. The Chick Robots are the five low-value symbols and they really pay little. Then there are five Hen Robots that pay really well compared to Chicks, and the Red Hen carries a large 1000 coin prize for five-of-a-kind. One of the few problems of this game is the fact that Chicks and Hens don't look that much different, so the high-value symbols don't stand out.
Bonus features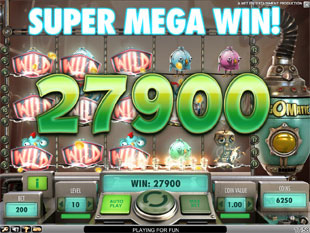 During the free spins game, which can have from 10 to 50 free spins, the EggOMatic machine won't be producing Eggs occasionally, but on every spin. This will include the Eggs that award more free spins. This is an excellent proposal and it's possible to get large numbers of free spins, with those Eggs that keep falling down and issuing coin prizes, in addition to the prizes you win on the board. This is the equivalent of a jackpot in this slot game – getting those 50 free spins and then watching them play out while increasing your bankroll substantially.
Conclusion
EggOMatic is a fun slot game which puts the reels in secondary position as the game focuses on the converyor belt with prizes. It's a fun break from all those slots that look alike, and this game can produce a huge win anytime. It's enough to hatch an Egg with a free spins prize of 30 or 50 free spins, and after that you'll be playing a very rewarding bonus feature. I definitely recommend playing this one.
full list of Net Entertainment games