Best Casino To Play This Slot for Real Money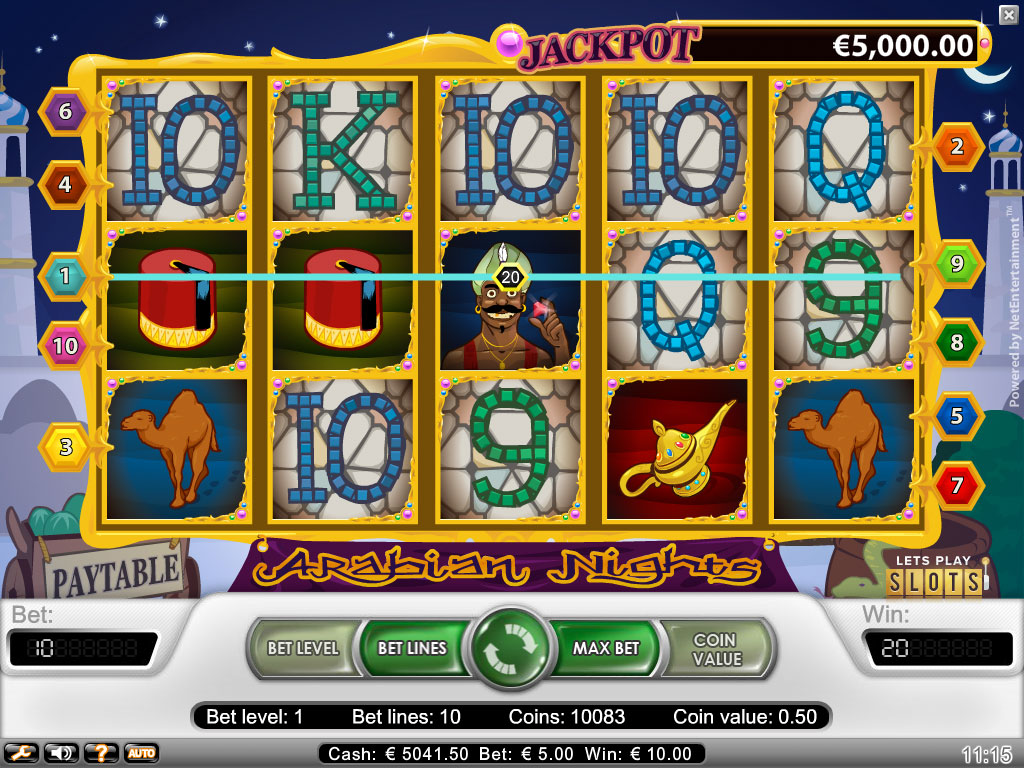 Rotate your device to start Play
Best Casinos to Play Arabian Nights for Real Money :
The main thing about Arabian Nights is the jackpot, and this is the reason for the slot's popularity for more than a decade after its initial release. The jackpot seeds at €125,000 after someone wins it, and regularly reaches or goes above €2,000,000 with the win coming around roughly once every three months. Biggest win was more than €8,000,000 and the average is over €1,000,000 so this is one of most consistent paying jackpot slots with the most predictable jackpot value. Players still play the slot very often despite its age, and the only reason to play it is the jackpot as it doesn't do so well as a stand-alone game.
Jackpot isn't randomly awarded and two conditions need to be met in order for the player to have a chance to win it. The most important thing here is to play with your maximum bet, which in case of this slot is €10, and this is the only bet that can win the progressive jackpot. The other condition is that you need to land five Wilds. That wins the jackpot right away. If you played with less than maximum bet of €10, your prize will be 10,000 coins and a lot of heartache instead.
Main game and paytable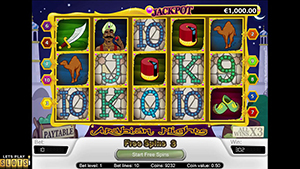 Arabian Nights is essentially just a classic slot game with 10 fixed paylines and a free spins game where prizes are tripled. Wins aren't common either, so the game often feels like it refuses to give even the smallest of wins. Theoretical return to player (RTP) is 95.60%, but if the contribution to jackpot is removed then the game only has 90.60% RTP. As the player must play all 10 paylines, the minimum bet is €0.10 while the maximum is €10.
The overall polish of the game, though, moves Arabian Nights far from a classic slot. The symbols are nicely drawn and the animations are smooth, especially after a big win, and it all combines into one pleasant slot playing experience. This is one of those slots that easily stand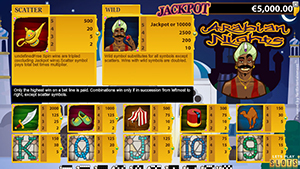 the test of time. The paytable consists of five low-paying card symbols which are worthless and a bit ugly too, and the next three symbols in the paytable aren't much better either. The main two, Shoes and Sword, pay nice prizes of 1000 and 2000 coins for five-of-a-kind respectively, so there is an outside chance of making money on this slot game even without winning the jackpot. All it takes is five-of-a-kind of Shoes or Sword during the free spins game, and you'll win from 3000 to 6000 coins in one spin.
Bonus features
Three or more Scatters are needed to trigger the free spins game, and it's always 15 free spins plus a small coin prize. During the bonus round, all wins are tripled, so there's a chance of winning a decent amount of money though it won't be life-changing. I wasn't too excited about this feature, it's just 15 spins with a x3 win multiplier but there's nothing here that would get the heart racing. And this is the best thing you can look forward to from this slot game other than the jackpot. With a bit of luck some money can be made on the free spins game, but I haven't been able to make more than 500 coins on it during my game time.
Conclusion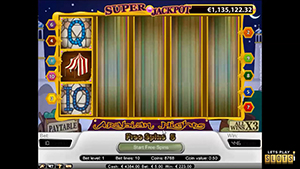 Arabian Nights is no good as a stand-alone slot game, and no player should play it to try to make money on it the usual way as the RTP is just barely over 90%. The one and only way to play Arabian Nights is to dedicate a certain number of €10 spins to it, and hope five Wilds will land on one of those spins and will win the jackpot. As a jackpot slot, Arabian Nights is awesome, and is one of my favorite jackpot slots because others don't tend to pay this often. If you want a chance to become a millionaire, Arabian Slots is one of top choices.
full list of Net Entertainment games