Best Casino To Play This Slot for Real Money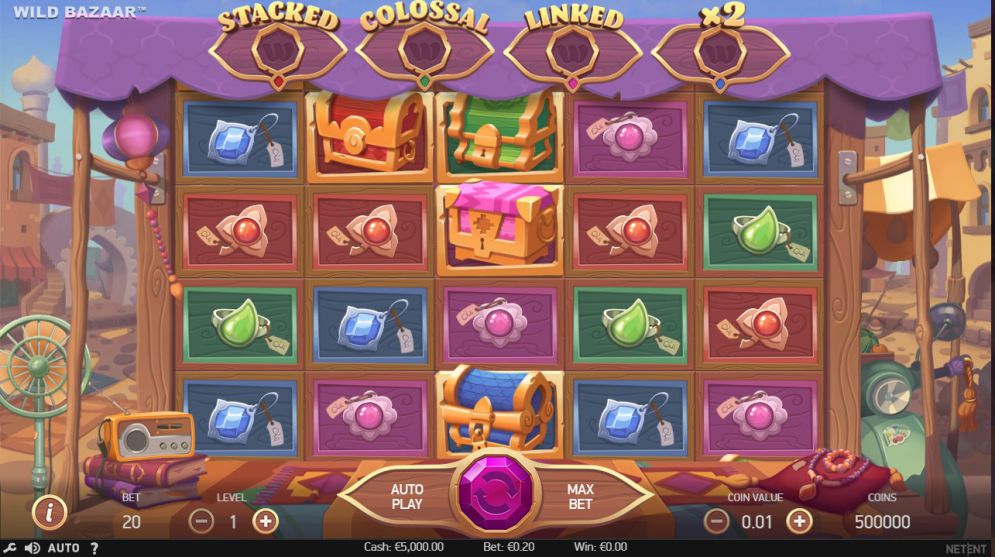 Rotate your device to start Play
Best Casinos to Play Wild Bazaar for Real Money :
I have played Wild Bazaar for some time before I realized what the slot game is all about, and then it struck me what a great slot game it is. Wild Bazaar can be very rewarding and yet is very simple to play, and it's very easy to get to the free spins game which is called Wild Spins. This is an innovative title that does things differently, so let's go through the details of this NetEnt release so I can give you my honest opinion of this game.
Theoretical return to player (RTP) is 96.15% and the variance is medium, but that doesn't even begin to tell the story about this slot game. It's nice to know it pays well in theory, and in practice you will probably think that it pays even better. This is a medium variance slot so you can't expect to win an incredible amount of money but won't go broke either, as all NetEnt games this one too will keep you in the middle.
Main game and paytable
There are eight symbols in the Wild Bazaar paytable, and they are divided into two groups of four. There's no difference between symbols from one group, so all the high-win symbols will pay 20 coins for three-of-a-kind, 40 coins for four-of-a-kind and 150 coins for five-of-a-kind. The low-win symbols will pay less, 10, 20 and 40 coins respectively. This means that most of the time in this game you will win between 10 and 40 coins no matter what you do, and the only thing that will stand out is when you land five of the same high-win symbol, in which case you'll get 150 coins. There are 26 mandatory paylines on this 5×4 board, and you pay 20 coins to play those 26 paylines. The game is a bit peculiar as it's a medium variance experience in which wins are very infrequent. But, there's a good reason for that.
Bonus features
The high-win symbols, the four Chests of different color, have a special purpose in the game. Whenever you land a win that involves these symbols, you'll always trigger the Wild Spins feature. Each Chest will have its own feature, and the features can be combined as wins during the Wild spins can trigger another feature. The number of Wild Spins will be the same as the number of triggering symbols.
Red Chest will bring Stacked Wilds that are four rows high, Green Chest will make all Wilds appear as 2×2 Colossal Wilds, Blue Chest will put a x2 win multiplier on all Wilds, and Pink Chest will make two Wilds that land on the same row expand to make all symbols between them Wild. If you manage to combine some of these features together, you're in for a lot of fun and a lot of cash. The only way for this game to pay well is to land five-of-a-kind wins of Chest symbols, on multiple paylines, and Wilds are practically the only thing that can make this happen.
Conclusion
Wild Bazaar is a game that's different from all others, as you'll only care about landing that three-of-a-kind of Chests, and you'll only be looking at the first three reels to see if a win is imminent or not. When you do land the win you'll be taken to the Wild Spins game which has the potential to be very rewarding. This makes Wild Bazaar a unique and fun experience, and you should definitely try it out.
full list of Net Entertainment games