Best Casino To Play This Slot for Real Money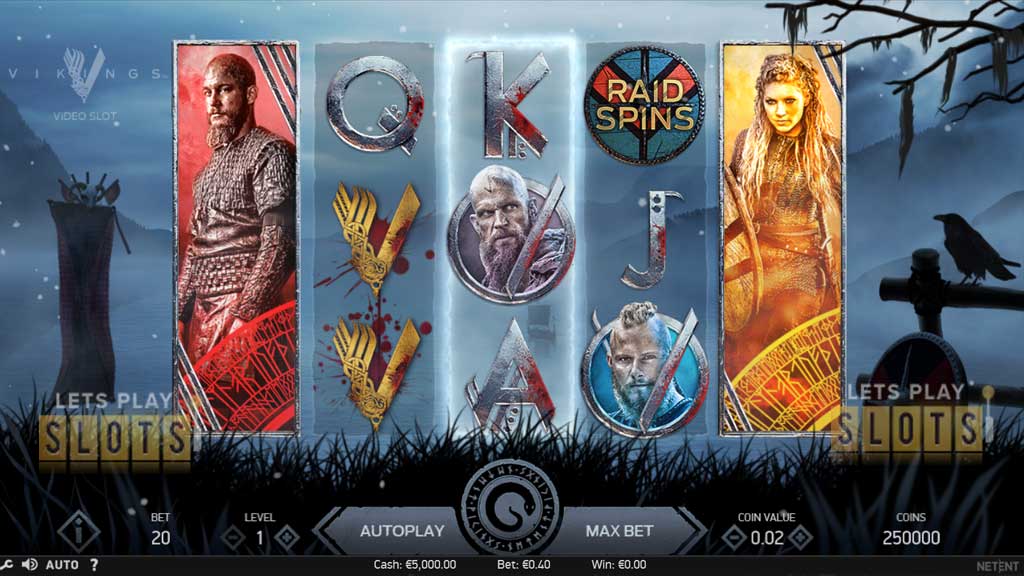 Rotate your device to start Play
Best Casinos to Play Vikings for Real Money :
I had to play Vikings slot machine immediately after its release and I was among the first who did so, and let me share my opinion on this NetEnt slot game with you, so you can decide if it's worth playing this slot or not. We'll go through the pros and cons of this new release. First of all, this is a 5×3 slot game with 243 ways to win, but during the Raid Spins mode the board will expand to 7×5 and will have 78,125 ways to win. Theoretical return to player (RTP) is 96.05%, which is good enough and is in line with modern standards, and it seems almost all new slots have RTP of 96.00% nowadays. Variance is medium, perhaps even a bit low, and the game will be most enjoyed by casual slot game players who like mainstream popular slots as well as slots themed around movies or series. Players who prefer higher variance will likely stay away.
Main game and paytable
The paytable consists of ten symbols, and they are divided into three groups. There are five card symbols, four Vikings, and the Game Logo symbol which pays the best prize but isn't stacked and therefore isn't as usable as Vikings. All four Vikings can be stacked, which matters a lot for gameplay in this slot machine, and all four pay the same prize, 20 coins for five-of-a-kind. All card symbols also pay the same, 10 coins for five-of-a-kind, while the Game Logo pays 50. This is one of those low variance NetEnt paytables we're all used to, and there's no single symbol that would dominate others, but Scatter Pays makes huge wins possible. In addition to these ten symbols there's also a Raid Spins symbol, and there is no Wild in this game.
In the main game, there is a Hotspot that always covers reel 3. Whenever a fully stacked Viking symbol lands completely in this Hotspot area, all the other Viking symbols on the other reels are transformed into this same symbol that's in the Hotspot. This goes for both single and stacked Viking symbols. This won't necessarily lead to a big win every time, but occasionally it might boost your winnings by a significant degree.
When a fully stacked Viking lands into the Hotspot, Scatter Pays is activated. If you land five Vikings you'll only get 20 coins, and in the main game it's possible to win up to 15 Vikings, which would be worth 4860 coins, and if during the Raid Spins you get a full board of Vikings you'll get 200,000 coins. But this is actually less than if the game just paid you seven-of-a-kind on all 78,125 ways to win. If it did, you'd get 2,187,500 coins.
Bonus features
Shield Wall feature is active both during the main game and during the Raid Spins mode. The Shield Wall appears as a cluster of mystery symbols that appear on random positions on your board. The feature will appear either as a cluster of 3×2 or 5×2 symbols, and the feature can only be activated on those spins that didn't activate the Hostpos or Raid Spins feature or no win occurs. The symbols that can be selected for the Shield Wall feature are any of the Viking symbols with a face, four of them. During Raid Spins, the cluster can be 4×2, 5×2 or 5×3.
Raid Spin Scatters appear only on reels 3, 4 and 5 in the main game. When you land all three, the Raid Spins will be activated and the game will transform into a 7-reel, 5-row experience with 78,125 betways. You'll get 7 free spins on this board, and there will be three Hotspots – on reels 3, 4 and 5. The rules for the Hotspot are the same as usual, but if 2 or 3 fully stacked symbols land in Hotspots, the symbol furthest to the left will be the one all others transform into. Meaning, the purpose of having three Hotspots is only to increase the chance of this feature getting triggered, and it ends at that.
Conclusion
Vikings could be called yet another medium variance slot by NetEnt, with a paytable that's incapable of letting you win big and incapable of letting you go bankrupt, but the Scatter Pays feature is here to reward you with a huge win if you get a full board of the same Viking, and the Hotspot helps you transform all Vikings into the same Viking. So there is a jackpot in this game, which is rare for NetEnt. It's a good game to play, especially if you're a fan of the series, as it's an officially themed slot with beautiful graphics, true to the series. This slot machine doesn't offer anything spectacular in terms of features, and other than the stacked symbols it does feel a bit bare, but it's good pastime for the end of the year and a welcome addition to the online gaming world.
full list of Net Entertainment games