Best Casino To Play This Slot for Real Money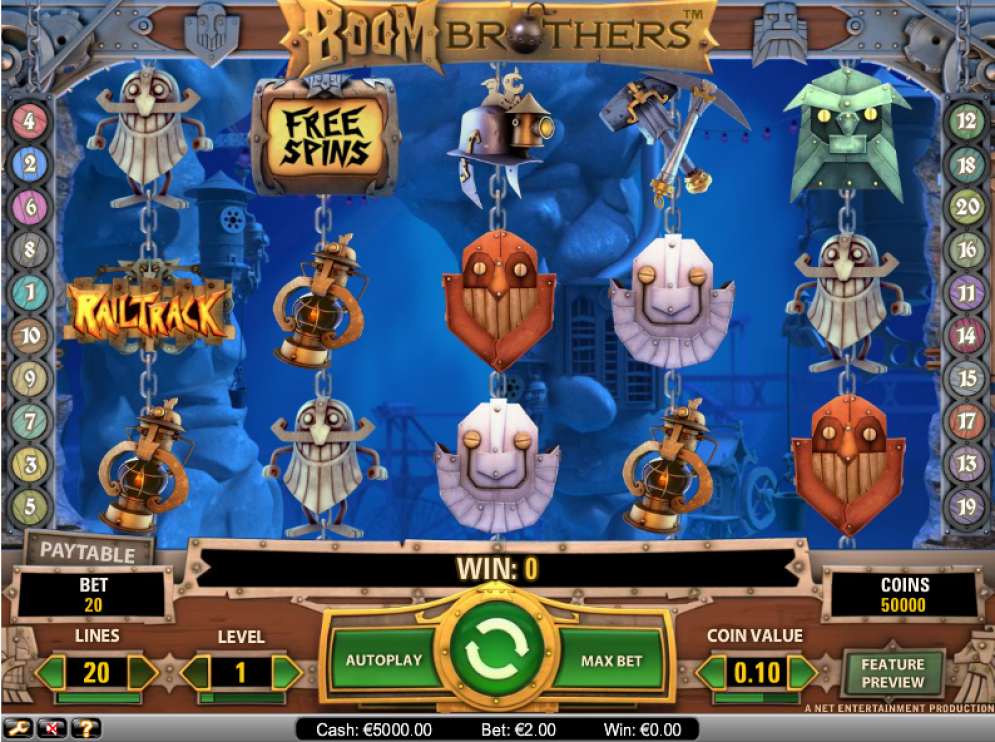 Rotate your device to start Play
Best Casinos to Play Boom Brothers for Real Money :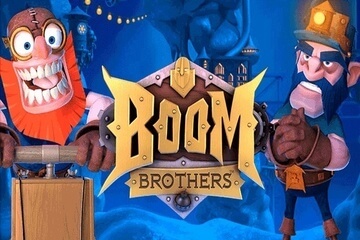 I have been playing Boom Brothers slot machine a lot lately because of the fun bonus game, so let me give an honest review of this NetEnt slot that was released back in 2013. The game is actually quite simple and plays like a classic slot, except for the bonus game which puts you in the mine with dwarves. There are 20 paylines on a 5×3 board. Theoretical return to player (RTP) is 96.40%. This will satisfy all but the most demanding players, and the game feels like it's paying well enough. Variance is medium, perhaps even a bit low as the game feels very easy to play, at least it was whenever I played it.
Main game and paytable
There are eight normal symbols in Boom Brothers, and all have artwork, which is supposed to help the theme but is instead hurting the experience a bit as it's difficult to distinguish between low-value and high-value symbols in this particular case. Although, it must be said, the graphics in this game are excellent and many players will play the game because of that alone.
All the symbols pay a similar prize and there are no worthless symbols in this game, which makes for a low risk playing experience in which all wins matter. The paytable peaks with the White Robot, which pays 500 coins for five-of-a-kind. Other than these eight symbols, there's a Wild and two Scatters for a total of eleven symbols on the board. Wild pays 7,500 coins if you land five on a winning payline.
Bonus features
There are two bonus features in Boom Brothers. The free spins game is triggered by landing three or more Free Spins Scatter symbols that can land on all reels. It's just a standard free spins game with no special features, all prizes will have a x3 win multiplier, and any additional Free Spins Scatter symbol that lands during the feature will grant an extra +1 free spin. This is a chance to win some additional cash, but prizes won't be significant unless you happen to land a big winning payline of White Robot symbol. Good thing about the free spins game is that the number is random, and you can get from 8 to 50 free spins.
Railtrack Scatter wins you a coin prize if you land three pieces of Railtrack, and for that you'll get 2x your bet. For four or five pieces you'll get 3x and 4x your bet respectively, and landing five Railtracks will also trigger the bonus game, which is the best thing in this slot game.
In the bonus game, you'll get to pick Carts, and your goal is to move the Dwarf from left to right for a total of five positions. There are three Dwarves on three railtracks, and all travel independently. The first level has a prize of 50 to 800 coins if the Dwarf reaches the end of the track, the second level has a prize of 400 to 1200 coins, and the third level awards from 500 to 1900 coins. It's all about which of three Dwarves will reach the finish line first. Some nice prizes can be won here if you're lucky, and this game is more rewarding than the free spins game.
Conclusion
Boom Brothers is a very fun slot machine, and the game feels like it's paying well. The main advantage of this slot game is the bonus round in which you advance those carts through the mine, but generally the game is simple and is a classic experience. It's the perfect slot game for players who prefer that, but would still want to have a bonus round that's a bit different than what is usually seen in slots. The prospect of getting up to 50 free spins with a x3 win multiplier isn't bad either!
full list of Net Entertainment games