Responsible Gambling and Recognizing a Gambling Problem
Here at Let's Play Slots, we spend countless of hours discussing online slots with our readers. However, we would also like to inform you that it is vitally important to enjoy these games for enjoyment and fun and to ensure you do so responsibly. Spinning the reels on your favourite slots can be an exciting and entertaining hobby, but for some players, it can transform into something potentially destructive and highly dangerous, not just for you, but for the loved ones around you too.
If you are concerned that the time spent gambling by you or even a loved one is starting to spin out of control, we would like to let you know that there are several trusted resources available to assist you in better understanding the problem and to help you receive the necessary assistance you need. This is a big part of our commitment to offering a responsible and safe environment. This is certainly something that we believe expands far beyond the casino sites we recommend to our readers, and also to ourselves as a reliable and trusted resource for players across the globe.
What is Responsible Gambling?
Responsible gambling is essentially a concept that gambling and gaming operators, associated service providers, and software suppliers need to uphold that ensures their offerings maintain the highest industry standards to ensure a safe and fair gaming experience that ultimately protects players from a broad range of consequences relating to gambling.
Both software suppliers and online operators that offer online gambling services and platforms are required to comply with the principles surrounding responsible gambling. In addition, software providers also need to support operators online to comply with legislative and technical demands. There are seven areas of responsible gambling that have a direct influence in the online gaming industry.
The 9 Areas of Safe and Responsible Gambling
Responsible gambling consists of 9 different areas that affect our current industry. These areas include the protection of venerable players, the prevention of gambling underage, the protection of criminal and fraudulent behaviour, the privacy of information, accurate and prompt customer payments, providing a fair gaming experience, responsible and ethical marketing, committing to player satisfaction, and to ensure a reliable, safe, and secure operating environment. These are the responsible gaming elements that online operators and software providers need to uphold. We provided a brief description on each area to help you better understand the nine different areas of responsible gambling below:
Protection of vulnerable players

The protection of vulnerable players is one of the most important aspects of responsible gambling. There are several players who become addicted to sports betting activities or casino games, and by spending too much of their hard-earned money, their lives are greatly affected.

The primary measures that can be incorporated by regulators within the gaming industry is self-exclusion processes and programs, the ability to limit the amount of money being spent at an online operator, offering support and advice to problem gamblers, and limiting the time a player can spend at an online operator.

Prevention of gambling underage

The second most important aspect of responsible gambling is the prevention of gambling underage. Online operators need to emphasise the importance of underage gambling and ensure that individuals under the legal age of 21 or 18 are not allowed to gamble at an online casino for real money.

Online operators also need to take the necessary steps to ensure underage gambling activities doesn't occur on their sites and that the laws which protect minors in their jurisdictions are always respected. In addition, online operators must provide a clear registration process for every potential player and must utilise a mandatory verification process to ensure that players provide their age before the registration can be completed.

Furthermore, parents are recommended to keep their login information away from minors, monitor their computers, phones, and tablets, and install parental control programs and apps on their devices to ensure minors are unable to access their casino accounts.

Protection of criminal and fraudulent behaviour

Online casino operators can be greatly affected by criminal and fraudulent activities in the same manner as other online sites that deal with financial and e-commerce transactions. To achieve their goals in obtaining financial and personal information, online criminals usually install malicious software which targets the vulnerability of casino websites.

To prevent this from occurring, online operators are requested to incorporate software programs and procedures that block and detect hacking devices and money laundering activities.

Privacy of information

How do online operators successfully protect your personal information from prying eyes? This responsible gambling area connects to the requirement of keeping the personal information of players from unauthorised access that could occur when illegal online criminals decide to attack the casino website.

To avoid this from taking place, online operators are required to introduce strong policies which control access to your personal information, such as phone numbers, home addresses, your first name, last name, and date of birth. Online operators are required to ensure information privacy is fully respected and that it's in line with the requirements set out by regulators.

Accurate and prompt customer payments

Online operators are required to ensure all payments to and from a players' account is conducted as per documented and formal processes in a timely and accurate manner. Online operators usually ensure that players funds are separately managed from their own accounts. In addition, they also need to ensure that they have sufficient funds available to pay each player their winnings and all outstanding balances accumulated by players.

Fair gaming

All gaming products offered by an online casino, including table games, slots, progressive jackpot slots, video poker, and speciality games are required to be tested on a regular basis to ensure they are random and fair and that each of them adhere to the rules of that specific game. To test for fairness and randomness, online operators typically use an independent organisation to carry this out.

Responsible and ethical marketing

Online operators are required to comply with the regulatory advertising codes which ensures that advertisements are truthfully correct. These advertisements are also not allowed to target underage players or vulnerable gamblers, including players who decided to self-exclude themselves from online gambling. Online operators are also expected to ask the registered player for permission before they can engage in direct marketing by using the players' personal details.

Player Satisfaction

Players should be allowed to freely make complaints and comments to online operators where an online operator is expected to have an adequate procedure and process in place to deal with such complaints and comments, either through an independent third-party or internally. For instance, eCOGRA offers a mediation service dedicated to disputes between operators and players.

Reliable, safe, and secure operating environment

Online operators must demonstrate processes and internal controls that follow the licensing conditions set forth by the regulatory jurisdiction that issues gambling and gaming licenses. The internal controls must also be implemented to make sure that all technical, payment and operational processes and systems operate effectively and securely. Furthermore, online operators are required to demonstrate business continuity management processes to make sure all operations are able to continue when unforeseen disasters or circumstances occur.
Recognizing a Gambling Problem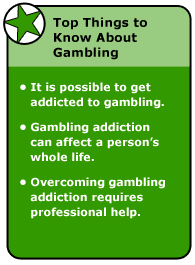 There is absolutely nothing wrong when you decide to gamble on occasion. Even if you consider yourself to be a high roller who wagers a substantial amount of money on a frequent basis doesn't necessarily make you a problematic gambler. However, regardless if you consider yourself an occasion gambler playing at low stakes or a high roller placing enormous bets in a single gaming session, it's still possible that you could have a disorder. However, this greatly depends on the behaviour you exhibit related to your play.
Several leading organisations have developed specific criteria to recognise and diagnose gambling disorders. Below, you will find the criteria that is currently utilised by the American Psychiatric Association, which is also present within the Statistical and Diagnostic Manual of Mental Disorders, also referred to as DSM-5.
The player needs to wager with increasing amounts of money to feel the desired enjoyment of playing.
An attempt to stop playing or cut down causes irritability or restlessness.
The player has repeatedly failed in their efforts to stop or control their gambling.
The player is usually preoccupied with gambling.
The player uses gambling as a way to deal with distress or feelings.
The player will chase losses and bet more in an attempt to recover the money that's been lost.
A player will lie to their loved ones to hide how much they actually gamble.
A player's betting activities has caused a loss of a major job, educational opportunity, or relationship.
A player has relied on friends, family, or loan organisations to offer them money to cover the financial obligations after enduring a loss through gambling.
Should you exhibit one or two of the above-mentioned behaviours, you shouldn't consider yourself to have a serious gambling issue. However, if several of these behaviours apply to you, then you might have a gambling problem. A mild gambling disorder is when four of these behaviours apply to you, while a moderate disorder is when six of these behaviours apply to you. Should eight of these behaviours apply to you, it will indicate a serious gambling problem. Should you be unsure of the diagnosis and can't tell if you indeed have a problem, you will find several trusted resources to assist you in determining this. Most organisations provide self-assessments, including the Council of Compulsive Gambling in Massachusetts.
Getting Help
Should you be under the impression that you or even a loved one is suffering from a gambling problem, it is extremely important to know that a gambling problem is just like any other disease, it can be treated immediately. Most of the jurisdictions that provide legalised gambling have systems in place that offer resources to assist those in need. Should you be gaming within a jurisdiction that doesn't offer legalised gambling, you can rest assured that there are several trained professionals who know exactly how to assist players that are suffering from a gambling problem.
If you are unable to wait for someone to contact you back, and you need help straight away with your problem, you will be pleased to know that most states and nations have dedicated hotlines that will be more than happy to provide you with the necessary resources, directions, and information on how to receive additional help. These phone lines are typically free of charge and are available around the clock for anyone seeking help.
Most players who consider themselves to be compulsive gamblers tend to search for self-help groups, allowing them to discuss their issues and work on finding a solution with others who are experiencing the same problem. Bettors Anonymous and Gamblers Anonymous are two extremely popular organisations that offer their services free of charge and provide several meetings around the world. Gam-Anon is another sensational group that is specifically designed to offer support for friends and family members of the player with the gambling problem.
For additional assistance, you can look for a clinician that specialises in assisting you with a gambling problem along with other compulsive disorders. In most cases, you will find that outpatient treatments are also available, while governments usually help those that are unable to afford such care.
Even if you, not 100% sure if you have a gambling problem, you might have reached a stage where you're uncertain of your own ability to control the urge to wager, especially when you can't afford it. Should this be the case, you can contact the online casino and request a self-exclusion, either permanently or for a predefined period of time that will prevent you from logging into your account even when you want to.
We urge you to seek help if you believe that you or a loved one might be a compulsive gambler. We sincerely hope that the resources we included above will assist you on the road to recovery.
Q & A
What is a Gambling License?
A Gambling License is a certificate issued by a licensing authority permitting online casinos to offer games of chance that involves wagering.
What are the requirements in obtaining a Gambling License?
The rules change slightly from one jurisdiction to the next although
Licencing Authorities
grants licenses to online casinos based on the following:
2.1      Meet the highest standards of integrity, honesty and good character
2.2      Disclose detailed organisational and financial information including all partners, owners and other associated persons
Who is the Responsible Gambling Commission?
The Responsible Gambling Commission is a non-profit, independent organisation dedicated to preventing problem gambling.
Self-Exclusion, also called voluntary exclusion is the option offered to anyone who thinks they might have a gambling problem and by using this option, the player is requesting the casino to stop all gambling provided to the player for a period of at least six months.
Are there online websites that offer more information regarding problem gambling?
Both the Gamcare and Gambleware websites offer information regarding the signs of online gambling and provide guidance regarding safe, responsible gambling.