Best Casino To Play This Slot for Real Money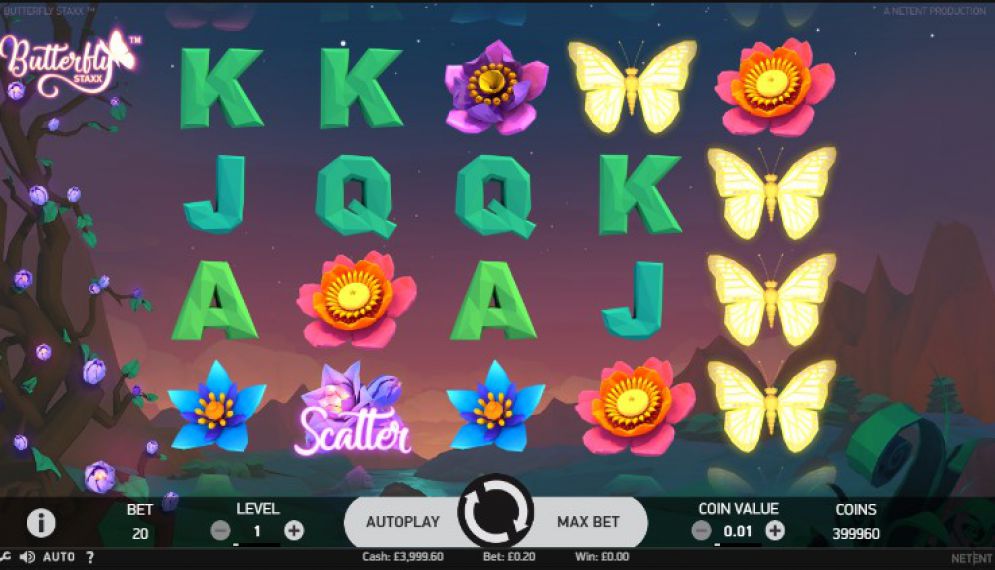 Rotate your device to start Play
Best Casinos to Play Butterfly Staxx for Real Money :
I have been playing Butterfly Staxx slot machine a lot recently, it's one of my favorite slots, so now I'll give you an honest opinion about the slot's pros and cons. A lot of effort went into this slot by NetEnt, it's designed to be one of their blockbuster hits, and the slot game delivers. It was released in June 2017 so it's a relatively recent release by NetEnt, and is themed around the beauty of life and the journey from caterpillar to butterfly. The slot game can be used to make money, too, as it pays well.
Theoretical return to player (RTP) is 96.80% and that's great news for the players. Slots usually are either fun or they pay well, and this one combines the two so all players will enjoy the game. It also pays often enough so you never get the feeling – at least I didn't – that Butterfly Staxx is a game that withholds wins from you. It's just a pleasant experience, same as those Butterflies that fly across your reels.
Main game and paytable
The game is played on a large 5×4 board with 40 paylines, and there are only eight symbols. Four card symbols don't pay much, and the four main symbols are responsible for creating the theme of the game. Three of them are Flowers, and there's only one yellow Butterfly. This is the best-paying symbol in the game but is also a very common one, so variance is medium. Also, during the main game a bonus feature can be triggered, so it's not a boring experience but a fun one, and one that pays often enough.
This is one of the few slot games in which the best symbol is also a very common one, and that's what makes playing Butterfly Staxx such an effortless experience. Butterflies are common on your reels and it's only a question of how many will land in one spin. They are also the most beautiful thing on your reels, and this is one of the best-looking slots ever made.
Bonus features
The main game has a feature that's always active and that can be treated like a bonus feature because that's how it feels. Whenever you land a stack of Butterflies that covers the entire height of one reel, four rows, you'll trigger the Re-spins Feature. The Butterflies will fly to reel 1 and will stay there for the duration of the feature, and if during the re-spin you land more Butterflies they'll fly to the furthest available position on the left. Prizes will be paid, and the feature continues until you land no new Butterflies. This is potentially a very rewarding feature as it's actually guiding you towards a full board of Butterflies. I haven't gotten there myself, but got close a few times.
The free spins game is triggered when you land at least three Scatters. You'll get 5, 6 or 7 free spins for three, four or five Scatters respectively. The free spins game is very powerful, and that's why there are so few spins given. During Butterfly Spins, only Cocoon symbols can land on your reels and they can be in one of three stages of development: dormant, growing or ready to hatch. The last stage will immediately hatch a Butterfly. Again, all the Butterflies will fly to the furthest unoccupied position to the left, and again the game guides you to a full board of Butterflies.
Conclusion
Butterfly Staxx is a blockbuster slot game with high production value. This is obvious from beautiful graphics and stunning animations, and NetEnt accompanies that with innovative gameplay and two very rewarding features that can help you land full board wins. Theoretical payout is excellent, so this game is good for both experienced players and those who just want to pass the time and have fun. Superb slot by NetEnt. I definitely recommend playing it.
full list of Net Entertainment games