Best Casino To Play This Slot for Real Money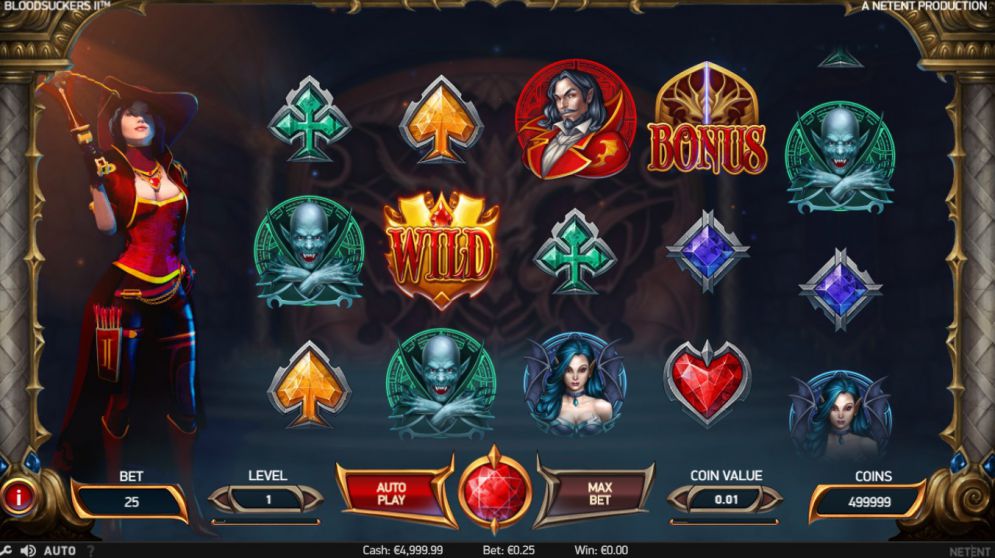 Rotate your device to start Play
Best Casinos to Play Blood Suckers II for Real Money :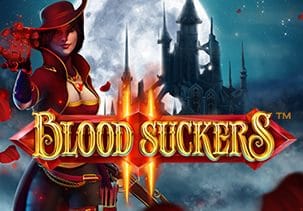 It took time for NetEnt to release a sequel to their legendary 2009 title Blood Suckers, but in late 2017 the wait was finally over and players got a shiny new version. It's inevitable that the games will be compared with one another and I've played both extensively so let's see what I think about the sequel, and is it a better or a worse game than the original.
Most notably, this is no longer a high-paying slot as the theoretical return to player (RTP) is now 96.94%, which is still great but lower than the original 98.00%. This time it's not a medium variance slot but the variance is a bit high, and the game does offer the potential of winning big while in the 2009 slot this was largely absent. Looking at these basic traits, I actually like Blood Suckers II better.
Graphics are very much improved and now are done in high resolution, which is great for the game as we can now see those vampires more clearly. The game just looks so much better as the reels are invisible and all you see are floating symbols. There are 25 paylines on this 5×3 board, and the game again doesn't pay that often, which has a serious consequence in the expected value of the free spins game.
Main game and paytable
Again we have eight symbols, and now the four low-paying ones are unfortunately represented by cards, which takes away four spots that could have been used to add some elements to the vampire theme. There are four good symbols, and three pay the same, 200 coins for five-of-a-kind, while the main one again pays 500 coins, same as in the original game. This means the paytable is again a balanced one, without a symbol that would significally stand out.
Wild symbol is a paying one, with a whopping 10,000 coin reward for five-of-a-kind. Scatter is also a paying symbol, and if you land five you'll get 2,500 coins. Both of these things are very difficult to get, but the potential is there, and Blood Suckers II does have the potential of giving you a huge win.
Bonus features
Blood Rose Free Spins is the main bonus feature of the game, and you'll get 10 free spins when you land three or more Scatters. Four or five Scatters don't increase the number of free spins but that's okay, since you can get that huge coin prize instead. The free spins feature has all prizes tripled and other than that it's all the same as the main game, which makes the whole thing less than exciting.
Bonus Scatter symbols need to land on three consecutive reels in order to trigger the Hidden Treasure Bonus Game. If you land four Bonus Scatters then the prizes will be doubled, and if you land all five, then – you guessed it – all prizes will be tripled. The player picks coffins and chests to reveal coin wins, Key, Scatter or Demon symbols. Scatters are collected and if you collect three you'll trigger the free spins game. Key advances you to the next level with increased prizes, and if Key is revealed on the last level you'll get a 1,000 coin prize. Demon ends the game. This bonus feature is very interesting to play as it has levels and can pay well, so this is the main thing to look forward to in Blood Suckers II and the Bonus Scatter will be your favorite symbol in the game.
Conclusion
The sequel does not have the appeal of the original title as that would be impossible to reproduce, but it's a welcome addition to NetEnt's portfolio and to a reliable game Blood Suckers fans can come back to. Blood Suckers II has higher variance but also offers potentially better wins than the 2009 game, and the Hidden Treasure bonus game is much more fun than what we had before. The feature is the staple of this game and is incredibly fun to play. Blood Suckers II is an excellent slot game and it deserves a few spins, regardless of whether you played the original or not.
full list of Net Entertainment games