Best Casino To Play This Slot for Real Money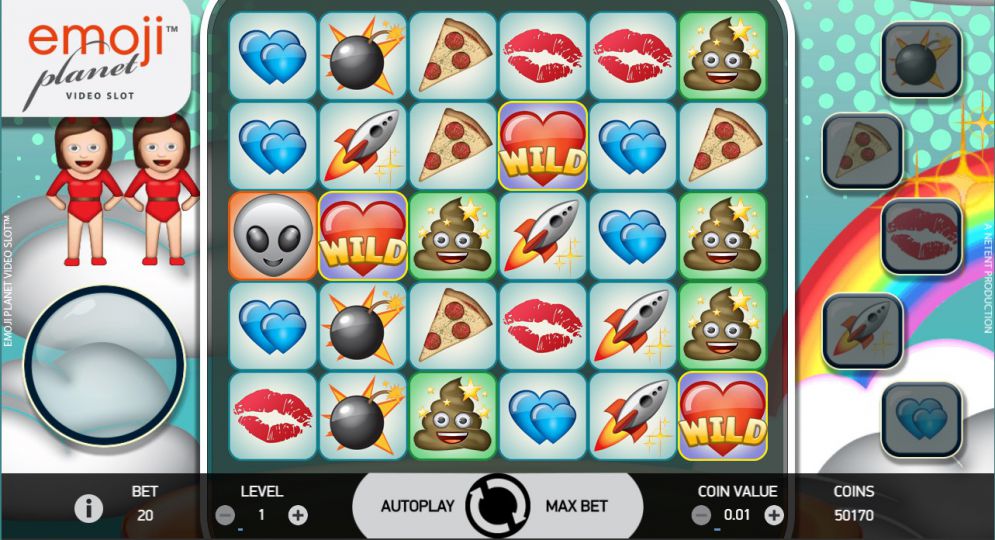 Rotate your device to start Play
Best Casinos to Play Emoji Planet for Real Money :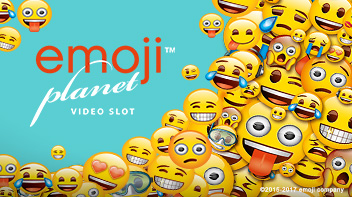 Emoji Planet is a very fun slot, and is one of my favorite slots that use falling blocks mechanics, as it's just so much fun to play and new clusters form all the time. Let me give you an honest review of this NetEnt slot game I enjoy playing recently.
This slot game isn't related to The Emoji Movie, it just happened to come out at the same time as the 2017 blockbuster title. The game is played ona large 6×5 board with 30 symbols and no paylines as the symbols pay in clusters. The game offers five different bonus features that can be activated by forming winning clusters, and these usually involve some sort of a Wild that will land on your reels.
Theoretical return to player is 96.30%, good enough, and most players will hope they can get the best out of this game by forming those big clusters and getting numerous re-spins. Variance is medium as this type of game will pay often enough. It does have the capacity of issuing huge wins.
Main game and paytable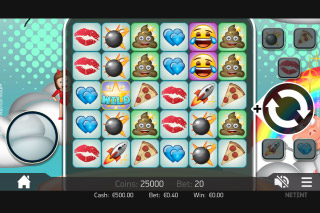 The game uses eight Emoji symbols and we could say that the paytable is balanced. The bottom five symbols all pay roughly the same while the top three then progressively go towards a better win. The best prize by one of lower five symbols is 2000 coins for 30x of the same symbol, and this rises to 4500, 5000 and 10000 coins for three top symbols respectively. There is also a Wild symbol. The minimum cost for one spin is €0.20.
The fact that you can land wins that include up to 30x of the same symbols, and that the game pays for as little as 5 symbols in a cluster, this gives a really big range of possible wins. It's necessary to land a big cluster of at least 20 symbols to get a significant win, but we could say that this paytable does what you expect. It doesn't give you too little for a small cluster, and also doesn't give you less than you'd expect when you form a really big one.
Bonus features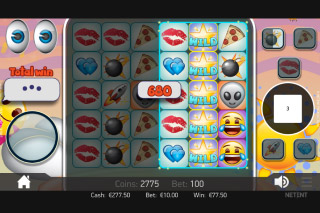 Emoji Planet doesn't have a free spins game, but has re-spins that are active all the time, and this is the essence of the game. Whenever you land a winning cluster, the symbols will disappear and will be replaced by new ones. If you win again, you get another re-spin.
It doesn't end there. Every time you land a winning cluster, you can advance your position in one of five meters: Bomb, Pizza, Kiss, Hearts and Rocket Meter. Each of these meters tracks the number of that symbol that you included in a winning cluster, and you need a total of 12 symbols that formed a cluster during one spin and subsequent re-spins in order to get a bonus feature.
Bomb Feature will destroy 8 random symbols on your reels and will give up to a 100 coin prize for each destroyed symbol. Pizza Feature will put a 3×3 colossal symbol on your reels. Kiss Feature will put 3 Sticky Wilds on your reels, each with three lives, where being part of a winning cluster loses one life for the Sticky Wild. Rocket Feature will put a stack of 10 Wild symbols on one reel strip. Hearts Feature will simply award a win multiplier to your win, x2 or better. The first three features are the best and bring the largest prizes.
Conclusion
Emoji Planet is just so much fun to play, as the unexpected happens all the time. One small cluster win may lead to numerous re-spins and huge cluster wins plus one of five bonus features, and it can go on and on for the price of a single spin. Since the exploded symbols are replaced by new ones, in theory this can go on indefinitely, and this is where the fun lies. Emoji Planet is an excellent slot game, especially for fans of falling blocks games, but everyone else will love it to. Superb title by NetEnt.
full list of Net Entertainment games