Best Casino To Play This Slot for Real Money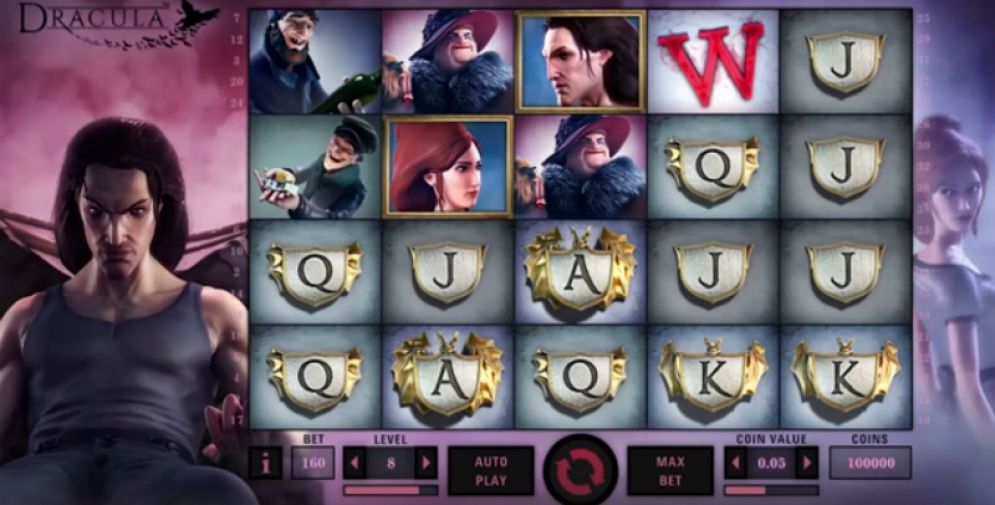 Rotate your device to start Play
Best Casinos to Play Dracula for Real Money :
After playing Dracula slot machine for a few hours I can give you my detailed review of this 2015 NetEnt slot. The game isn't based on any particular Dracula but on the character in general, in NetEnt's visual style. Theoretical return to player (RTP) is 96.58%, which is good for a fun slot, and variance seems to be medium, at least it does to me. The game pays often enough to keep you going and it does give you a chance of winning big, too, but only if you get multiple winning paylines. Win frequency is 25.04% so the game pays slightly less often than most slots.
Main game and paytable
Dracula is a slot that's played on a big 5×4 board with 40 fixed paylines, and the bet per spin can range from €0.20 to €20. The game uses stacked symbols that are three rows high so they will commonly appear in full since the board is four rows high. There are two such symbols, Dracula and Maiden, and they are responsible for triggering the free spins game.
There are three more medium-value symbols and four low-value card symbols in the paytable, for a total of nine. The game uses two types of Wild, the first one is a normal Wild and then there's the stacked Wild that's three rows high and appears on reel 3 only during the free spins game only.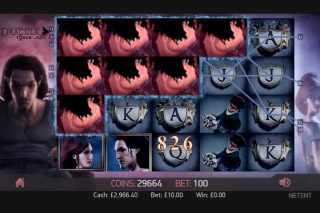 The paytable can't be considered a good one, because it's balanced and there's no symbol that stands out with a good prize. This is so because the two stacked symbols, the Stacked Wild in the free spins game and the random clusters all can produce multiple winning paylines. These two stacked symbols give 200 coins for five-of-a-kind win, while the remaining seven symbols all pay either 60 or 40 coins.
Bat Feature is randomly activated and does a lot for the playability of the main game. Dracula will make Bats fly across your reels and then they'll land on the reels in a cluster, and will then transform themselves to one same symbol, which can also be a Wild symbol. This can lead to some big wins as the cluster may help form five-of-a-kind wins. There is a remote chance that 20 Bats might fly towards your reel, in which case you'll have 20 of them land and will get a full board win of a random symbol!
Graphics of the game are excellent, and will appeal to many players who are looking for a high resolution visual experience. Animations are stunning, starting with the Bats that fly towards your reels, and the animation when free spins are triggered is a great one also.
Bonus features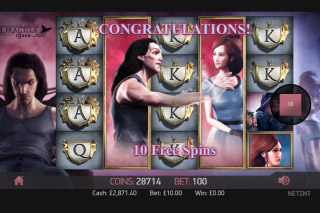 If the Dracula appears fully stacked on reel 2 and Maiden appears fully stacked on reel 4, the free spins game with 10 free spins will be triggered, and it's an interesting one. First of all, the free spins game sees the introduction of a Stacked Wild, which appears on reel 3 only, and whenever it appears it will award +2 extra free spins.
Bat Feature is active on every spin during the free spins game, so every time you'll get a cluster of the same symbol or a cluster of Wilds. With this and that Stacked Wild, the free spins game can be a rewarding one, and is definitely a fun one to play and to look forward to.
Conclusion
Dracula is an excellent slot game that features an interesting main game and a rewarding free spins game, all that with good theoretical payout and a stunning visual theme. The two stacked symbols really mean a lot to this game both in terms of gameplay and payout, and this is one incredibly fun slot to play. It pays well, too, so it's a good experience for all players and I definitely recommend playing it.
full list of Net Entertainment games