Best Casino To Play This Slot for Real Money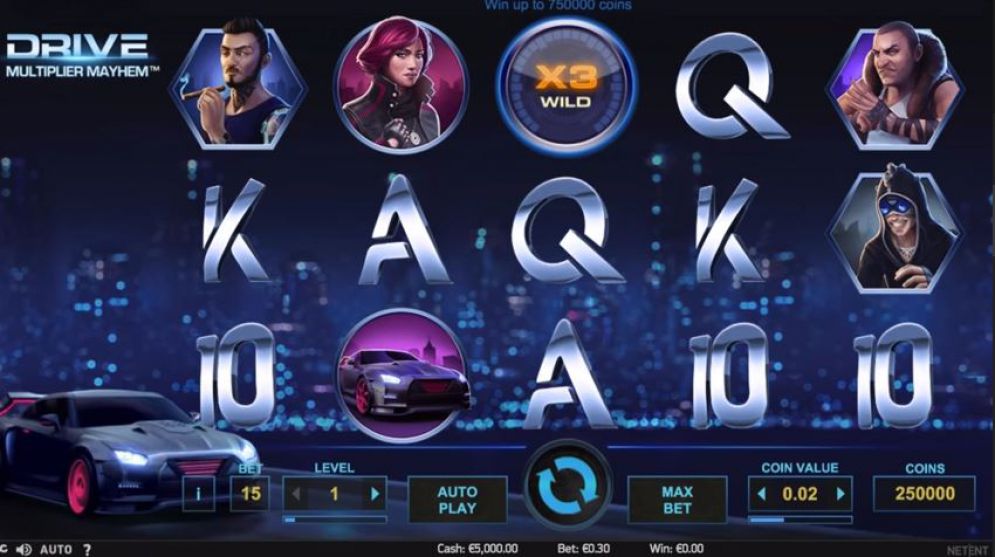 Rotate your device to start Play
Best Casinos to Play Drive Multiplier Mayhem for Real Money :
This one is for fans of Fast and Furious franchise, and since I am one I have played this game a lot. I can give you an honest opinion about the pros, which are many, and cons, which are few in this 2015 NetEnt release.
Drive Multiplier Mayhem is incredibly interesting to play as it has a progressive free spins game in which you collect Nitro symbols to advance to the next level and get some more free spins and some more overlay Wilds, and the main game is dominated by Multiplier Wilds that can award a win multiplier up to x120.
Main game and paytable
The game is played on a 5×3 board with 15 paylines, and the game doesn't really pay that often. Most of the time you'll need to land a Wild symbol to get a win, but this isn't necessarily bad as this game won't bore you with small wins. Theoretical return to player (RTP) is healthy 96.70% so it's not that this game doesn't pay, it's just that the win frequency is a bit smaller.
When you do win, you're likely to get a decent win. Wilds make sure of that as they carry a win multiplier. Multiplier Wilds carry the same multiplier as the number of their reel, so reel 1 will have a multiplier of 1x and reel 5 will have a multiplier of 5x. Multiple such Wilds can appear on the same spin, and if more than one form a winning payline, the multipliers will multiply each other. This is the best thing that can happen in the game, hence the title Multiplier Mayhem.
The game uses ten paying symbols, and five of them are low-value card symbols that are the most common sight on your reels. The five main symbols represent four different drivers and one car, and are all roughly on the same level when it comes to coin wins. Two symbols give a 60 coin prize for five-of-a-kind while two give 90 and the best one gives 150. This isn't much but it must be noted that prizes for four-of-a-kind aren't much worse at all. The prize for that is between 45 and 75 coins in case of these five main symbols, which is excellent.
All this makes for a very interesting main game. You're on the constant lookout for those Wilds, especially on reels 4 and 5, and you'll be hoping you'll land at least a four-of-a-kind win that possibly has a multiplier on it. It's not possible to win huge amounts of money unless you have multipliers that multiply themselves though. The maximum multiplier is x120.
Bonus features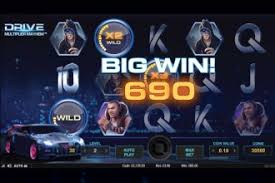 You'll need to land all three Scatters that appear on reels 2, 3 and 4 to trigger the interesting and complex free spins game. The Scatters will be replaced by a Nitro symbol during the feature, and these are collected to fill the Nitro Collect Meter, but also re-trigger the free spins game if you land all three at the same time.
Initially you'll get 10 free spins, and on the first level you'll be racing against Twitch. If you collect a total of three Nitro symbols, the game moves on to the second level plus some more free spins and some more Overlay Multiplier Wild symbols. There are a total of four levels in the feature, and if you reach the final level you will have played 19 free spins and will also have three overlay Wilds. You'll be racing against Twitch, Hamaki, and will then race Bruiser twice.
Conclusion
Drive Multiplier Mayhem is a great slot game as it has multiplier Wilds that can bring a huge win your way during the main game, the slot pays well for four-of-a-kind, and then there's the progressive free spins game with four levels and up to 19 free spins. Theoretical payout is excellent, so this is one quality slot game by NetEnt and I recommend playing it. You'll have loads of fun.
full list of Net Entertainment games