Best Casino To Play This Slot for Real Money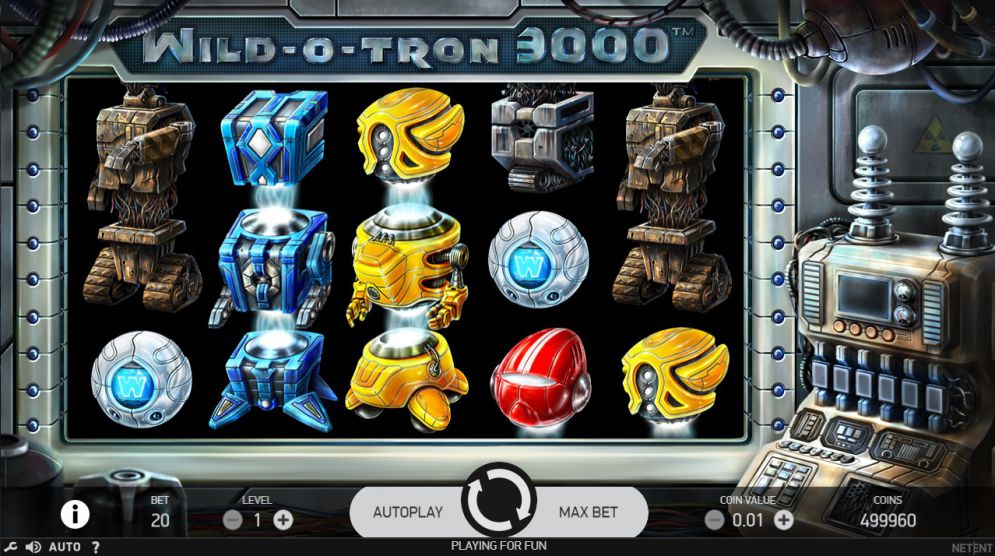 Rotate your device to start Play
Best Casinos to Play Wild-O-Tron 3000 for Real Money :
Wild-O-Tron is a December 2018 release by NetEnt, and the game is just another addition to this famous developer's portfolio, but is not among the blockbuster titles. I have played this game for a while and found it a bit too simple for my taste, but I'll share my findings with you and you'll be able to decide if this game is the right one for you or not.
This is a typical NetEnt experience as the game is played on a 5×3 board with 20 paylines and has a balanced paytable, and this is a medium variance game, perhaps even a bit low. Theoretical return to player (RTP) is 96.01%, which is in line with modern standards but nothing to write home about. This game won't bring your bank balance too deep into negative, and unlike similar games by this developer, this one does have the jackpot to look forward to, and it's a significant one.
Main game and paytable
There are seven robot symbols in the game, and it's an interesting addition by NetEnt that the symbols look different depending on which row they land. The top row will have the head of the robot, the middle reel will have the torso, and the bottom reel will have the legs. But it's still just the same symbol, and the only difference is that the slot game is more cool this way. Symbols pay from 40 to 300 coins for five-of-a-kind, and six symbols fall in the same range, with the Red Robot being the only one that stands out. Crucially, Wild is a paying symbol, with a 500 coin prize for five-of-a-kind. This is a typical low-variance paytable by NetEnt. There's also a Wild symbol, and Scatters are absent as this game doesn't have any bonus features that can be triggered by the player.
Perhaps it's important to note that the game has a total of eight symbols, which is a very low number, so you should expect to win more often than usual. Wilds are very rare, and the only time when you'll see more than one of them on your board is during the bonus feature.
Bonus features
The main and only feature of the game, the Wild-O-Tron feature, is triggered randomly at the start of each spin. This feature will change all occurences of a symbol into a Wild, and this will happen for at least one of the robot symbols, and it can get better, the maximum is to have six different robot symbols turn into Wilds. This means the feature can get very rewarding, especially with those 500-coin wins for landing five Wilds, and if you'd land a full board of Wilds, that would be a 10,000 coin win. Some players might not enjoy the fact that the feature is triggered randomly though.
Conclusion
Wild-O-Tron is a very simple game, perhaps too simple, and it has that one powerful feature that can make you rich but you won't have a sense of achievement as the feature is triggered totally randomly. This is in stark contrast to games in which you progress to the bonus round, even to those games in which you trigger the feature by landing three Scatters. All of that is absent here, and the bonus feature has a mind of its own and it will either get triggered or not. The quality of the bonus feature is also totally random. This makes Wild-O-Tron a good slot game for players who prefer simple games in which they passively watch what happens on the reels. Paired with low to medium variance, this is a good game for casual players who just want to have a little fun, but experienced players will likely be looking for more complex games. While Wild-O-Tron is fun, it's perhaps just a tad too simple to be taken seriously.
full list of Net Entertainment games