What jackpots can you win in December 2018? Let's take a look at the biggest slot machine jackpots at this moment and how you can win them.
There are only a few jackpot slots that can reach incredible heights of more than 5 million dollars, and jackpot hunters usually ignore the ones that can't pay at least a million.
Some jackpots can be won randomly on any bet size, which is the preferred way, while some will require a maximum bet and are therefore only available to high rollers.
Best Slots with Excellent Jackpots To Play Right Now
Let's have a look at the most popular jackpot slots so you can find the one you want to play. Undoubtedly, some of these jackpots are due!
Mega Moolah
(Microgaming – £8,300,000)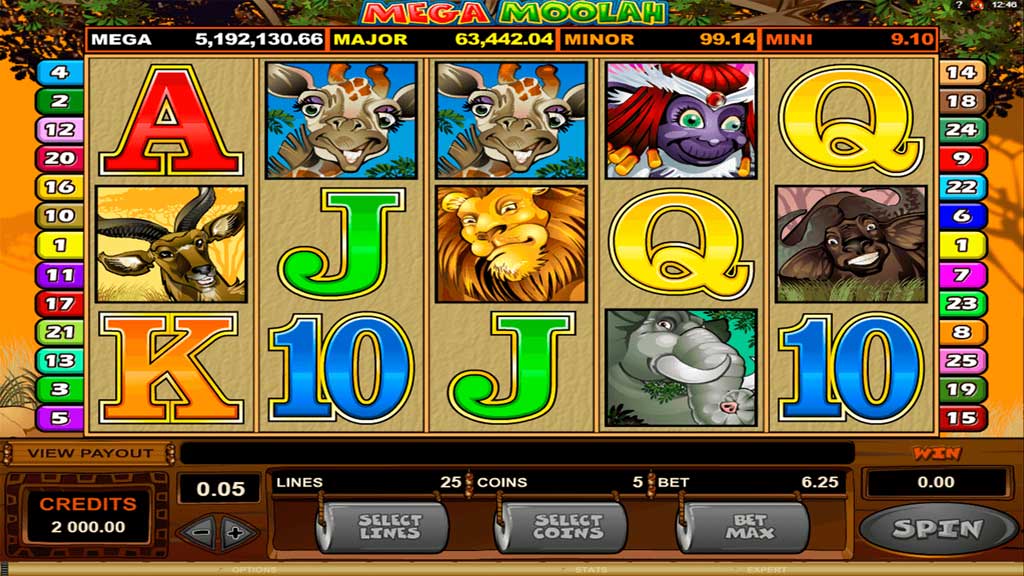 As usual, Mega Moolah has the biggest progressive jackpot among all slots, and this one can be won on any version of Mega Moolah, the basic one, Mega Moolah Isis, Mega Moolah 5 Reel Drive, Mega Moolah Summertime and Planet Moolah.
Recently, on 28 September, Mega Moolah paid its biggest jackpot yet, £18,900,000, and the jackpot already grew back to half that amount. This progressive jackpot is usually won once per month and it's already been a month and a half, so it's due anytime. There are four jackpots to win, and the big one is called the Mega Jackpot, and you can also win smaller ones – Major, Minor and Mini, which are consolation prizes for spinning that bonus wheel.
Regardless of in which casino you play Mega Moolah (and regardless of the version of the game), the chance to win is always the same.
Aladdin's Lamp
(GTECH – €3,700,000)
Aladdin's Lamp is a three-reel slot game with 3 paylines, and to have a chance to win this €3.7m jackpot you have to play €5 per payline or €15 per spin. The jackpot reduces to €1.6m if you play €1 per payline or €3 per spin, and reduces even further as you reduce your bet.
This is probably not a good proposal despite the sheer size of this jackpot, as you need to invest quite a bit of money to have a slim chance of winning it.
Jackpot King
(Blueprint Gaming – £3,200,000)
Jackpot King is a slot game that has different jackpots at different casinos, and the one listed here can be won at Paddy Power Casino. The jackpot grew very large but is rarely ever won and the last win was two years ago.
Hardly anyone plays this slot game these days as the jackpot is steady at this level. But one lucky gambler might take it.
Mega Fortune
(NetEnt – €2,600,000)
Mega Fortune is NetEnt's best progressive jackpot slot machine, and it usually pays a jackpot of €4,000,000 every 50 days or so. The last win was on 27 September and the current value of the jackpot didn't yet reach the average value, so people might say it's not yet time to play this slot game as it isn't due yet. But the truth is, jackpots can be awarded anytime, and this is a good jackpot slot to play as the jackpot is still massive at almost 3 million euros. Play the game at any NetEnt casino and your chance to win will be the same.
The biggest win was whopping €17m, so this is probably the only jackpot slot machine that rivals Mega Moolah in sheer size of jackpot as well as frequency of wins. This jackpot is won roughly every 10 weeks in average, so it's among the most active jackpots among all slots. The main jackpot is the same at all casinos, but the lower level jackpots are casino-specific so it may pay off to do some window shopping before choosing a casino where you'll play this game. That way, if you happen to win one of the minor jackpots you'll win more money.
Genie Jackpots
(Blueprint Gaming – £1,400,000)
Genie Jackpots is a five-reel 20-payline slot game in which you can win a jackpot on any bet. 2% of every bet is added to the jackpot pool, and the jackpot varies by casino, and it seems the biggest one at this moment is available at Paddy Power casino.
It's been a while since this jackpot was last one and this is definitely not one of the most popular jackpot slots people play.
Jackpot Pinatas
(Realtime Gaming – $1,800,000)
This is one of those jackpots that's casino-specific, and this particular bonus of $1.8m can only be won at Aladdin's Gold Casino.
The Jackpot Pinatas slot jackpot is regularly among the largest Realtime Gaming jackpots, but you have to find the casino with the largest bonus amount. This is a good jackpot for USA players.
The Big One Colossal Cash
(Party Gaming – $1,800,000)
Now this jackpot can only be won at PartyCasino since it's a slot game by PartyCasino's own Party Gaming software. This is enough of a reason to visit this casino and play this slot game that awards a jackpot roughly every 32 weeks in average, and the jackpot is usually between $1.5m and $3m.
This is one of the more active jackpots as many people play this game, but a lot of players will be put off by the fact that the chance of winning the jackpot is proportional to your bet size.
Funky Fruits
(Playtech – €1,500,000)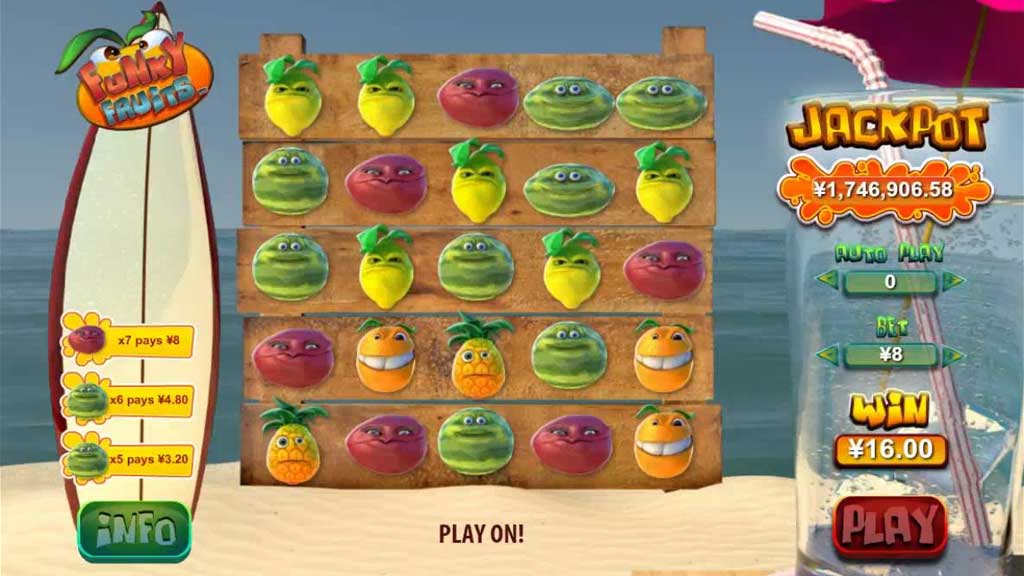 This jackpot doesn't seem to be so active anymore as fewer people play this slot game nowadays, and the jackpots won so far have been between €1.5m and €3m. The jackpot can be won at any Playtech casino, and the percentage of jackpot you win will depend on your bet.
If you bet €10 per spin you'll win the entire jackpot, while for a bet of €5 you'll win half of it, for €2 you'll win 20% and for €1 you'll win 10%.
Shopping Spree
(Realtime Gaming – $1,200,000)
Shopping Spree isn't one of the good jackpot slots to play, as it rarely ever pays a jackpot and you need to play $1.25 per line ($11.25 per spin) in order to have a chance to win the jackpot.
So be advised that this is a jackpot that was last won in 2011 and you need to be a high roller to even have a chance to win it.
Millionaire Genie
(Random Logic – $1,100,000)
Millionaire Genie is a three-reel slot machine that has a progressive jackpot, and the game was released by Random Logic. This basically means you have to play this one at 888casino, and the jackpot is won almost in regular intervals of five weeks, and it's always around this level, perhaps a little bit more.
It's as if the chance of hitting the jackpot starts climbing when the value of the jackpot reaches $1,200,000 as the jackpot is almost never hit before that value, and usually reaches only $1,300,000 at time of winning, though wins of over $2m have been recorded, and the biggest one was $5m. Due to its regularity this is an awesome jackpot slot machine to play.
Aztec's Millions
(Realtime Gaming – $2,800,000)
Aztec's Millions, powered by Realtime Gaming, can be played by USA players and this is the main reason behind its popularity. There are tons of US-facing online casinos that are powered by Realtime Gaming software exclusively, and most people try their luck with the Aztec's Millions slot while some only play this slot machine and nothing else, throwing all of their disposable income at it.
The jackpot is always at least $1,000,000 and it's currently closer to 3 million, and this is more than the last time it was won, on 5 September, $2,700,000. Many players think this jackpot is due, and that this is the right time to play Aztec's Millions. Together with Mega Moolah and Mega Fortune, this is likely one of the most popular jackpot slots today.
Life of Brian
(Playtech – €2,200,000)
This slot may be listed as an Ash Gaming or a Playtech title, but in any case it's one great slot themed around Monty Python's movie Life of Brian. The jackpot is currently almost €2,200,000 but varies with each casino so you need to search for the one that has the biggest jackpot, which in this case is Bet365.
The Life of Brian Jackpot is won in a simple way – when the Foot of God stomps down on your reels. This can happen after any spin, just like it could have happened at anytime during the Monty Python's Flying Circus TV show.
Joker Millions
(Yggdrasil – €2,100,000)
Joker Millions is an often overlooked title as it's by Yggdrasil and they aren't known for jackpot slots, but a clever player plays this one and can win a huge jackpot while most other players compete for Mega Moolah jackpot.
On 10 Nov a lucky player won almost €8,000,000 on this slot game, and the average jackpot is €3,000,000. The current jackpot obviously didn't yet reach the average but that doesn't mean it can't be won on any spin today.
Fairest of Them All
(Ash Gaming – £1,600,000)
Fairest of Them All is another Ash Gaming / Playtech title that has a jackpot that's different in different online casinos, and Paddy Power casino currently has this biggest jackpot of £1,600,000.
This jackpot isn't won very often at all, but it also rarely or never reaches its current level so it might be due soon.
DC Super Heroes Grand Jackpot
(Playtech – €500,000)
Last but not least, the DC Comics slots jackpot is far from a million but it's constantly rising and it can be won on any slot game from the DC Comics series by Playtech. The jackpot is the same across all casinos and it can be won on any spin and on any bet randomly, which is the reason why it's so attractive.
Just play one of the DC Comics slots and have fun, perhaps even with a minimal bet, and you stand a chance of winning the Grand Jackpot. There are three more consolation jackpots to be won.