Best Casino To Play This Slot for Real Money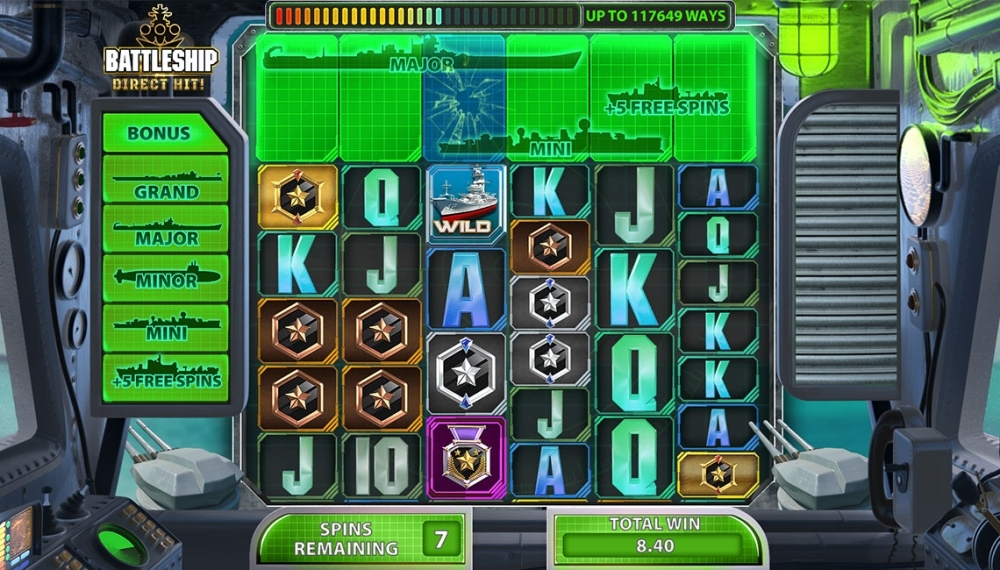 Rotate your device to start Play
Best Casinos to Play Battleship Direct Hit for Real Money :
I've played this slot for a few days since I really liked it, so let me give you an honest opinion about Battleship Direct Hit. It's a game that offers a lot of innovative things, and you shouldn't disregard it only because it's by a small developer. If Red 7 keep developing titles such as this one, they won't be small for much longer.
Main game and paytable
The game is played on a six-reel board, and each reel can hold 3, 4 or 5 symbols as they come in different sizes and will always align properly. This is a game which uses the 243-ways to win game mechanics, but with this number of reels and symbols the game can go up to 117,649 ways to win. The exact number is displayed above your board.
After you spin the reels and the symbols drop on the board, you will also see some Battleships above your reels. They may be smaller or larger. If you landed any Missile symbols on your board, these will shoot up and will hopefully hit a section of the ship. The goal is, of course, to hit all sections of the ship and therefore sink it, in which case you'll either win free spins or a bonus prize.
All winning symbols, if there are any, will explode and will be replaced by new symbols. This can go on and on, and your best hope is to land some more Missiles so you can sink that ship that's carrying free spins. Occasionally, cannons on the side of your reels will help by destroying some symbols on your board and letting new ones fall from above.
There are five card symbols and five high-win symbols. The card symbols don't pay very much, the maximum you can get is half your stake back, and the high-win symbols pay up to 4x your bet for six-of-a-kind, so there's no real powerful symbols there either. This results in a low to medium variance experience, and the game will rarely pull you too deep down into negative balance, and it's likely your balance will be hovering around the same number for a long time. However, there exists a chance to win big, either through the jackpots, or through the free spins game.
Bonus features
Ships that appear above your reels may be from 2 to 5 reels wide, and they are carrying prizes of 5, 10, 15, 25 or 50 free spins, and there's also a Bonus ship. Up to three ships will appear at one time, one in each row, so with a well-placed Missile shot you can hit up to three ships.
There are also four jackpots to be won, Mini, Minor, Major and Grand, and these aren't progressive jackpots but instead depend on your bet size. The jackpot ships only appear during the free spins game, and you'll also see ships which carry additional free spins. Wild symbols only appear during the free spins game, and the board gets larger, too, so it allows for even more megaways. It's during the free spins that you reach the maximum of 117,649 ways to win. The free spins game isn't easy to trigger at all, so some patience is required.
Conclusion
Battleship Direct Hit is a bit of a challenge at first and looks like a colorful mess, but once you understand the game mechanics and assume control of the game, it's an incredibly immersive experience that's very fun to play. Lots of different things can happen, and your goal remains to sink the ship, which is in line with the legendary board game. This is one of the games you can't miss, it's an immersive slot machine themed around a famous game, and the slot is just so much fun to play.