Best Casino To Play This Slot for Real Money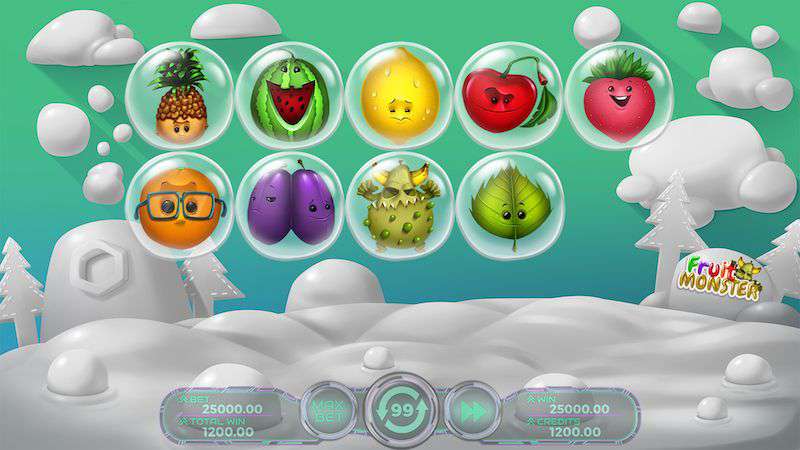 Rotate your device to start Play
Best Casinos to Play Fruit Monster for Real Money :
Fruit Monster was released by Spinmatic in March 2019 and it's obviously a fruit themed slot, and everything in this slot game is going rather well until you realize there's no bonus round. It came as a surprise to me early in my playing session, and I honestly don't like it. Here is a more detailed opinion about this slot game.
Main game and paytable
The game is played on a 5×3 board with only 5 paylines, which are fixed, and the minimum bet per spin is €0.05, which means this game is very cheap to play with a maximum number of paylines, and that's a good thing, especially with a paytable as generous as this one.
The paytable consists of seven symbols plus a Wild and a Scatter, and four of these symbols belong in the same, low-win, group as they pay from 30 to 50 coins for five-of-a-kind. But, since you only pay 5 coins to play the game, these prizes are significant, as even the lowest symbol will give you 6x your bet when you land five of them on a winning payline. There are two medium-win symbols that pay up to 80 and 120 coins respectively, and then there's one symbol, an Orange, that's the only reason to play this game. You'll get 200 coins for four-of-a-kind and whopping 800 coins if you land five Oranges on a winning payline, which is 160x your bet. If you'd land a full board of Oranges, you'd win 800x your bet.
The Wild symbol can appear on any reel, and it substitutes for all symbols except for Scatter. Scatters can also appear on any reel.
Bonus features
When you land three Mystery Scatter symbols on the same spin, you'll trigger the bonus feature which is not what you'd expect. Normally you'd get some free spins, but in Fruit Monster this is not the case. When you land the three Scatters you'll simply have to pick one of them, and then each of the three Scatters will reveal the symbol it was hiding. All three Scatters will transform into the symbol you clicked, and you will get a small coin prize. This is it as far as bonus features are concerned in Fruit Monster, unless you count a Wild as a feature.
Fruit Monster Slots RTP
Fruit Monster slot has theoretical return to player (RTP) of 93.81%, which means only those players who don't bother to check the RTP or don't care about it will play this game. Anything under 95% is just too low to make it viable to play a slot game, and the only reason to tolerate such a low RTP would be if the game is set up in a way that lets you win a huge prize. This isn't the case in Fruit Monster as there is indeed one powerful symbol, but it's not enough to recommend this game.
Conclusion
Fruit Monster is not a very good slot game, primarily because it's surprisingly lacking the free spins game while not offering anything of equal quality in return, and those Mystery Scatter wins won't be enough to keep you interested in the game. Orange is a very powerful symbol but since you must land your symbols precisely on one of those 5 paylines, it's rare that you manage to do so, so variance is high. Money can still be won on this slot game if you're lucky with your Oranges, but it doesn't seem reasonable to play this game in hope of that.
full list of Spinmatic games