Best Casino To Play This Slot for Real Money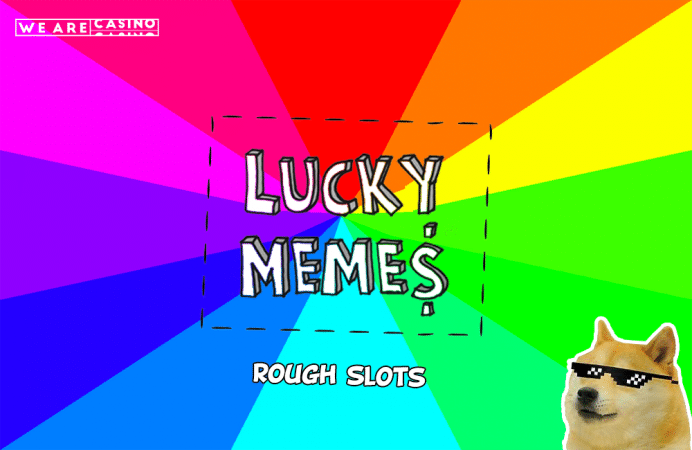 Rotate your device to start Play
Best Casinos to Play Lucky Memes for Real Money :
Lucky Memes slot has a seemingly new theme as memes are a new phenomenon that emerged in this decade, but it's in fact a retro slot as people who like memes think of yesterday's meme as an old one. And Lucky Memes put up ancient memes that started it all. The memes in this game are animated and actually do make sense, as the meme for the Bonus symbol is a celebratory one.
The game is played on a standard 5×3 board with 20 selectable paylines, and you can choose any number you wish, from 1 to 20. Since the minimum coin value is €0.01 that's also the minimum bet per spin, and you'll pay a minimum of €0.20 to play all 20 paylines. The maximum bet per spin is €40, so the range isn't that great.
Main game and paytable
The design of the game is not bad, as all the normal symbols are black and white meme characters, while the special symbols – Wild and two Scatters – have red letters on them. There are eight normal symbols, and five of them pay 100 coins or less for five-of-a-kind. Then there are two medium-win symbols that pay 250, and finally the best symbol of all that pays 1000. The prize for four-of-a-kind is 250 coins, and prizes for three-of-a-kind are generally worthless in this slot game. Wild is a non-paying symbol and it appears on all reels.
Bonus features
There is a Free Spins Scatter that can land on any of the five reels, and you need three or more to trigger the free spins game. You always get only 10 free spins and there are no coin prizes for extra prizes either, and the free spins game consists of spins that are free – no features are added to make the game more fun or/and rewarding. You just get 10 spins without paying for them.
There is another bonus game that's a bit more exciting as you get to pet the Doge dog and spin the bonus wheel, but the game feels a bit clumsy as the wheel always shows question marks and never the prizes. You just get a notification of how much you won.
Lucky Memes Slots RTP
RTP for the Lucky Memes slot isn't known, and we also don't have any info about other slots by WeAreCasino developer, so there's no way to tell in advance if this slot is paying well or not, and the only way to estimate the payout is to actually play the game and see what you get.
The win frequency seems to be decent enough, and it probably means this game has medium variance, perhaps even a bit low. The two bonus features get triggered often and you won't need to wait a long time to get them. But, they don't pay that well most of the time, so there's not much to be gained from triggering them. Landing that five-of-a-kind of the best meme is what you'll be looking forward to, not the bonus games.
Conclusion
Lucky Memes is perhaps a better slot game than we give it credit for, and you should play it yourself for real money to really see what this slot game is about. It's just that it feels a bit unfinished – particularly during the Doge Bonus Game – and we don't know the RTP. But the fact is, this game has a symbol that pays 1,000 coins, which is 20,000 if you're playing 20 paylines and you get a full-board win, and that's 1,000x your total bet. Few slots offer that. So, Lucky Memes could be a good slot to play – launch it and find out.