Best Casino To Play This Slot for Real Money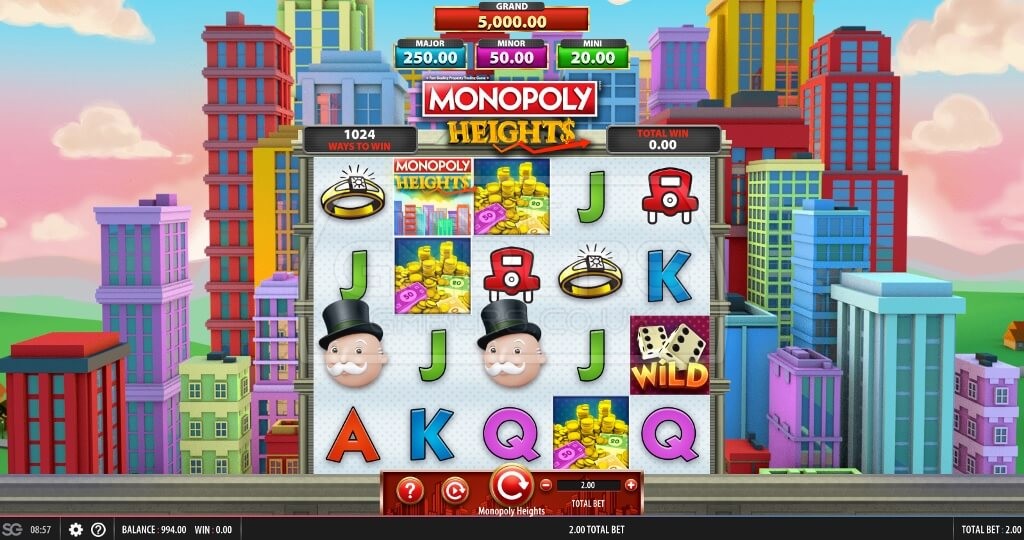 Rotate your device to start Play
Best Casinos to Play Monopoly Heights for Real Money :
The game is played on a large 5×4 board, and it has 1024 ways to win, which means that you need to land symbols on at least three adjacent reels, starting from the leftmost one, to create a winning payline. The minimum bet per spin is €0.25 and the maximum is €100, which is what most players will be happy with, and this range also allows for use of various betting strategies.
Main game and paytable
No symbol in this game can pay better than 1x your total bet, which means that on a single five-of-a-kind payline you can only hope to get your stake back, and that's what you'll get in case of three top symbols, while three more will pay 0.60x your bet and five lowest ones will pay 0.36x your bet. The game doesn't pay often, either. But since this is the case, there must be a special feature here that creates big wins – and there is more than one.
Whenever you land a win that involves a Mr. Monopoly symbol, your board will trigger an increase in the height of your board, hence the name of the game, as another row will be added on top of your existing board. The old board will lock into place while the new row spins, and if you land another Mr. Monopoly symbol then the height will increase again, giving you an even larger board with more ways to win. It won't amount to much really, but in certain cases it might produce a big win. The maximum height of your board is 8 rows, with 32,768 ways to win. Each expansion uses an alternate set of reels. Wild does not appear on reel 1 during any expansion, on reel 5 on the 2nd and 3rd expansion, and on reel 4 on 3rd expansion.
It must be noted that the game does very little with the potential of a monopoly theme, and only features Mr. Monopoly and Hotel symbols, while other symbols don't belong on this board game, and they don't even have the same visual style – Diamond Ring is cartoonish while Diamond is realistic. Much more could have been done with the theme.
Bonus features
Hotel is a Scatter symbol and it only appears on reels 1 and 5, and if you land at least one Hotel – a very rare symbol – you'll have a chance to win one of the Jackpots as the Jackpot Feature may be triggered randomly. It will definitely be triggered when you land both Hotel symbols, and this is your only bonus round in this game.
When you trigger the Jackpot Feature, you'll be presented with 32 Bonus Cards to pick from. Picks will reveal Mini (10x total bet), Minor (25x total bet), Major (125x total bet) or Grand Jackpot (2500x total bet).
Monopoly Heights Slots RTP
Theoretical return to player (RTP) of Monopoly Heights is 95.85%, which isn't that much and Bally again didn't go above 96% but it's good enough for most players, especially those who play Bally and other classic slots more often. The game does feel tight though, as the paytable is very poor and you need a lot of luck to land a good winning combination that will bring you back to positive. A lot of luck. This is a very difficult game to play, and very few players can leave it wiht more money than they came with.
Conclusion
It's probably best not to take Monopoly Heights slot too seriously and to play with a low bet per spin until you get a feel for the game. It's difficult to play it to win money, because the paytable is incapable of keeping you in positive, and the Expanding Reels feature doesn't open the game up either. Grand Jackpot is the only chance to win a lot of money. You'll find the game in Bally online casinos if you want to try it out and form your own opinion about it.