Best Casino To Play This Slot for Real Money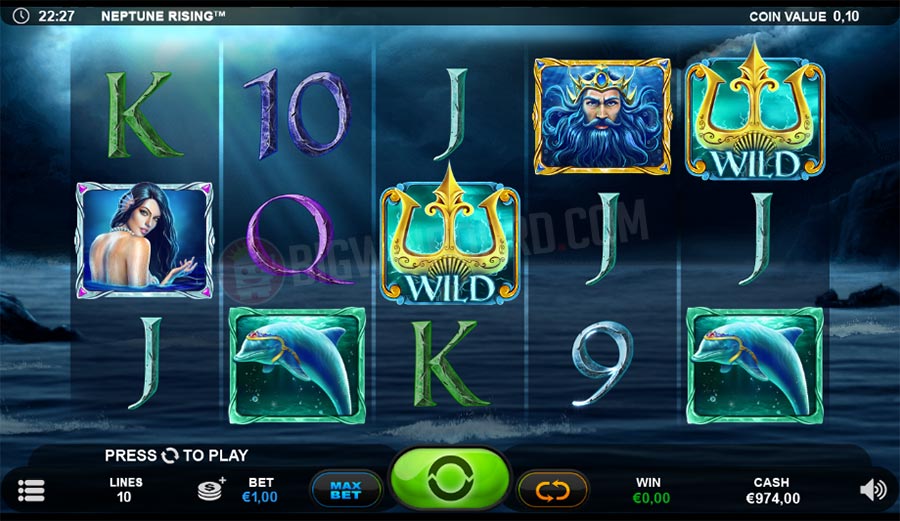 Rotate your device to start Play
Best Casinos to Play Neptune Rising for Real Money :
Neptune Rising is a classic slot that has a powerful feature that changes everything, especially during the free spins game, when it gets triggered before every spin. I quite enjoyed playing this game and have played it for the better portion of the day. The game does have its downsides but there are few of those, and if you're looking for a classic slot to play, Neptune Rising might be a good choice. Let's go through the pros and cons of this Plank Gaming title.
Main game and paytable
The paytable consists of eleven normal symbols, six of which are card symbols. The six low-win symbols can pay decent prizes, and you can get as much as 12.5x your bet with these already. It gets better with the medium-win symbols that pay up to 40x your bet, and the two main symbols pay up to 75x your bet each. The prizes for four-of-a-kind aren't that great, the maximum you can get is 12.5x your bet, and you'll be mostly getting these as five-of-a-kind is a rarity. Scatter and Wild are both paying symbols, and Wild is the best symbol in the game as it will pay 900x your bet if you land all five.
Bonus features
The main feature in the game is the titular Neptune Rising feature, and it can get triggered randomly on any non-winning spin. Neptune will rise from the ocean and will reveal the missing required symbols to form a win. Neptune can also help you when you land only two Scatters and have therefored missed the free spins game. Neptrune might just reveal one, two or three more Scatters.
When you land three or more Scatters anywhere on your reels, you'll trigger the 10 free spins. Before every spin, Neptune will rise and you'll have two or three reels full of the same symbol, and the symbol is chosen at random. It may even be a Scatter, in which case one Scatter will be on each of the reels. This is in fact one of the most rewarding free spins games out there, as you're guaranteed a win on every spin, and can get huge wins since the first two or three reels are full of the same symbol. Expect to win 100x your total bet at least, and if you're lucky it can be much more than that.
Neptune Rising Slots RTP
While it may seem the theoretical return to player (RTP) of 95.92% is a bit low, this game actually feels very rewarding, especially if you manage to trigger the free spins game early in your playing session. But even if you don't, the paytable has the potential of handing out a big win if you land five-of-a-kind of almost any symbol. This is a very good game and it feels as if you can win a lot of money on it.
Conclusion
Neptune Rising could be one of the better slot games with this theme, and undoubtedly many classic slot players will choose it as their preferred slot in the genre. This is largely due to the exciting and rewarding free spins game, as you feel Neptune is indeed helping you get those big wins. Variance is a bit high, but even if you're totally unlucky during the free spins feature you'll still make enough money. And if you do get lucky, you'll win huge amounts. The maximum win, if you get a board full of the best-paying symbol, is 750x your bet. Or land five Wilds for 900x your bet.