Best Casino To Play This Slot for Real Money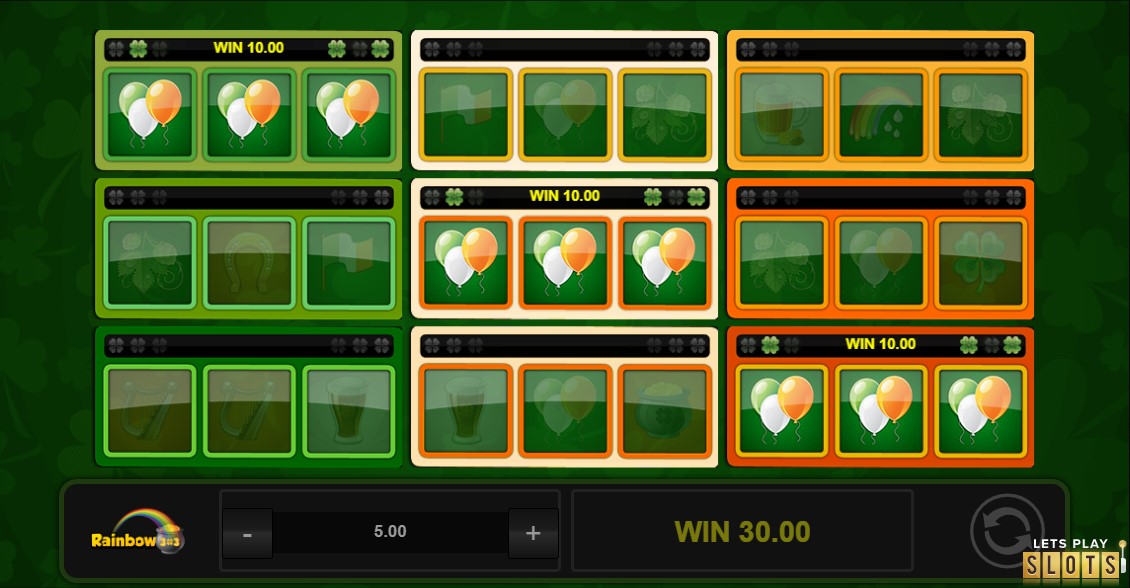 Rotate your device to start Play
Best Casinos to Play Rainbow 3X3 for Real Money :
There's definitely something that compelled me to try out the Rainbow 3X3 slot game. I'm just not sure really what it was. Of course, 1×2 Gaming does incorporate some impressive graphics into the game, which is always a good thing to me. Yet, it doesn't really have much in terms of special bonus features, other than the fact that it provides nine separate single reels to spin and win on. Perhaps it's just the fact that the game instantly makes me smile with how vibrant it is.
Main Game and Paytable
The design of this slot is quite unique, as it has nine separate reels of one in the same game. There is, of course, a single pay line running through each of these reel sets, meaning that, you have the potential of winning on nine different paylines overall. Your bet on these lines in the game is changeable with the slot's plus and minus buttons available at the bottom. Using them will allow you to select between bets of €0.10 and €5 per line. This means that your maximum bet possibility in Rainbow 3X3 stands at €45 per spin.
1×2 Gaming's inclusion of fun and funky graphics do make it more appealing to play, in my opinion. To begin with, there's an icon of a rainbow as well as one of three balloons in the colours of the Irish flag. The actual Irish flag symbol can pay out three times your stake. You'll also see symbols of a pipe, shamrock, a beer keg, beer bottles and a glass of beer. A pint of ale also shows up and can multiply your bet by 10x. A three-leaf clover symbol is also present, as is one of a four-leaf clover. The higher-paying symbols include the harp, the horseshoe, the Celtic cross, the Leprechaun's hat and, finally, the pot of gold. This one can pay out 500x your stake.
Bonus Features
Rainbow 3X3 doesn't actually have any additional special feature rounds for you to play through. There aren't any wilds, scatters, bonus rounds or multipliers. It's just a game that features nine reel sets to spin and win on.
Conclusion
So, alright, I can't say that Rainbow 3X3 is something ultimately special when it's compared to many other slot releases of late. However, it still holds a certain sense of appeal, with high-quality graphics and various betting possibilities being available within.
full list of 1×2 Gaming games