Best Casino To Play This Slot for Real Money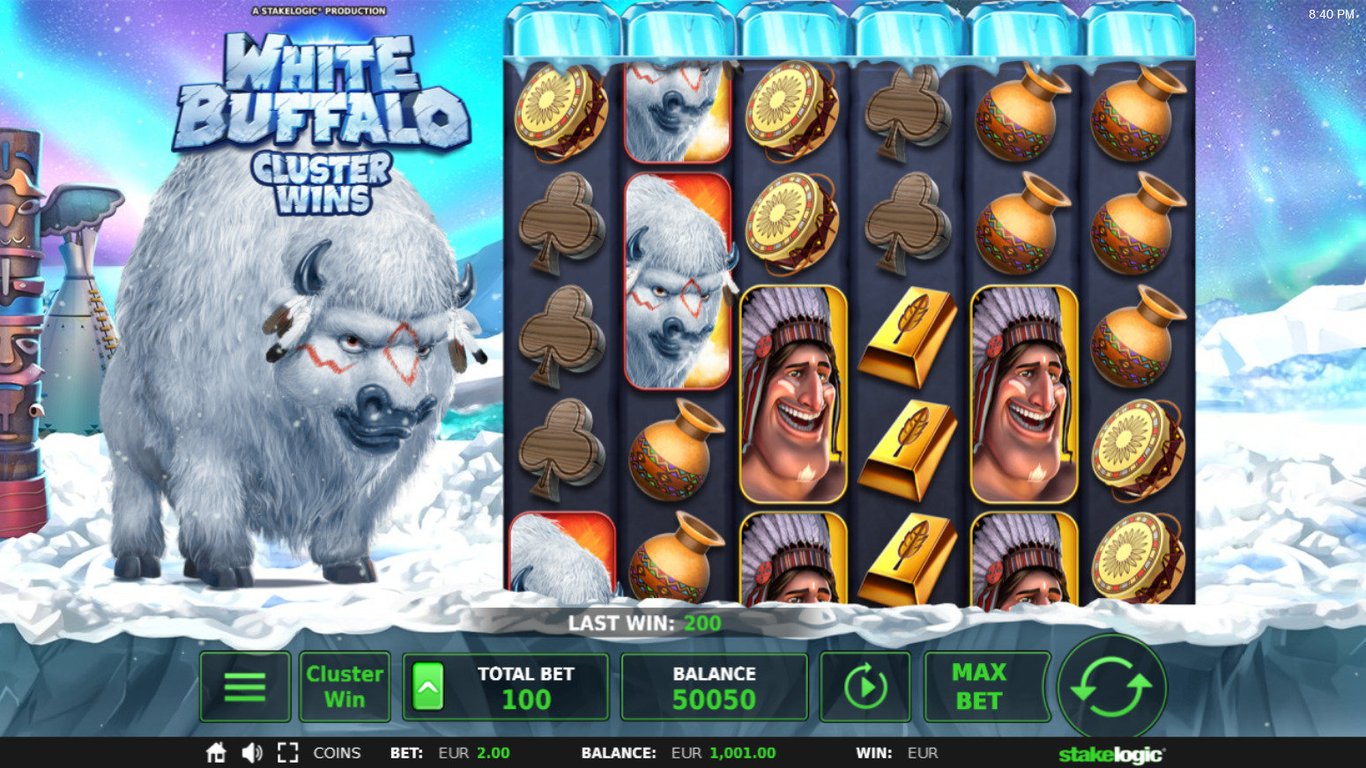 Rotate your device to start Play
Best Casinos to Play White Buffalo Cluster Wins for Real Money :
This game isn't perfect and has its good sides and downsides, and after playing it for a few hours I believe I can tell which parts of the game are good and which are not. A definite highlight of the game is the free spins feature, which allows for big wins because the board gets larger and symbols get stacked, so any player's opinion on the game will likely depend on how many times he managed to trigger the free spins feature. Those who trigger it often will likely make money from this game.
Main game and paytable
Just like the title says, this game pays in clusters and not on paylines. The board is 6×5 large with 30 symbols, and clusters of 9 or 10 symbols pay, depending on the symbol. Only the top two symbols, Native American and White Buffalo, pay for a cluster of 9, while all others start paying for a cluster of 10. These two top symbols always appear as 2×1 symbol that's two rows high. The clusters can go up to 30, and the four low-paying symbols will pay 2500 coins for that, which is 25x your bet, Gold and Diamond will pay 50x your bet, Native American will pay 75x your bet and White Buffalo will pay 150x your bet. This is a paytable that can produce huge wins, but variance is high, as you basically need almost a full board win to get the best prizes.
After any cluster win, a Shooting Star feature may get triggered. It will then randomly transform some more positions adjacent to the winning cluster into the same symbol that's in the cluster. This can be of great help, especially if you already landed a big cluster and need just a few more symbols to get that huge win.
Graphics are good enough, all the symbols are nicely drawn and no player will say this is a poor theme. The main two symbols are easily distinguishable on the board because they have a solid frame, and this is important in a cluster pays game that has a board of 30 or 42 symbols. You never notice, and it's easy to spot all symbols as soon as they land.
Bonus features
When you land three Scatters anywhere on the board, you will trigger the free spins game. This is relatively easy to get, since there are 30 positions and the Scatter can appear as a single 1×1 symbol or as a double 2×1 symbol, in which case you'll already have two Scatters and only need one more somewhere else on the reels.
You'll get 10 free spins, and they will have two important differences to the main game. First of all, the free spins game will play out on a 6×7 board with 42 positions, or 12 more than usual, and all the symbols that appear on the reel strips will appear stacked. These two things will help a lot and will increase the chance of landing those big clusters. While the cluster of 30 is no longer the largest cluster you can get, larger clusters will pay as if it was a cluster of 30.
White Buffalo Cluster Wins Slots RTP
Theoretical return to player is 95.66%, which is more or less a decent level, depending on what the player wants from a slot game. For some it will be too low, while others will readily take it.
Conclusion
As far as cluster paying games go, White Buffalo Cluster Wins isn't a bad one. It gives the potential of winning on clusters of 30 symbols or more, and what's important is that the prizes increase all the way up to 30-symbol clusters, so wins of 150x your bet are possible on a single spin. Theoretical return to player (RTP), however, indicates that this game doesn't pay all that well, since it's under 96%, or 95.66% to be precise. The free spins game is where all the money is in White Buffalo Cluster Wins, and it's a fun experience. If you're looking for a cluster pays game to play, try this one out and see if you like it, it has its pros and cons.
full list of Stakelogic games