This Guide Takes a Look at How the Cluster Feature Works on Online Slots
Make sure when you are playing slot game online you keep your eyes peeled for some of the very latest slot game releases, for by doing so you are going to have the ability of playing some of the most unusual yet potentially highest paying slot games available online.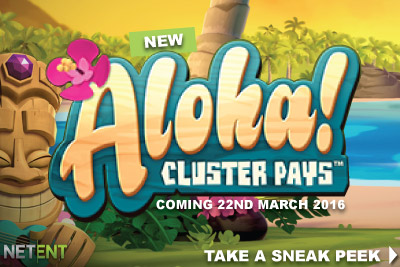 Whilst most slot games will offer you either an optional payline playing structure and format or a fixed payline type of playing structure, you will also find a brand new range of slots, albeit a small handful of slots which boast a Cluster Pays playing structure.
Now when you play such a slot you can forget about having to line up matching reel symbols on paylines you have activated, for the way those slot games award their respective winning payouts is by you spinning in sets of matching symbols anywhere on the slot game screen.
The in view and visible reel symbols you will find on a slot with a Cluster Pays paying structure do tend to be greater in number, and as such there will always be a fair chance you do indeed spin in sets of matching symbols side by side on adjoining reels.
Cluster pays slots are going to be found in many online casino sites, and as such you will always have plenty of different types of those slot games available to you. Some of the very best Cluster pays slot games you can play online are those that have been designed by NextGen Gaming and some of our top rated featured casino sites have their range of games on offer, so have a look round and give those slot games a much play time as you can do!
Below you will find out the pros and any cons of playing such slots online or at a mobile casinos site, and if you are the type of player who loves having different playing strategies in play on any slot you do play we will let you know the optimal ways to play Cluster Pays structured slots too!
Slots with Cluster Pays Playing Structures
Sadly there are not a huge number of slot games offering the Cluster Pays playing structure, for it is a relatively new slot format and as such currently you will find just one online slot on which the Cluster Pays playing structure can be found!
That slot is the Aloha Cluster Pays slot which has recently gone live on the instant play no download gaming platform offered by casinos using NetEnt's range of slot games. However what you may find is some slots offering a similar playing structure at different casino sites which have a different name for the Cluster Pays format.
However, there is a lot to like about that NetEnt designed slot, however he very first thing you will notice if you choose to play it is that there are a huge number of different ways of forming a Cluster Pays winning combination, but you will never be forced to have to put into play a huge number of coins to play it.
You will be able to send into live play as little as 10 coins per spin or any increment of ten coins up to a maximum of 100 coins on a range of different coin values, so this could be the ideal slot to play if you want the absolute maximum chance of winning but for a relatively low stake level.
If you form a matching set of 9 reel symbols side by side on the screen either horizontally or vertically then you will be awarded with the respective winning payout for those matching reel symbols. You will be best advised to take a good look over the pay table of the Aloha Clusters Pays slot to find out just how much you could win from one single spin.
In addition to you being able to spin in a Cluster Pays winning combination form the base game you could also trigger a set of potentially very high paying free spins from any single base game spin played off.
To do so you will have to spin in three, four, five or six scatter symbols, and the more of them that spin in the more free spins you will then get to play off. The free spins can also be re-triggered and once again during the free spins round he more of the scatter symbols that spin in the more free spins you will then additionally be awarded with.
The design of this Cluster Pays awarding slot is such that there are six video reels in play and on each of those reels you will have five in view reel positions.
Understanding How Cluster Pays Slot Games Play
Any slot which has a Cluster Pays playing structure are going to be a type of slot game that you can and probably will have plenty of fun and winning opportunities available to you whenever you send their reels spinning, but as you may not have played these types of games before please spend a few minutes watching the following video.
The Cluster Pays slot machines and slot games that you can play online are available as either free to play and no risk slots so you are always able to test them out, or if you do want to have the chance of winning some large amounts of cash make sure you give them some play time at any of our licensed and regulated online casinos who have plenty of additional bonuses to give away to their new players.
Whilst there are not that many slot games that offer a Cluster Pays type of playing structure you will find the handful of them that do is always going to give you a fully rounded online slot playing experience!