Guide To Random Slot Jackpots and How To Find One?
As an online slot player you will no doubt have seen plenty of slot games that have caught you imagination and attention and have probably played hundreds of different slot games too. However, if you are new to the online or even mobile slot playing environments then there are some slot games we would like you to consider playing.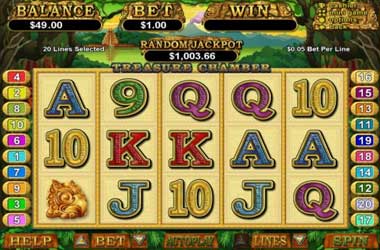 Those slots are ones on which you have the chance of winning one or even more than on progressive jackpot, however instead of you having to be lucky enough to spin in a complete set of matching reel symbols selected activated paylines to win one of those jackpots you simply have to send the reels spinning and hope at the end of that spin one of the progressive jackpots will be awarded to you at random!
There is however a few different Random Jackpot awarding slots you will come across at various different casino sites some will be awarded to you as mentioned above at the end of any winning or losing base game spin completely at random.
However, some of these types of slot games, usually the ones which have more than one progressive jackpot on offer, will award you initially with a randomly awarded bonus game, but that bonus game will be one on which as soon as you have played off that bonus game you will be guaranteed of winning one of those progressive jackpots, usually irrespective of the stakes or number of paylines you have but into live play!
Types of Random Jackpot Slot Games
There is many of different casino sites that you will find listed throughout our website and it is worth noting that each designer of those slot games will have a different name attached to their random jackpot slot games and slot machines.
Random Jackpot slots are going to be found in many online casino sites, and as such you will always have plenty of different types of those slot games available to you. Some of the very best Random Jackpot slot games you can play online are those that have been designed by BetSoft and some of our top rated featured casino sites have their range of games on offer, so have a look round and give those slot games a much play time as you can do!
With that in mind we shall now take a look at some of the better known and most played slot games form a range of different casino and slot game designers and will be enlightening you as to what names they do attach to their random jackpot slot machine games!
If you choose to play at a Microgaming software powered online casino site of any casino site offering their range of slot games then you will find that all of their Mega Moolah slot games come with randomly awarded bonus games which are wheel spinning games and it is via those bonus games where you will be guaranteed of winning a progressive jackpot when they have been awarded to you.
If on the other hand you play at any Playtech software powered online casino site then look out for their Marvel Jackpot range of slot games as they too are slots offering a bonus game which can and will award you with a progressive jackpot when you pay off those bonus games.
Real Time Gaming are another online casino game and online slot game designer and their range of random jackpot slots are known as Real Series slot games, so do be on the lookout for those games too!
Playing Random Jackpot Slots
We want you to be able to make your own mind up as to whether you would like to play online slot games which offer randomly awarded jackpot payouts, and as such in additional to this review of such slots we have a small video which we cordially invite you to watch below.
That video will show you a random jackpot awarding online video slot game that you will be able to play online for free and at no risk what so ever, or if you wish to try it out for real money then take a look at our exclusive bonus offers we have listed on our website, as those bonuses can be used on this type of slot game!
Strategies and Tips for Playing Random Jackpot slots
It will usually be the case that the higher the stake levels you play any random jackpot awarding slot machine game for the most chance you will then have of winning one of the progressive jackpots attached to those slot games.
However, the best aspect of choosing to play such slot games is that it doesn't matter at what stake you do play them for every single base game spin you play off will give you a chance of being awarded with the progressive jackpot either instantly or via some form of bonus game or bonus feature.
One way that we are aware that many slot players do tend to play any slot game offering a random jackpot is for them to set the stake levels as low as they possibly can do and then play off hundreds or thousands of spins per session.
Each of those spins will give that player more chances of winning the progressive jackpots, and to make playing off a huge number of spins rapidly as easy as possible many players will make use of the auto play option setting, and they will also make sure that they have clicked onto the option settings button and have selected the quick spin or fast play option so the slot will be playing of every single spin as quickly as it possibly can do to allow you to get through their spins rapidly!