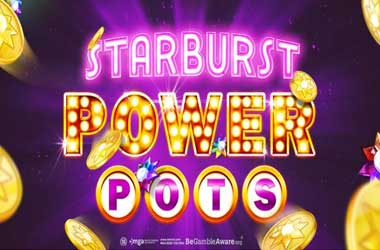 The slot game market is going to experience a big change as NetEnt releases its new jackpot system. The Swedish game maker plans to shake things up with its Starburst PowerPots Community Jackpot System. It will apply to its entire game library and provides online casinos with a customizable product that will help meet a variety of needs.
The main idea behind this new jackpot system is to allow players a chance to collect Starburst tokens from different NetEnt games from different online casinos. They will then be able to get a piece of the community jackpot along with other casino players.
The Starburst tokens are collected into PowerPots with the help of the entire community. When the pot is full, the community jackpot is rewarded to the players that participated in it. The division is then based on the amount of contribution that the players made to the pot. The reward is shared fairly so people don't need to be online to be part of the rewards.
The Starburst PowerPots family all share the same values so players can play any game in it and still have the same results. Besides that, there will also be an additional progressive jackpot in the line for those who want to have an extra thrill. This Community Jackpot System is just one of the few things that NetEnt will be releasing soon.
Better For Operators
The great thing about this concept is that the operators are given full freedom to change things for the jackpot system. It will allow operators to set the RTPs of various games, along with how much the games contribute to Starburst tokens and the prize set up. Plus online casinos will have no problem to match the interface with the casino brand using it.
NetEnt Director of Games Bryan Upton said that Starburst PowerPots was made with the full cooperation of NetEnt's operator partners. The company has also looked at players' expectations and tried to meet them as much as possible. The Starburst brand is expected to become recognisable with the prize mechanics driving better engagement with the players.
The Starburst online slot game has been around since 2012 and slot game lovers should be able to recognise the brand easily. This addition to the brand is great because the additions are pretty easy to understand and integrate into the current infrastructure of any online casino. Players can expect to see this new system in their favourite online casino in no time.