Slot Game Bonus Rounds and Bonus Features
When a slot player has been playing the more basic types of slot games such as the Classic Slots and the Three Reel Slots and they start to play the Video Slot games it can often be a very steep learning curve for at any time when playing a video slot game a bonus feature or bonus game may be triggered and awarded to that player.
There are a huge number of different types of bonus games that can be triggered to players when playing Video Slots online and to hopefully enlighten you as to the most commonly awarded bonus games and bonus features we have given an overview of them below.
Please do have a good look through this guide as you will find it quite interesting and informative, more so if you have never played bonus game awarding Video Slots before and are a little wary of playing them in case a bonus game is awarded to you and you haven't a clue how to play that bonus game feature!
Free Spins Bonus Games
The slot games which can offer a player a set of free spins are often the most played slots at any online casino site, and these games usually feature a set of what are known as Scatter symbols attached to most or all of the reels.
The way in which the free spins are awarded is often quite straight forward to understand, a player has to get spinning into view on the slot game screen, in any position, a certain number of the Scatter symbols and when they do they will be rewarded with certain number of free spins.
The free spins will play out at the same stake levels and number of paylines that were put into play on the base game spin that triggered this type of bonus game, however many slots will award a multiplier value on their free spins and as such if a winning combination is formed the winning payout is boosted by the multiplier value.
Free spins bonus games can often also be re-triggered by players and this is often done when another set number of Scatter symbols drop into view as any one single free spin game is being played out.
Pick to Win Bonus Games
The pick to win type of bonus games awarded on several Video Slot games are relatively straight forward to play, these can be awarded whenever a set number of bonus symbols either line up in a certain way on the base game screen or these games may be randomly awarded.
Once triggered a player will be simply tasked with clicking on one or more locations on the screen in the hope that any position that they have clicked on will uncover a large number of coins or a base game staked amount multiplier, and winnings won from these types of bonus games are accumulated and awarded as one final winning payout when the pick to win bonus game comes to an end.
Some pick to win bonus game will let a player pick off an unlimited number of locations displayed on the slot games screen, these types of pick to win bonus rounds only end when a player uncovers a Game over or Collect type message hiding underneath one of the locations chosen.
Pick and Match Bonus Games
A pick to match type of bonus game feature round is very much like the above type of bonus game feature round, however when playing off this type of bonus game a player is hoping to match two or more identical symbols or cash amounts hiding under various locations on the bonus game screen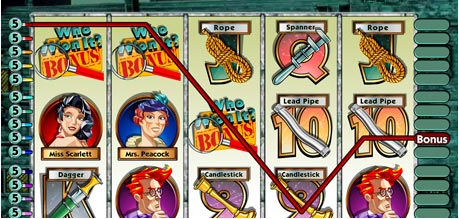 When a player does match two or more symbols of the same type they are then awarded with the corresponding payout associated with those symbols as displayed on the bonus game pay table.
Some slots will have a set of progressive jackpots that could be won when this bonus game is awarded, and when this bonus game is triggered a player will have to match symbols associated with each of the different progressive jackpots on offer and they will of course be hoping the get the required number of matching symbols attached to the highest valued progressive jackpot!
Spin the Wheel Bonus Games
Wheel spinning bonus games are found on both Video Slots and Three Reel slots and these do not have any element of skill attached to them, all you need to do is to set the wheel into motion and as the wheel will be divided up into different segments each containing a set of coins or a base game staked amount multiplier, whichever segment of the wheel stops opposite the pointer on the bonus game screen will be the winning payout you are awarded with.
Some slots have skill based bonus game feature rounds however those are usually only found only on the Fruit Machine type slot games, however you may occasionally find them on offer on some Video Slot games.
Progressives Jackpot Awarding Bonus Games
Some slot games have a bonus game that you will be hoping is triggered when playing that slot and these are the progressive jackpot awarding bonus game feature rounds, which when triggered could see you being awarded one of the progressive jackpots attached to that slot game.
The most commonly found progressive jackpot awarding bonus games are the pick to win ones and the wheel spinning ones, you will find that when a slot offers more than one progressive jackpot then when they are awarded via a bonus game you will first have to play off that bonus game to discover just which progressive jackpot you have won.
Some slots will guarantee that you will definitely win one of the progressive jackpots when this special bonus game is triggered whilst some of these bonus games give you a chance of winning a progressive jackpot when it is triggered but there are no guarantees that you will!