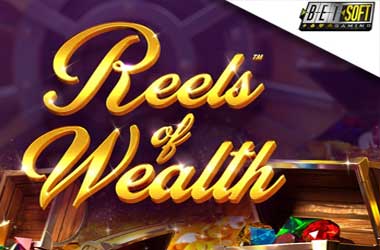 Hardcore slot players are always looking for a new slot release as it gives them the opportunity to play a new game and have a different experience. Slot lovers will be happy to learn that leading online game developer BetSoft has a special treat for them.
BetSoft has announced that they will release their latest game Reels Of Wealth on April 28. This new slot game lets players match up winning combinations of jewels and cash, with multiple features that will amuse players greatly. Plus, they have a chance at incredible winnings with the mini-game called Megastar Jackpot.
Instead of the ordinary symbols, Reels of Wealth uses jewels, gold bars, and cash as the symbols on the reels. There will also be the traditional Jack, Queen, King, and Ace symbols that add to the variation in winning combinations. The most important aspect of this new game is that it is built on the Rolling Wins platform. This is BetSoft's new gaming platform that will allow players an additional spin every time they get a winning combination.
Betsoft Gaming
Rolling Wins Bonus
The extra spin is just the first layer of the Rolling Wins bonus. Players will also get a Rolling Wins multiplier every time they win. This multiplier adds up and players can triple the payout that they could potentially get. The multiplier depends on how many extra spins the player earns.
In addition to the Rolling Wins platform, Reels of Wealth has a nice little variation on the Wild symbol. A standard wild can act as any symbol except for Scatter. In this game, wilds also act as a multiplier. A single wild can double a player's winnings, while two wilds can quadruple the cashout. Plus, wilds will stack so the next spin will keep the wilds from past rounds.
The game also features two unique Scatter symbols. There is the Vault of Wealth, which can cash out immediately. The MegaStar Jackpot symbol activates a mini-game that will potentially give players a larger payout. When three MegaStar Jackpot symbols combine, the mini-game will begin.
When the MegaStar Jackpot game activates, the reels are replaced with special jackpot symbols. In this game, players will try to collect these symbols to earn one of four special jackpots. When the jackpot symbols fall on the winning line, the symbols explode and are replaced by other symbols. There are four symbols available: Hero, Legend, Star and Megastar. There is a meter for each and players need to fill them up to get the bonus.
Reels of Wealth will be available on both desktop and mobile platforms and has a 95.29% RTP. Players can see a preview of it on the BetSoft site and try the full version from April 28.