Payout Percentages Explained For Slot Games
There was a time and not too long ago that if you tried to find out the long term expected payout percentages attached to the slot games of certain online and mobile casino sites you would have to spend hours hunting around for that information.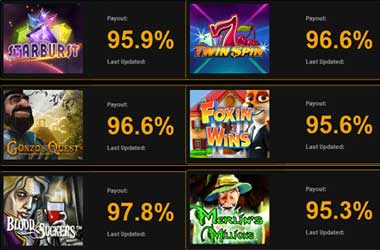 The RTP's which stands for return to player payout percentages of many online and mobile slot games was once a closely guarded secret that many slot game designers were very hesitant in letting slot players know.
However with the advent of many different gaming jurisdictions, the Gaming Commissions and Gaming Authorities who license and regulate many online and mobile casino sites now demand any license holder to make available such information, and as such you will readily be able to find the payout percent information of any slot game you do play in either the mobile or online gaming environments.
Another thing that is demanding by the Gambling Commission and Gaming Authorities is that both the free play and real money slots available at sites they license much be the same, so as to give free play slot feels a true and very real feel for the way in which the slot games available at any casino site work, play and pay.
Below you will find out how you can work out your own single slot playing session payout percentages on any slot game you play, and we will also give you information on regards to how diverse the RTP's on many different slot games can and will be set.
Online and Mobile Slot Game RTP's
Whilst there can be some ever so slight differences in regards to the RTP's attached to online and mobile slot games which are the same slots, what you will tend to find is that when a slot is being offered in both playing environments the RTP's will be identical on both gaming platforms.
The one general rule of thumb that you should always keep in the forefront of you mind is that the higher the payout percentages on offer on any slot game you play, the more winning payouts you are going to be rewarded with when playing those higher paying slots over the long term.
Slots with high payout percentages are going to be found in many online casino sites, and as such you will always have plenty of different types of those slot games available to you. Some of the very best slots with high payout percentages you can play online are those that have been designed by Quickspin and some of our top rated featured casino sites have their range of games on offer, so have a look round and give those slot games a much play time as you can do!
When have spent quite a while taking a look at various different online slot games from lots of different categories and have found that both three reel and video slot games can offer quite a varied range of RTP's which could be as low as 93% or even lower, whilst some slots can be set to return RTP's as high as 99% or even higher!
However, progressive slot games do tend to offer some of the very lowest possible RTP's and that is usually due to the fact that a small percentage of your stakes are feeding the jackpot pools, and as such you should try and avoid playing such slots unless the progressive jackpot is way higher than the amount it is usually won at.
Another category of both online, mobile and land based slot machines that you may be interested in playing are Fruit Machines, now one very bad aspect of choosing to play those type of slot machines in land based venues is that the payout percentages could be as low as 72%, and as such they offer no real value and will often very quickly swallow up your slot playing bankroll.
However, when you make the much wiser decision of playing the all action and bonus game packed online and mobile versions of Fruit Machines you will find the RTP's those games have been designed to return to players can be ay higher than their online equivalents.
Those RTP's can be in the mid to high nineties ranges and as such you are always going to be best advised to play Fruit Machines online or via a mobile casino site if you want more play time from your bankroll and more of your stakes returned to you as winning payouts over your long term play.
One final thing to always keep in mind however is that all online slot games are completely random, and as such your single slot playing session will return an RTP that can wildly fluctuate depending on just how lucky you have been.
So even if a slot offer a payout percentage of for example 96% you will not always have session which return such a payout percentage, they could be higher paying ones or much lower paying ones!
Learn How to Play High RTP Slot Games
Huge RTP online slot machines are going to be readily available to you at any of our approved and fully reviewed online and mobile casino sites, and for you to get the best idea of just what type of slot games to play please watch the following video to see a real slot being played which we think you are going to love playing.
NetEnt are the company who have deigned and released this slot which does come with a high payout percentage and as such you are going to find plenty of casino sites with that slot on offer and you are also going to find plenty of bonus offers available if you sign up to any casino we have listed offering that slot game, so make sure you sign up to one of them and give this slot a whirl as it is one of the best ones available!