Best Casino To Play This Slot for Real Money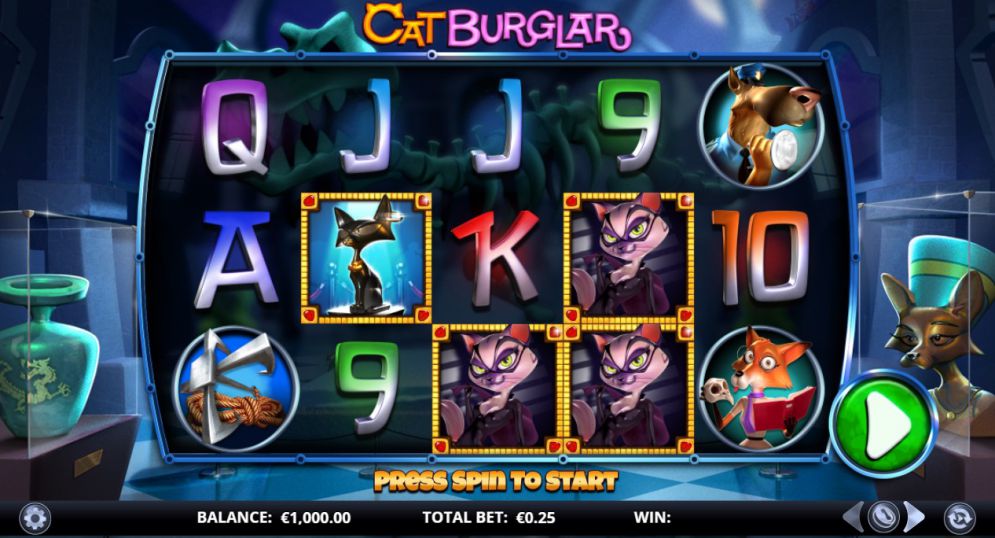 Rotate your device to start Play
Best Casinos to Play Cat Burglar for Real Money :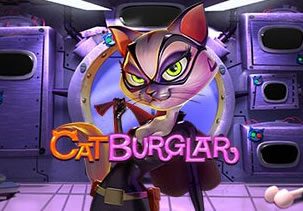 I've played Cat Burglar for a few hours as I quite liked the theme, and the potential of winning those incredible free spins. Although I didn't get close to 190 free spins, I liked the game so let me share my findings with you and give you an honest review of this Games Lab title. The theme is done in high resolution and all the symbols and the background look great, it's a good game when it comes to visuals and a good game when it comes to gameplay. This small developer did well, and we're looking forward to more slots from their workshop.
Main game and paytable
The game is played on a 5×3 board with 25 fixed paylines, and there are eleven symbols in the paytable. The paytable is a bit skinny and is low variance, as all the eleven symbols pay similar prizes and the difference between the best and the worst symbol is only 3x. This is what some players will like and some will not, it makes all wins at least decent but it also doesn't provide a player with a symbol that would hand out a big prize. This is a low variance playing experience, and the theoretical return to player (RTP) is 96.57%, which means this is a quality game that should be played by those players who want lower variance. In the main game at least, because the free spins game is something completely different.
Bonus features
Onyx Idol Scatter triggers the free spins. When you land three, four or five Scatters you'll trigger the bonus round in which you'll decide how many free spins you'll get. It's a bit complex. First you trigger the Vault feature with five Vaults, and you'll have four, five or seven guesses of the combination for each Vault, depending on the number of triggering Scatters. The five Vaults require codes of different length so the first one will be easy to open as it has only one number, while the last one will need five. At the very minimum you'll get a decent number of free spins and probably your wins will be doubled or tripled, and to get more than that you'll need to try much harder and have a lot of luck. I made it to 20 free spins by opening two Vaults, maybe you'll do better.
You'll start with 5 free spins with a x1 win multiplier, and the five Vaults will award 5, 10, 20, 50 and 100 free spins and a x1, x2, x3, x4 and x5 multiplier increase. Should you open all five Vaults, you'll get incredible 190 free spins with a x16 win multiplier. For that you will need to trigger the bonus round with five Scatters as it's almost impossible to guess all combinations with only five guesses, and you'll need a lot of luck with the guesses, too. It's great to see that this game has the potential to give this kind of prize, and this is the number one reason to play Cat Burglar. Now we know why the paytable is that skinny and why it doesn't have a stand-out symbol – because a x16 win multiplier can apply.
Conclusion
Cat Burglar is one of the better slots in the genre of busting a vault, and what a vault it is. 190 free spins with a x16 win multiplier could be one of the best free spins bonus rounds ever seen in slots, so take your chances and give Cat Burglar a few hours, you might just end up triggering that huge number of free spins. Just guess the combination correctly when you do land those Scatters and you're in for a fun ride.