Best Casino To Play This Slot for Real Money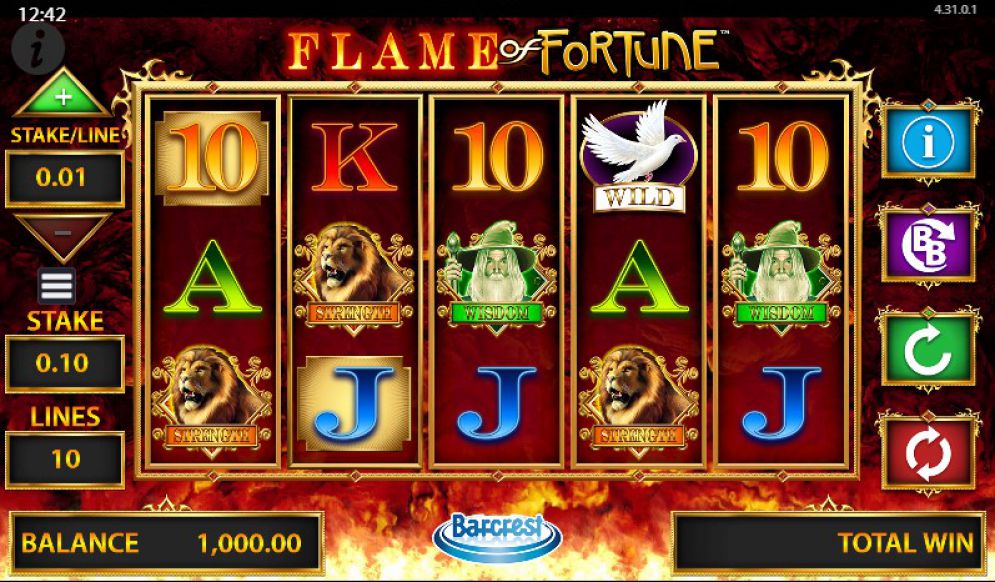 Rotate your device to start Play
Best Casinos to Play Flame of Fortune for Real Money :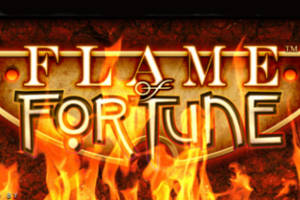 To be able to write a detailed review, I have played Flame of Fortune for long enough to play through all aspects of the gameplay. And there's a lot to see here, as the game is complex, and most importantly, it gives you a chance to play smart with an appropriate strategy and increase your chances of winning and your theoretical payout percentage. This is rare in slot games, and Flame of Fortune can therefore be beaten if you play it correctly.
Main game and paytable
This is a standard game that looks like a classic slot, so it's played on a 5×3 board with 10 paylines. There are nine symbols in the paytable, and five of these are low-value card symbols while four are high-win symbols: Justice, Faith, Wisdom and Strength. The prize for Strength is nice, 1000 coins for five-of-a-kind, but in general the only goal of this game is to trigger the Fortune Drop bonus round.
As is often the case with Barcrest, you can play their slot game with the normal bet per spin, or you can opt to pay extra for a special series of spins during which you'll get special treatment. Theoretical return to player (RTP) differs according to your bet size, too. If you bet 2.00 or less coins per spin, the RTP will only be 93.64% for a random strategy or 94.00% for the best possible strategy, whatever that means. It makes sense to play this slot game with a bet of 2.00 or more coins per spin, as then you'll have theoretical RTP of 96.00%, which is a decent value you expect from most slots. The added value comes from the fact that Wild substitutes for all symbols, and if you play lees than 2.00 then the Wild will substitute for four high-win symbols only, not the card symbols.
If you play the Big Bet game, your theoretical return will be 96.93% for a random strategy or 98.00% for a perfect strategy. We don't know what the perfect strategy is, but it's nice to know that the game can be affected to such extent to pay 98.00%. Still, let's say the RTP of this slot is 96.93% for most players, but you need to play the Big Bet to get that kind of return.
If you choose to play the Big Bet game, which you should, you can pay 20 coins for 5 spins or 30 coins for 8 spins. The prizes in the Blue and Red Wheel of Fate are the same in both cases. For 50 coins you'll also get 8 spins but the Wheels will have increased prizes. You can get one or more Gold Reels, one or more Wild Reels, or expanding Wilds. The role of Gold Reels is to substitute for one Gold symbol, and you need at least one Gold symbol on each of the five reels to trigger the Fortune Drop. So, if you get 3 Gold Reels, you only need to land a Gold symbol on two reels to trigger the game and to get your money's worth for the Big Bet.
Bonus features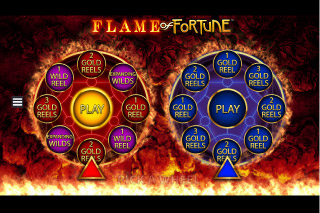 Fortune Drop is a game that's played on a 5×5 board and it includes four symbols only: Stars, Sun, Earth and Moon. When you match three, four or five of the same symbol horizontally or verically, they will add to the drop total and will explode and be replaced by new symbols from above. After the feature, you will be given a choice to collect a win or to spin a Wheel of Fortune to win some more spins that may have multipliers or added Wilds.
Conclusion
Flame of Fortune will appeal the most to classic slot players, and those players who are wise enough to recognize a slot game in which player decisions matter. This is a good slot game in which you can refine your strategy to finally start winning on it. Excellent slot by Barcrest.
full list of Barcrest games