Best Casino To Play This Slot for Real Money
Rotate your device to start Play
Best Casinos to Play Necromancer for Real Money :
Necromancer is an interesting slot game I had to play the moment it was released, as it's a virtual reality (VR) slot that can be played both in VR and normal mode. I played the normal mode only but it's obvious the VR gear would make this a stunning experience. Or, more precisely, it would give true 3D to what is essentially a 3D slot game.
Theoretical return to player (RTP) stands at 95.80%, which may be a bit less than what we're used to with most modern slots, but it's still more than good enough. This means you can play a virtual reality slot without sacrificing anything, as this is a solid game that isn't just a proof of concept and something you'll play just to see how far has technology advanced. Plus you can play this slot in VR mode or normal 3D mode.
Main game and paytable
The game has 40 fixed paylines on a 5×4 board, and 20 symbols rise up from the ground as Necromancer summons them. The paytable consists of nine normal symbols, five of which pay rather well and four of which are worthless low-value symbols. Four of the five high-win symbols will constitute most of your important wins, while one symbol dominates the paytable with a nice 30x prize for five-of-a-kind. The next best symbol will offer a 10x prize and two more will pay 5x. Prizes for three-of-a-kind, on the other end of the spectrum, are awful as they're less than your bet in all cases, you can get from 0.1x to 0.7x, so this is one of those games that annoy you with wins smaller than your bet a lot. There is also a Wild symbol that only appears on reels 2 and 4, and a Scatter that appears on reels 2, 3 and 4.
Any winning combination during the main game will produce one re-spin. You'll be getting a lot of those re-spins, and every time they happen, the Necromancer will clone the winning symbol and it will therefore appear in increased quantity on the board. This makes the feature rewarding, and you can get decent wins from this. However, unlike many similar games that have the re-spins game mechanics, in this game you can't get consecutive re-spins. One is all you're going to get, and can get another one only on your next true spin.
Bonus features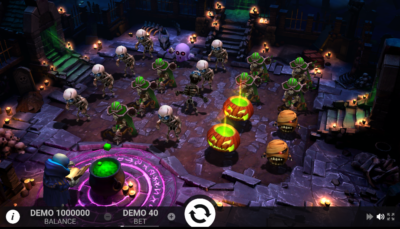 When you land three Scatters on reels 2, 3 and 4 you'll trigger the game with 5 free spins. Most players will immediately see this as a signal that the free spins are very rewarding, and indeed they are. A randomly selected symbol will be cloned before each of the five spins and it will appear more often on the board. This means that the re-spin game mechanics from the main game is active during every spin during the free spins game. This may produce some big wins, and the board is clear of Scatters, too, leaving just a bit more room for the paying symbols. But this also means there's no way to re-trigger the free spins game. You get 5 free spins and that's it.
Conclusion
Necromancer is a very interesting release as it is very innovative, and not only because it's a VR slot. It may end up being too much for some traditional players to handle as familiarity is what players expect, but it does move the boundaries and you will want to play this one to see what's the next step in online gaming development. The game did stop at 3D and didn't go beyond that, so most players will be familiar enough with the setup. Do play this one if you like 3D slots and especially if you got VR gear and want to play a VR slot, as there are very few of them at the moment, and this is a good one.
full list of Evoplay games