Best Casino To Play This Slot for Real Money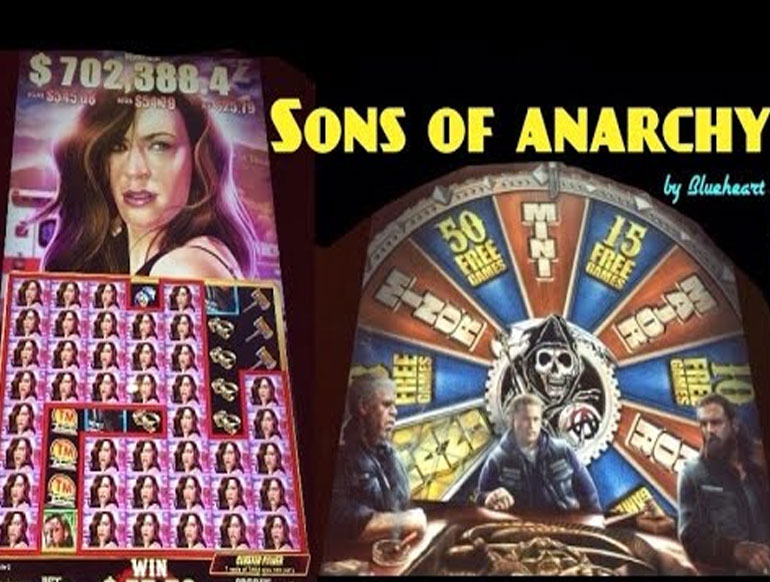 Rotate your device to start Play
Best Casinos to Play Sons of Anarchy Slot for Real Money :
This is a slot that any Hell's Angel would be proud to play! The game features a gritty theme which is in keeping with the show of the same name.
Offering wild symbols and a huge array of special features including unlimited respins and cluster wins, you'll also find super sized symbols and wilds, not to mention scatter symbols which trigger the bonus reel where you can win one of 4 progressive jackpots and also free spins.
The game plays in quite a strange way, mainly because there are 6 reels as oppose to the more usual 5. When playing this slot it's advisable to remember that it is a progressive slot, and therefore you should really try to play at maximum bet to increase your chance of hitting the progressives which are commonly quite high.
There is a lot to be said about this slot, including the brilliant way in which the show and the slot seamlessly come together, not to mention being able to drool over video clips of Charlie Hunnam (he's come a long way since Queer as folk UK!) as Jax! You'll also be pleased to know that there are plenty of hidden features that randomly trigger and the background music is from the original sound track of the show.
The wagers on Sons of Anarchy are completely adjustable to suit your playing style and wallet, which when you consider it, is always a good thing, you don't want to crash out of your session in just a couple of spins!
Playing the Sons of Anarchy Slot
What better way could there possibly be for you to see whether any slot game you have never played before is going to be a slot worth playing than by seeing another player getting stuck into playing that slot, and that is something you can do for below is a special video of a player winning a hand pay jackpot when playing the Sons of Anarchy slot game!
With that in mind please do spend a few minutes watching the above video clip for its shows a player playing the Sons of Anarchy Slot, triggering the bonus game and then winning big via that bonus game. Keep in mind though that this slot can be a volatile one, but it is via the bonus game that you are likely to win some of the highest valued winning payouts when playing it!
Frequently Asked Sons of Anarchy Slot Questions
No matter when you are in a slot playing frame of mind please do give the new Sons of Anarchy slot game a whirl for we just know you are going to love everything about this great playing slot which does have plenty of bonus games and bonus features. If you are looking for a few answers to any questions you may have about this new slot game read on for you may just find those answers in the section below!

What is the volatility of the Sons of Anarchy Slot?
The Sons of Anarchy Slot has an unusual playing structure and format however we did find that we did spin in plenty of winning combinations due to the way the playing structure has been designed so it will be best described a seeing a medium variance slot.
Can I play the Sons of Anarchy Slot as a penny slot machine?
You will not be able to play the Sons of Anarchy Slot for one single penny per spin but you will be able to play it for some low stake amount as you are obliged to put into live play a set increment of coins per base game spin you play off, so it will be suitable for players who can afford to play for some slightly higher stake levels.
Could I win big playing the Sons of Anarchy Slot?
Thanks to the jackpots attached and on offer on the Sons of Anarchy Slot it really can be a very high paying slot, however as with every single new Las Vegas slot machine you can play you will need an element of luck when playing it if you are going to win big from a single spin!
Where Can I Play the Sons of Anarchy Slot in Las Vegas?
If you would like to play the Sons of Anarchy slot for real money in a land based casino when you are visiting Las Vegas, then there are of course lots of casinos that do have this slot game on offer. The
Mandalay Bay Casino
would be a great venue in which to play this slot and that casino is located at 3950 Las Vegas Boulevard South. This casino for reference is owned by MGM Resorts International.
Remember, that by playing this slot for real money you will earn comp points if you join up to the casino comp club, and if you do make sure you always insert your card into the comp card slot so your comp points will be added to you comp club account.
Who Designed the Sons of Anarchy Slot?
When you do decide to play the Sons of Anarchy slot you are going to find it a great slot to play, however keep in mind that the company that designed and launched the Sons of Anarchy slot is
Aristocrat Gaming
and as such you are going to find it comes with lots of settings in regards to not only the stake levels that you can play it for but also audio settings too, so make sure you play this slot with the volume set as loud as you can do to enhance your gaming session, but not too high so that it annoys other players!
full list of Aristocrat games