Best Casino To Play This Slot for Real Money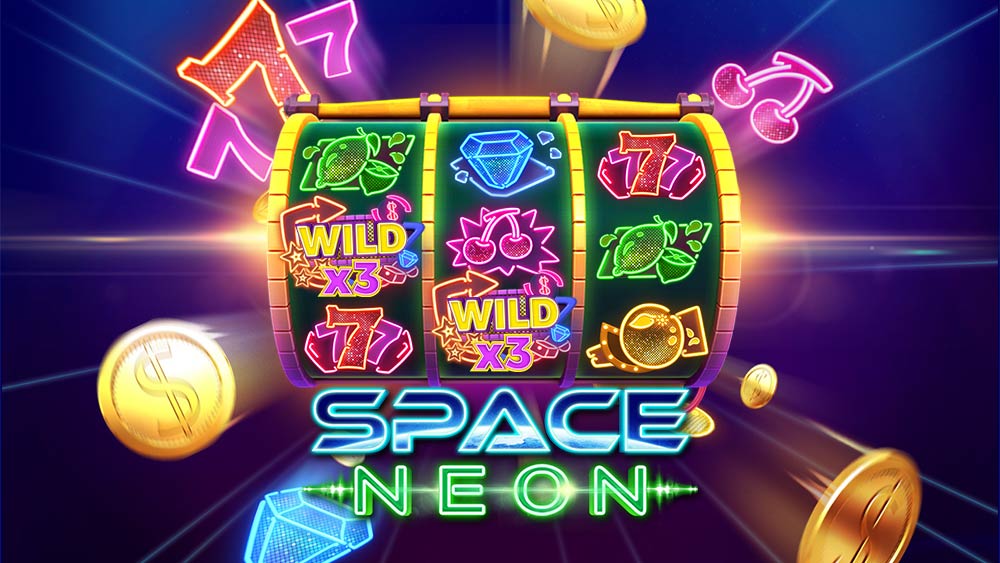 Rotate your device to start Play
Best Casinos to Play Space Neon for Real Money :
I've played Space Neon for a few hours and quite enjoyed it despite not being a huge fan of three-reel slots. This is a good one, and it has all the features you may want from such a slot machine. It has good graphics and offers big wins in the paytable, especially if you can get a Wild to multiply that win. Let's go through the details of this three-reel slot.
Main game and paytable
This is a standard three-reel slot so there are nine positions on the reels, but on any given spin only about four to five will be populated by symbols, as there are many blanks. There are a total of six symbols that can appear on your reels, and one of these is a Wild that triples all wins. If you land two Wilds on a winning payline, it will multiply the win by x9. Seven is the most valuable symbol and if you land three of these on a winning payline, you'll win 50x your bet. Cherry is worth a bit less, 30x your bet, and Diamond is worth 20x. Lemon will pay 12x your bet and Orange will pay 8x, and if you land a combination that involves any of Lemon, Orange and Diamond, you'll win 4x your bet. Landing three Wilds on a winning payline is the best thing that can happen in this slot game, as it will pay 1000x your bet.
While the 1000x your bet prize is attractive, every player will know that landing three Wilds is a very rare event that won't happen often at all. The next best prize offered by the paytable is 50x, which can then increase to 150x or 450x if helped by one or two Wilds respectively.In this slot game, it's only the Wild and the Seven that can bring big wins.
Bonus features
There are no bonus features in Space Neon. The only feature that could be called a special feature is the fact that Wild multiplies all wins by x3 or x9, and that it pays a 1000x prize if you land three. In a sense, having such a powerful Wild symbol on a three-reel slot is a bonus feature in itself.
Space Neon Slots RTP
Usually you don't get a good theoretical payout with three-reel slots, though there are some exceptions that confirm the rule, and in this case you'll get 96.46%, which is better than the vast majority of modern five-reel slots. Also, there are no bonus features in this slot game so all the wins are readily available in the main game, on any spin. It's the Wild that dictates the pace of big wins, as it multiplies wins by x3 or x9, or pays a 1000x prize if you land all three, but other than that it's just a basic three-reel game with six symbols.
Conclusion
Three-reel slots are targeting a specific audience, and Space Neon does everything such a player expects from a slot machine. It features good theoretical payout, high variance, chance of landing a big win, and it's all wrapped in an interesting theme while not losing the traditional symbols. This is a good game that will be enjoyed by three-reel slot players, so if you are one, go play some Space Neon.
full list of Gameplay Interactive games