How Auto Play Feature Works on Online Slots
You really should pick and choose at just which online or mobile casino sites you play slot games at, for by picking out one of the casinos site offering a more advanced type of gaming platform you are going to find a large and quite varied range of different option settings available to you on offer on each slot game you choose to play.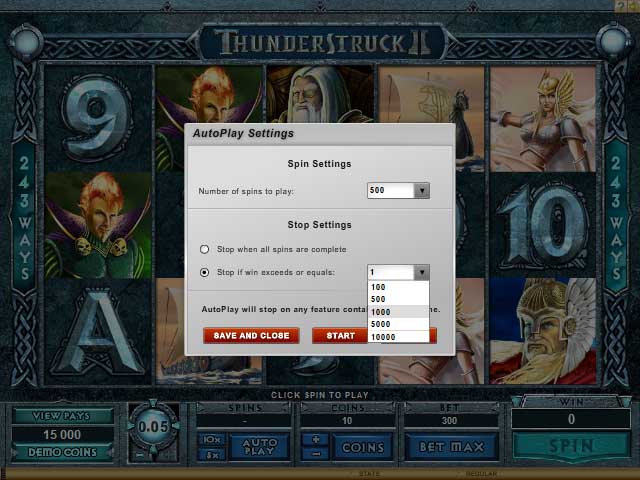 One option setting that you will come across when playing at most casino slots is the Auto Play option. By utilizing that feature you are going to be able to configure any of the slots on offer and send each of them into play automatically with no input required from you other than when you are configuring the auto play option settings.
It is fairly true to say however that the vast majority of slot player do enjoy clicking on the start or spin button attached to any slot they play to send the reels spinning, however there could come a time when you do wish to make use of the auto play option settings and if slot the following guide will give you an overview of how you can configure slots using that feature.
One thing we should point out however is that some licensing jurisdictions have recently decreed that players based in certain countries will only be able to put into play a certain number of spins using the auto play setting, so some slot game designers have turned off and deactivated the auto play options on slots available to players inc certain countries!
Learn How to Play Auto Play Slot Games
Slot with an auto play option setting are going to be readily available to you at any of our approved and fully reviewed online and mobile casino sites, and for you to get the best idea of just what type of slot games to play please watch the following video to see a real slot being played which we think you are going to love playing.
Microgaming are the company who have deigned and released this auto play compatible slot and as such you are going to find plenty of casino sites with that slot on offer and you are also going to find plenty of bonus offers available if you sign up to any casino we have listed offering that slot game, so make sure you sign up to one of them and give this slot a whirl as it is one of the best ones available!
How to Configure a Slot Games Auto Play Setting
The very first thing you will need to do after having launched any slot game to be able to configure the Auto Play setting is to click on the Auto Play button! You may find that button goes by a different game such as Auto Spin however they all tend to have the same options settings available on them
Stake Levels – You should initially pick just how many coins and at which value you wish o have in play, and as such always select a stake level that will cover the amount of spins you want to play off using the Auto Play based on your current casino account balance!
Pay Lines in Play – Many slots will allow you to alter and adjust the payline sin addition to the coin values and the number of coins you have in play via the Auto Play option settings, and once again you should pay careful attention to just how many lines you do activate as the more of them you have in play the more chance you will have for forming multiple winning combinations.
Number of Spins – Next is the most important aspect of the Auto Play option settings, and that will be the number of spins you wish to have played off for you automatically. As mentioned above in you live in certain countries of the world you may not be given the option of playing off hundreds or thousands of spins via the Auto Play setting.
However, if you do have that option then select the number of spins your current available casino account balance can sustain. Be aware that some slot game designers will not give you the option of choosing how many spins you can play off automatically, and as such those slots will continue to play an unlimited number of spins until you run out of credits or you manually stop the Auto Play.
Auto Cut Off Options – One final setting you can configure will automatically cut off the Auto Play for you when one of certainty things have occurred, you may be given the option on some slots to input a value at which if you spin in a high valued winning payout or a jackpot payout as the Auto Play setting is in live play and your casino account balance grows by a certain amount the slot will stop playing automatically.
Also some slot games will either allow you to set the Auto Play to cut off or it will do so automatically if at any point a bonus game or bonus feature is triggered, allowing you to then watch that bonus game or feature being played off.
Auto play slots are going to be found in many online casino sites, and as such you will always have plenty of different types of those slot games available to you. Some of the very best slot games with an auto play feature you can play online are those that have been designed by Play n Go and some of our top rated featured casino sites have their range of games on offer, so have a look round and give those slot games a much play time as you can do!