Learn How to Play and Win When You Play Any Type of Online Progressive Slots
We doubt you are going to be able to resist playing some of the many type of different Progressive Slot games online of via a mobile device, for when you see the size of some of the jackpots available on those slot you are going to want to give them a try in the hope you win one of them!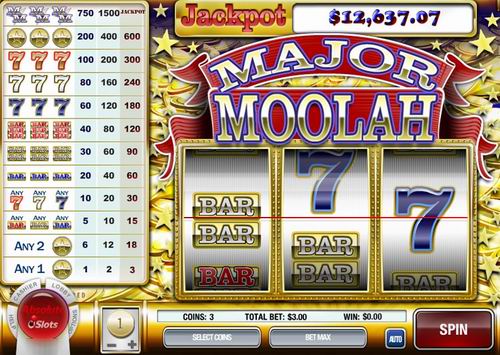 There are however so many different structured Progressive slots you are going to be able to play, you do need to gain a much clearer and deeper understanding in regard to how they have all been designed, and much more importantly how to play them to have a chance of winning any of the ever growing jackpots they have on offer.
Below we are going to give you an insight into how Progressive slots work, play and operate and as such that should give you a good idea of which types of slots you will find offering those huge and very tempting jackpots.
One additional thing to keep in mind however is if you are ever lucky enough to win a progressive jackpot the way in which the casinos sites you are playing at will pay you out your winnings can and will vary.
Some casinos pay their progressive jackpot winning very quickly and via a single lump sum type of winning payout, whilst some other sites will only pay you a certain amount each day, week or month.
Therefore it is highly recommended as a progressive slot player you avoid those latter types of casinos and stick to playing at sites that payout their jackpot winners in a single payout, for you could be waiting years to get paid out all of your winnings!
Progressive slots are going to be found in many online casino sites, and as such you will always have plenty of different types of those slot games available to you. Some of the very best progressive slot games you can play online are those that have been designed by Bell Fruit and some of our top rated featured casino sites have their range of games on offer, so have a look round and give those slot games a much play time as you can do!
How Progressive Slot Games Work
If you choose to play a progressive slot game then there are several things you need to be aware of. Firstly some slot games will offer a standalone progressive jackpot and as such the jackpots that you can see displayed don the jackpot meters of those types of slots can only ever be won on that one particular slot.
However, the vast majority of online and mobile progressive slot games work in a very similar way to land based progressive slot machines, and as such you will find slots of the same name are all networked together so you have the chance of winning the jackpot on any slot you play, no matter at which online or mobile casino site you choose to play at.
The stake you are playing progressive slot games for are being used to feed the jackpot pools and also to feed the seed value which any progressive jackpot will reset to once it has been won.
Therefore the payout percentages on the base game not taking into account the jackpot pools can be slightly lower in value on progressive slots when compared to most other categories of slot games.
There is a random number generator attached to every single progressive slot game and that constantly churns out random numbers, when you click on the spin or start button a number is then random selected by the random number generator which is then turned into either a losing or winning event on the slot.
Therefore when playing progressive slots there is no way of knowing just how high the jackpots will become or when they will be awarded to a lucky player. However, there is an exception to that rule if you choose to play a progressive slot offering one or more jackpots that are guaranteed to be awarded before they reach a certain value.
If you do decide to play such a slot then you have a much greater chance of winning such a progressive jackpot when it is high in value and fast approaching the amount at which is guaranteed to be won by.
There are of course lots of different ways a slot can and will award its progressive jackpot or jackpots and in the final section of this progressive slot game playing guide we will look at a range of different ways you could end up winning a progressive jackpot when playing either online or mobile slot games.
Watch a Progressive Slot Game in Live Play
If you want to play a great playing progressive jackpot awarding slot game then we think you really will enjoy playing the Gladiator slot game, and to allow you to see just how fun this slot is to play below is a video of it in live play.
If you want to experience playing the Gladiator slot online then it is available at many of our featured and top rated casino sites, each of which will let you play it for free or you can play it for real money, for reference this is a Playtech designed slot game which you are going to love playing!
One thing you should also keep in mind as a player at any of our approved and fully licensed casino sites is that each of them are going to be offering you many different types of slot games, and with that in mind please do have a look around our website and checkout our individual slot game reviews and there is not a doubt in our mind you will love playing some of those additional slot games too.