Come and Find Out How to Play and Win Taking Part in Slot Tournaments
You may have seen a slot tournament in live play if you have visited a land based casino before, and if so you will have seen just how popular they are with slot players. In fact, when you see a slot tournament in play you will see lots of players tapping away on the slot games spin buttons frantically in the hope they can win one of the prizes offers on them, which believe us is quite a sight!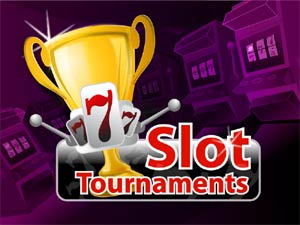 Playing in a slot tournament is not going to require any specialized skill, for the aim of entering one is for you to play off the tournaments credits you will have been issued with on the tournament slot game and by doing so you are awarded points for each winning payout you achieve.
You are always given either a set number of minutes to play off your entry or until your tournament credits run out, whichever runs out sooner, and it will be the players who have spun in the highest valued winning payouts during their entry which are then turned into tournament points who will win one of the cash prizes attached to that particular slot tournament.
If you play at some online and often mobile casino sites you will find there are a range of different slot tournaments available, and below we have a listing of all of them along with a description of how each slot tournament has been structured.
Types of Online and Mobile Slot Tournaments
You will have to try out as many of the different types of slot tournaments as you possibly can do for there are going to be a lot of them available to you each of which are going to be structured in a completely different way.
However, let us give you a q quick run through of some of the more commonly available slot tournaments as you are bound to find some of those listed below appealing. There are some slot tournaments that are known as freeroll slot tournaments and when you enter those you will never have to pay anything to take part in as they are cost free and free to enter slot tournaments.
Slot tournaments are going to be found in many online casino sites, and as such you will always have plenty of different types of those slot games available to you. Some of the very best slot tournaments you can enter online are those that have been designed by Novomatic and some of our top rated featured casino sites have their range of games on offer, so have a look round and give those slot games a much play time as you can do!
You will also find some slot tournaments that are known as sit n go tournaments, and what out will find unique about those tournaments is that there is only going to be a small number of positions available in them and as soon as enough players have registered to take part in them the slot tournaments will then begin.
Also look out for the satellite slot tournaments for those will give you the chance of taking part in a relatively low cost tournament or even a free one and the prizes on offer on them will be a free entry into a much higher paying slot tournament.
Some slot tournaments will also give you the option of continuing playing once your tournament credits or your time has run out however a small additional fee will need to be paid when you want to take the continue option!
Real Play Online Tournament Slot Game
Playing a tournament slot game online is not going to be too difficult and you will find lots of different casino sites offering slot tournaments to players, so tracking down a tournament to play in will be easy as there are so many of them available.
This tournament slot game you can see being played for real money above is one of many such slots that you can access and play at casino sites that use the NetEnt gaming platforms, of which we have lots of those types of casino sites reviewed throughout our website, and each casino is offering some generous welcome bonuses to new players wanting to play tournament slot games too!
Optimum Slot Tournament Playing Strategy
If you do fancy taking your chances and playing against other slot players by taking part in a slot tournament online hen allow us to pass onto you a few hints and tips that may enable you to have something of an increased chance of scoring a high enough score to pick up one of the cash prizes on offer on any slot tournament you do take part in.
The first thing to note is that if you log into an online casino overnight there will still be plenty of slot tournaments scheduled to take part at those casino sites. However, when you do log on very late at night or very early in the morning there will be few other players logged into those casino sites too.
As such you will always shave a much better chance of winning a slot tournament when here are not many other players logged into the casino site you are playing at so our first tip will be for you to consider playing at the quieter times of the day or night to increase your winning chances!
Also if you want to take part in a no risk free to enter freeroll slot tournament then make sure that you register to take part in them as soon as the registration period opened as those types of slot tournament s being free of charge do tend to fill up quickly and leaving it too late to register you may miss out on your chance!