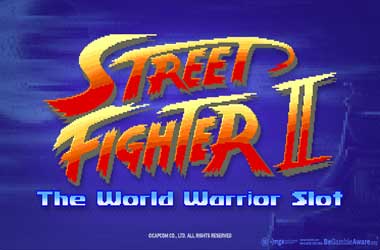 Street Fighter II is one of the world's groundbreaking fighting arcade games. NetEnt decided that it was time to take this game and turn it into an online slot.
This will be made possible thanks to their new deal with Capcom. This was announced at the recent International Casino Exhibition (ICE) in London.
Everyone, even non-video game players should have a faint idea about Street Fighter II and its basic concept.
Fighters all over the world fight one-on-one in various stages to find out who is the best. Ryu, the original game's fighter, is joined by other characters like Ken, Guile and more.
Bryan Upton, NetEnt's Director of Games said Street Fighter II: The World Warrior turned into a massive hit in the 90s and is still considered one of the best classic video games that continues to have a massive following nearly 3 decades later. NetEnt plans to do the franchise justice by ensuring the graphics it uses for the game are top-notch and evokes the feel of the original. The planned release will be towards the end of May 2020.
Though there have been sparse details about the slot game, NetEnt is known for delivering quality games that never fail to entertain players. Players can expect a true 90s feel to the game since the game maker is an expert when it comes to visuals. NetEnt also knows how to evoke the feel of the original which has been on various devices since it original release in 1991 so expect bonus features that can make players feel like they are in the middle of a furious video-game battle against others.
Street Fighter
NetEnt Franchise Slots
NetEnt is a great company to entrust the Street Fighter II brand since it knows how to treat established franchises well. Here are a couple of the other franchises that are under the NetEnt banner.
"Vikings" – Based on the well-known television series, this game brings the adventures of Ragnar, Lagertha, and others to life. Featuring five reels and 243 ways to win, it has a great Hotspot feature that transforms symbols into the same one so that players have a better chance to win. Besides that, players can win 10,000 times their original stake.
"Narcos"- The hit Netflix series about Pablo Escobar comes alive in slot form with five reels and 243 ways to win. The game has everything fans could want in a Narcos game: great soundtrack, graphics from the series, and fun gameplay. Players can rack up the wins and walk away with huge payouts.