Best Casino To Play This Slot for Real Money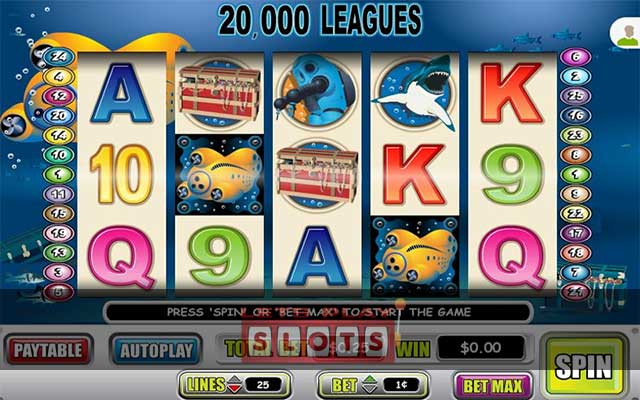 Rotate your device to start Play
Best Casinos to Play 20,000 Leagues for Real Money :
Plenty of video slot machines can now be accessed online and that does mean as a player you will have a ball trying out lots of different slot machines that you have never seen or come across before and one that will think is going to be worth of you attention and also your reel money action is the 20,000 Leagues slot machine.
This slot is a video slot and that does of course mean you will find it has 25 pay lines on offer which are spread over the five fully animated video reels, and you can play it either at no risk and for free to get used to playing it of you can play it for real money at any time too.
There is of course a bonus game that you can trigger when you set about playing this video slot game and below you will find out how that bonus game plays and pays, and the theme of this game is of course an underwater one as the name suggests!
The 20,000 Leagues slot game is a fair playing game, and being a WGS designed and supplied game it has been independently tested and verified as being a completely random game, so you could win big when playing it online for real money.
Bonus Games and Bonus Features
The 20,000 Leagues slot has a 5000 coin base game jackpot payout which is won when you get all five of the Captain symbols spinning in and landing on any put into play pay line, a 1000 coin payout will also be yours if you get just four of the Captain Symbols when playing this slot.
By you spinning in three Submarine symbols any time you play off a single base game spin of the 20,000 Leagues slot game then you are going to be triggering its bonus feature game. As those symbols have been designed as scatter symbols it does not matter in which locations they land as long as you get enough of them in view that bonus game will be yours to play off.
Those Submarine scatter symbols can also award you with a special additional scatter pays winning payout the details of which you will find on the pay table based on just how many of them you have spun into view.
The 20,000 Leagues slot game will award you with 10 free spins as soon as you have spun in the triggering number of scatter symbols and a multiplier can also boost the value of your spun in free spins winning payouts. You will also have the chance of re-triggering that bonus game when you are playing off the bonus game on the 20,000 Leagues slot game in the same way as it was triggered on the base game.
One important thing to keep in mind when you play the 20,000 Leagues base game for, are going to be the ones that you will also have in place during the bonus game too, once the bonus game has finally finished playing off all of your winnings that you won via it are then credited to your casino account balance.
Resources
The way in which you can play this slot is such that you can first set about playing it for free and at no risk to see if you like the way that it does play and pay and then you can switch over to playing it at any time of your choosing either now or in the future as a real money player.
The bonuses that you will find available to you at many different online casino sites that do have this slot machine on offer do tend to be high valued deposit match bonuses, and with that in mind if you do want to get the maximum value from playing this slot online do consider claiming as many of those bonuses as you can do!