Best Casino To Play This Slot for Real Money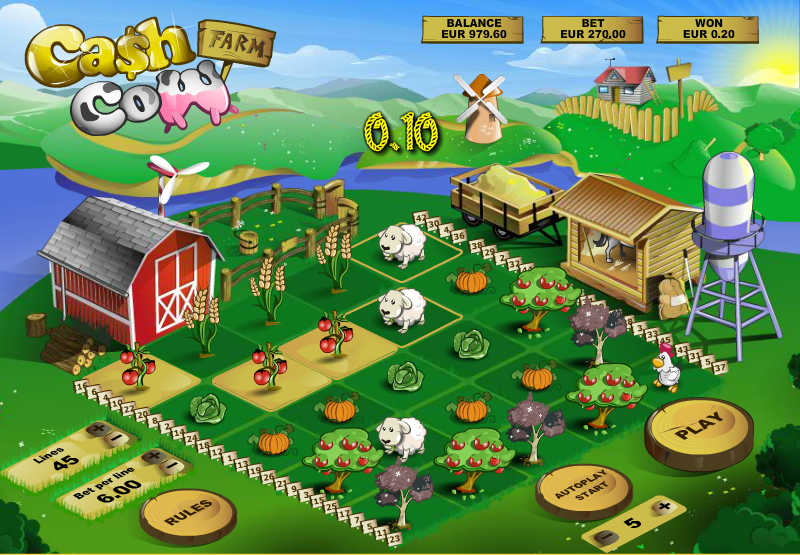 Rotate your device to start Play
Best Casinos to Play Cash Cow for Real Money :
How to Play the Cash Cow Slot
One of the more unusual slot machines you are going to come across is the Cash Cow slot, and we think it may be a slot that you can quickly get used to due to its very unusual playing structure as well as its huge top prize cash payout.
The jackpot you stand to win from any spin you do play off is a huge 2000 coins, so it could be a very rewarding slot to play. However it is the playing structure that may just take some getting used to!
The reel layout is such that is looks like a farm and when you send the reels spinning a set of different reel symbols will then be spun in on each square of that farm, and with 45 pay lines that can be put into live play you will have plenty of ways of winning too!
Bonus Games and Bonus Features
One of the best aspects of playing the Cash Cow slot machine is that there are three amazing bonus games that you can trigger when playing off a base game spin, and as such with three of them available there will always be a very good chance that you will trigger at least one of them when playing this slot game.
Let us now give you an insight into how each of those bonus games is triggered and how they will then play off, as we think you will indeed like the way they play and pay!
The first bonus game is a set of free spins on which you could find a multiplier value coming into play that can be as high as x5, the way in which you trigger that bonus game is by spinning in three of the wild scatter symbols. When you do you will be rewarded with 10 free spins initially.
One of the most unique bonus games we have ever seen on a slot machine is triggered on the Cash Cow slot when you are lucky enough to spun in three of the Cow scatter symbols, when you do so you then get to play off a cow milking bonus game and the more milk you manage to get out of your chosen cow the more you will win from that bonus game!
The final bonus game is triggered as soon as you have spun into view at least three of the Pig scatter symbols, when you do the "PigChinko" bonus game is triggered which is a bonus game that will see you taking the pigs for their mud bath! At the end of each bonus game you could reveal a multiplier value that boosts the value of the cash payment you win via that bonus game!
Resources
If you ever want to play slot machines online then keep in mind that all of the casino sites you will find showcased throughout our website offer you the option of playing each of their huge and very varied array of slot machines for free and at no risk, and as such if you do like the look of the Cash Cow slot you can play it for free whenever you like!
Many land based casinos look at slot games as cash cows and what those venues often do is to lower the payout percentages that their slot machines offer down as low as is possible, however when you play slot machines online the operators of those casino sites cannot and do not adjust the payout percentages, so you are always going to get a fair and reasonable chance of winning no matter where you choose to play!
Thanks to the rigorous testing procedure in regards to the launch of any new slot machines you are not going to find slot machines that malfunction online when you make the very wise and smart decision of playing at any of our featured casino sites!
Plus, if you do decide to play at any of our featured casino sites you are going to have the chance of winning a huge amount of cash when you play for real money and will also be able to claim some very generous bonus offers too!
full list of Revolver Gaming games