Best Casino To Play This Slot for Real Money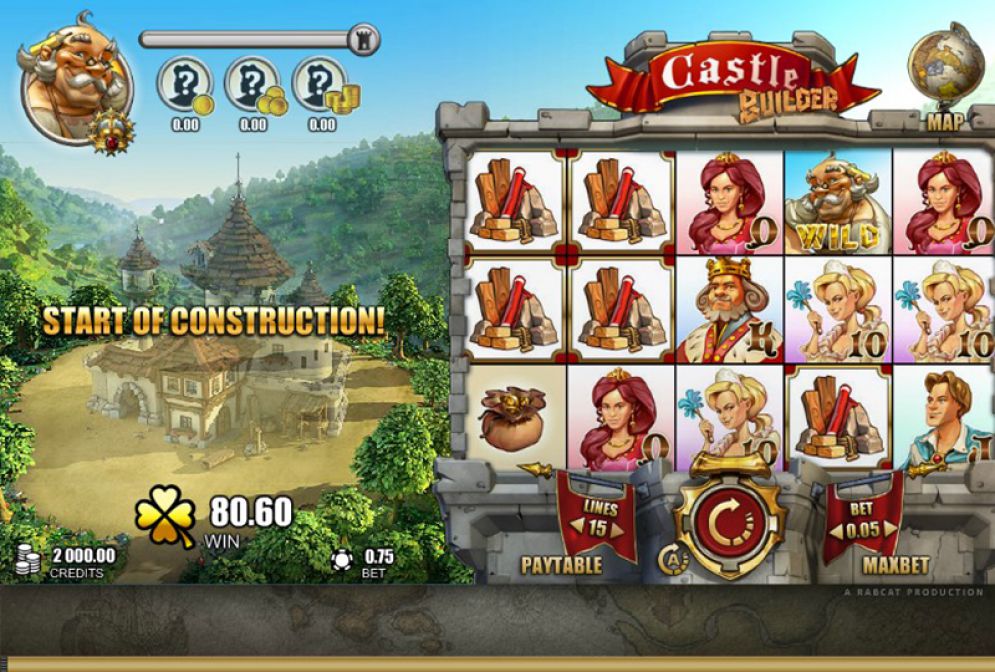 Rotate your device to start Play
Best Casinos to Play Castle Builder for Real Money :
Castle Builder is a truly unique experience that broke the mould and blurred the line between slot games and computer games for the first time. It was released in 2013 and was immediately nominated as the game of the year. I have played it a lot, sometimes to win money and sometimes to just build castles, so let me give you my unbiased opinon on this groundbreaking slot machine.
You play the slot game to collect symbols which are then used to build castles, which is a separate game that is going on independent of the slot game. As you build castles you collect cash prizes and move around the map. This is a game that rewards you for in-game progress, such as completing a certain number of castles, building castles of certain quality, or picking appropriate suitors for the princess.
Theoretical return to player (RTP) is 96.47%, which is a very good value for a fun slot that also gives you an additional game to keep you entertained, and variance seems to be low. There aren't many roads to riches in this paytable or in the castle building process, but I've found the game to pay just often enough to keep the balance positive. It's perfectly possible to build all 30 castles without losing any money, so there's very little risk involved here.
The map of the world and the castles themselves are absolutely stunning. You will completely forget you're playing a slot game, and will focus only on those many different styles of castles that grow before your eyes as you complete them with construction material you just won on the reels. This is one of the best visual experiences in slots, ever.
Main game and paytable
The game is played on a 5×3 board with 15 fixed paylines, but the reels here actually only serve to provide you with material for building castles. The building symbols can be Standard, Bronze, Silver or Gold, and the better the material, the higher the construction value of your castle upon completion. Collecting materials advances the construction progress bar.
The main game isn't rewarding and it's just collecting material you'll be interested in, and on your reels you'll see Kings, Princesses, and many symbols of wealth. This game seems to be all about royal weddings and the wedding gifts, for which a castle is a prerequisite.
Bonus features
There are three areas on the map you build your castles in, and each area has 10 castles for a total of 30. But the game doesn't end when you build 30 castles, and instead you'll start getting premium castles which are more difficult to build. During my playing time I've found that these don't offer any improved pays over the first 30 castles, so the premium is just for show, and so are the various titles/badges you can get such as Master builder or Architect. It does add a lot to the playing experience though and Castle Builder often feels like one of MMOG games. Building premium castles is, unfortunately, maybe less rewarding than building regular ones as it takes a much longer time to build the castle yet the prizes aren't as significantly increased.
As you collect materials and build castles, after each castle is completed you'll have to pick one of three suitors for the princess. The three suitors – and they are incredible characters – will bring a cash prize as a gift for the wedding. Success in this game greatly depends on picking the right suitor and claiming a nice cash prize that keeps you going.
Conclusion
Castle Builder is a revolutionary game that hasn't yet been surpassed, and it's a slot game that can be played anytime. I play it often as it's so much fun, even if it isn't the type of slot that can produce some enormous win. But the variance is low so you get to build those castles with little risk. That's actually one of the good things about this slot game, and I definitely recommend playing it.
full list of Rabcat games