Best Casino To Play This Slot for Real Money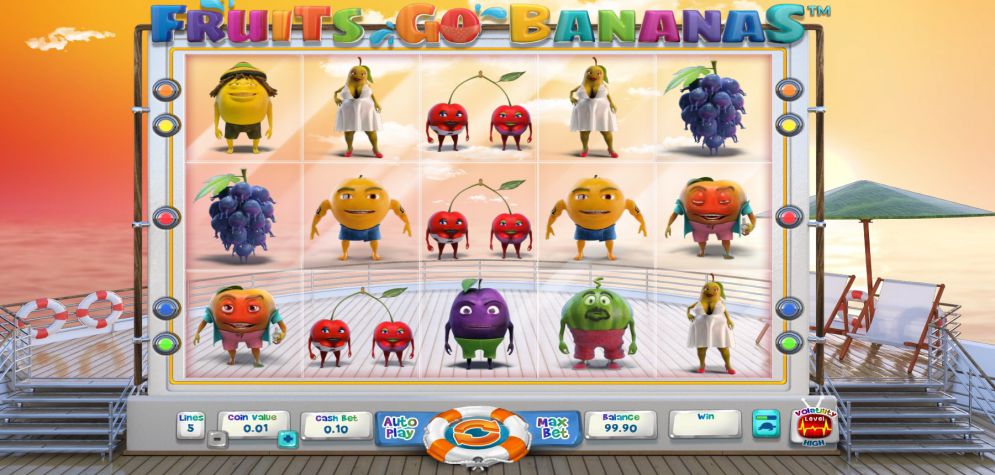 Rotate your device to start Play
Best Casinos to Play Fruits Go Bananas for Real Money :
I have played Fruits Go Bananas, not to be mistaken with Go Bananas by NetEnt, when it came out in July 2018, and I can therefore give you a detailed and honest review of this Wazdan slot. It's a simple modern slot game that offers a bare bones playing experience with few features added on top of basic gameplay. Graphics are in high detail but weren't done with much style, so this is probably not one of higher production value slots released in 2018. Only during the Gamble feature will you see the actual setting for the theme, which is ten fruits that go bananas while on a ship cruise. Let's go through the details of this Wazdan slot and see is the game worth playing for real money.
Main game and paytable
The game is played on a standard 5×3 board, but there are only 5 fixed paylines, which means you will often be left with no win although what you see on your board would have been a win on most other 5×3 slots. However, that only affects the frequency of wins and might be mildly annoying, but the theoretical return to player (RTP) is a solid one at 96.34%. As far as volatility is concerned, you can choose it yourself! Standard volatility doesn't pay very often so you might want to change it to Low to counter the effect of having only five paylines, but some might embrace the lower win frequency and choose High to get the most out of it. In any case, it's up to you.
There are ten fruit symbols in the paytable, and five of them are low-value symbols while five are high-value. The low-value symbols won't pay well unless you land four or five of them, while the high-value symbols already pay well for three-of-a-kind. All the fruit symbols are actually fruit characters, and they are a bit ugly. Two of them pay really well so you'll want to land them on your reels as often as possible, but the others don't pay bad either in this rewarding paytable. It's just that the frequency of wins is a bit smaller than you'd expect. There is also a Scatter and a Wild, and both are paying symbols. Any wins that involve a Wild will be doubled.
Bonus features
When you land three, four or five Scatters you'll get 10, 20 or 30 free spins respectively. They're just free spins, there is no added feature here, so it's actually disappointing. It also means that this game is completely deprived of bonus features since the best you can hope for are some spins that are free, and the fact that Wild wins will be doubled. That's it. The rest is just normal gameplay with nothing extra on top. Some players – few of them – might actually like this as you get access to 96.34% RTP on every spin and don't need to trigger some feature, and some players might even choose High volatility to get the most out of this game. You rarely get to play a bare bones slot like this one, and some players do want that kind of experience.
Conclusion
Fruits Go Bananas is a simple slot game with a rewarding paytable, and only five paylines, so it's a slot game for a specific audience, likely those players who usually play classic slots and love higher volatility and lower win frequency. For these players, Fruits Go Bananas is a good choice. However, there's virtually no chance of landing a huge win, so this will be something that will put off the high variance players for whom even 20,000 coins maximum win might not be enticing enough.
full list of Wazdan games