Best Casino To Play This Slot for Real Money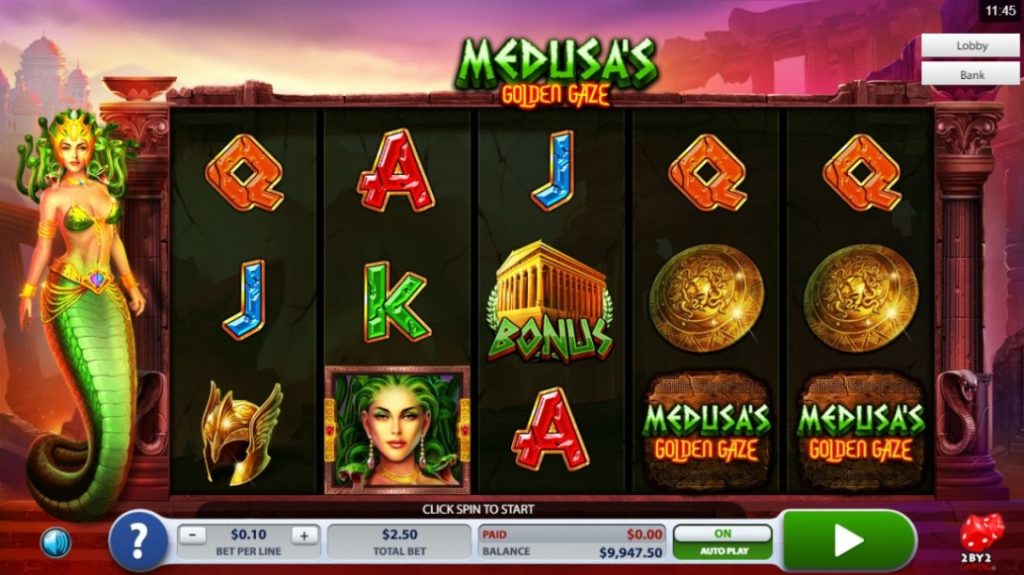 Rotate your device to start Play
Best Casinos to Play Medusa's Golden Gaze for Real Money :
I've played Medusa's Golden Gaze for a few hours in order to see what is this slot game all about, and I quite liked it. It's a medium variance experience in which the biggest wins will be coming from randomly triggered bonus features, and the main game will usually deliver minimal wins.
Main game and paytable
Medusa's Golden Gaze is a classic 5×3 slot with 25 paylines, but it has many bonus features and interesting details, as well as a very decent theoretical return to player (RTP) of 96.062%. Because of all that, this slot is a great choice for classic slot players, and other players might enjoy it as well.
The paytable consists of 11 normal symbols, and five of these are card symbols that can give you a prize of 2x your bet if you land five Aces or five Kings. The three medium-win symbols don't pay much better, as the best prize is 3x your bet, and if it wasn't clear this is a low variance paytable already, the three high-win symbols can only pay up to 8x your bet. There are no powerful symbols that can bring you riches in Medusa's Golden Gaze, and all the biggest wins will be coming from bonus features.
Each reel contains a stack of mystery positions that are replaced by some symbol during the spin. On any spin, if reel 1 contains a full stack of the same symbol, that same full stack will be copied to at least one other reel, and a maximum of four. That means you can get a full board win with just a little bit of luck, as the game itself decides if the stack will be copied to 1, 2, 3 or 4 reels. This feature is active both in the main game and during the free spins.
Bonus features
Free spins can be won by landing Scatters on a winning payline, and you'll get 5, 6 or 8 free spins for three, four or five Scatters respectively. If multiple paylines contain Scatters then the free spins add up, and in total, it's possible to win up to 200 free spins.
If you won 10 or more free spins, you'll be given three options to choose from. Regular free spins will simply give you the free spins you won, 50 Lines Free Spins will give you half of the number of spins you won, but with 50 paylines. Easy Feature Free Spins will also give you half of your free spins but the reel copy feature will be more common.
If you won 30 or more free spins, two additional options will be given. Super Free Spins will give you a x3 win multiplier but only 1/3 of your spins, and Mega Free Spins will give you a x5 win multiplier but only 1/5 of your spins. These features actually only increase the variance, and it's questionable if any of the four features is better than regular free spins. Perhaps the one with 50 paylines represents value for money.
Conclusion
Medusa's Golden Gaze is a medium variance game, perhaps even a little low, as it has a paytable without any powerful symbols and the game benefits greatly from the reel copy feature which can bring huge wins your way. The free spins game is a disappointment when it comes to features, but you can win up to 200 free spins. All in all, this is a solid slot game which will be mostly enjoyed by classic slot players. The theoretical payout is good enough, although the game doesn't feel rewarding most of the time, so it takes a more experienced player to win on this slot machine.
full list of 2 By 2 Gaming games