Best Casino To Play This Slot for Real Money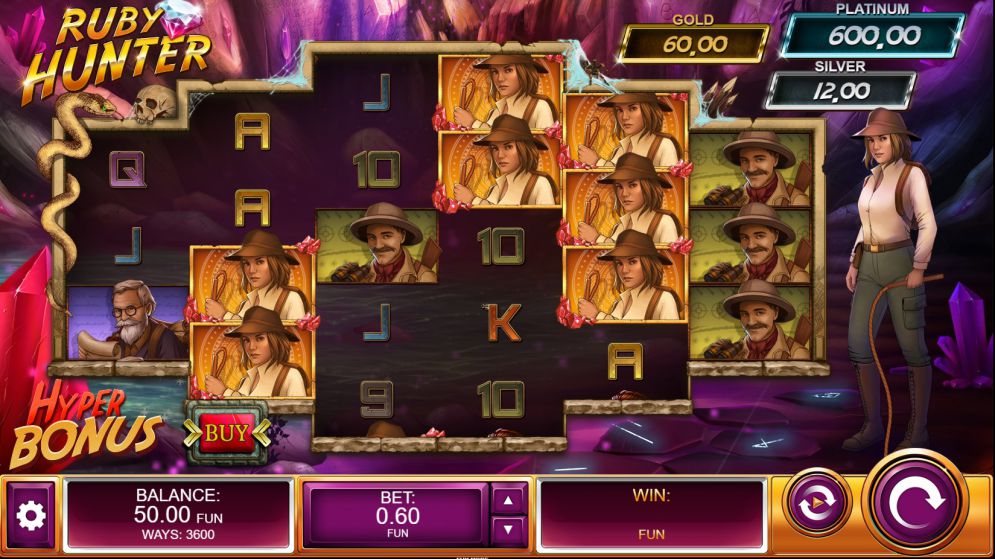 Rotate your device to start Play
Best Casinos to Play Ruby Hunter for Real Money :
Ruby Hunter is an interesting slot game I've played for a while, so I can give you an honest review of this Kalamba Games release. This slot game is a bit different than most so you'll probably want to know what makes it unique, what are the pros and cons, and is it worth playing before you go ahead and play it for real money.
Main game and paytable
This slot game is played on a six-reel board with a 3-4-5-5-4-3 setup, with a total of 24 symbols, which is plenty, and the game allows for six-of-a-kind wins while at the same time helping you form a winning payline as you start with a reel that's only three rows high. Some players enjoy this type of setup while others shy away from it. This game has 3600 ways to win, and if you'd happen to land two symbols on the same reel, then that would count as two winning combinations.
The paytable is a bit skinny as you can only win 5x at best on a single winning payline, and you'd get that for six-of-a-kind of Ruby Hunter. Most of the time you'll be getting a fraction of your stake back, and when you do get more significant wins they'll be roughly 2x or 3x your bet. The five high-win symbols are worth roughly twice as much as the five low-win symbols, and you'll only care about landing a win that involves a high-win symbol, any of them, as they all pay almost the same prizes.
Bonus features
The purpose of the free spins game is to guide you towards the Jackpot and to give you more free spins to help you get there, as the only two symbols that matter here are the Bonus Scatter that awards more free spins if you land at least three of them, and the Jackpot symbol which will be held for as long as you keep adding another Jackpot symbol on the next spin. You already win with three Jackpot symbols, and the goal is to get at least 15 as that's when you'll get the Silver bonus. To get the Gold bonus you need at least 20 Jackpot symbols, and for the Platinum bonus you need all 24. Most of your free spins wins will come from the Jackpot symbol. Even though this is called a Jackpot it's actually more like a coin win, not like a life-changing progressive jackpot. You'll have to keep winning those Jackpots to stay in the game, and you'll be winning them often, several times per free spins feature.
The free spins game can get triggered when you land three or more Scatters, and you'll get 8, 12, 15 or 20 free spins for three, four, five or six Scatters respectively, but you may also choose to Buy the feature.
Ruby Hunter Slots RTP
Theoretical return to player (RTP) of Ruby Hunter slot is healthy 96.65%, which means the game is worth playing for real money, and you'll play it if you like the setup, which is a bit different than what most slots offer.
Conclusion
Ruby Hunter is a good slot game if you enjoy the free spins game mechanics where you'll be collecting the Jackpot symbols, and if you enjoy the reel setup that starts with a reel that's three rows high. The game offers medium to high variance but will likely keep you going in the base game because of a decent paytable. If you think the free spins game offers a better RTP than the base game, when you consider the investment, then you may keep buying the free spins feature.
full list of Kalamba games