Best Casino To Play This Slot for Real Money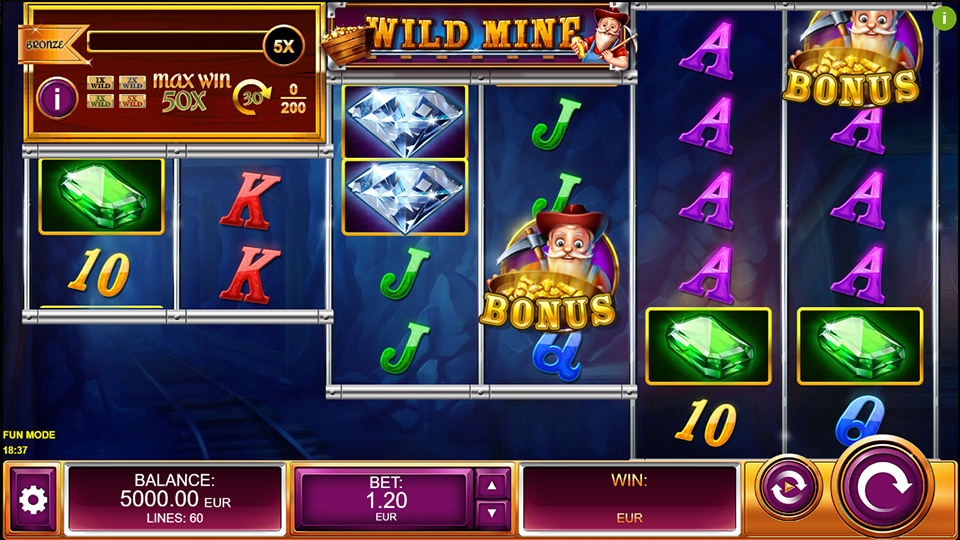 Rotate your device to start Play
Best Casinos to Play Wild Mine for Real Money :
This slot game is paying very well, even better than what you'd assume from the theoretical return to player (RTP) of 97.13%. Not only that Wilds are very common, but they carry a multiplier and most often you will get an entire Wild reel. If you land two Wild reels on the same spin you're almost guaranteed to see a Big Win animation.
Ever since I first started playing this slot game I'm coming back to it, and let me explain why in my detailed review of Wild Mine.
Main game and paytable
This game is out of the ordinary, to say the least. It is played on a six-reel setup where the first two reels have two symbols each, the middle two reels have four symbols each, and the two on the right have six symbols each. It sums up to 24 symbols, same as if it were a 6×4 board, but you got 60 paylines here and your spin is greatly influenced by what you get on the first two reels.
The paytable is very skinny, but you don't percieve it as such. Only two of the four Gems are capable of paying 1x your bet when you land six-of-a-kind, and the five card symbols give you a quarter of your stake back at best. However, the sheer number of paylines, the Wild reels, the multiplier Wilds, all come together and make this game a very rewarding one.
Bonus features
The unique feature of Wild Mine slot game are the missions. You can freely choose between missions that take 30, 50, 75 or 100 spins, and you can choose if you want to collect a sum of multipliers, number of Scatters, or number of gems. When you choose a new mission, the uncompleted one can be saved. Prizes can range from 5x to 1000x your bet, depending on how successful you are in your mission. It makes much more sense to play longer missions, as the returns are disproportionately better. For example, with an average of 6 gems per spin you'd win 5x your bet on the shortest mission or 25x your bet on the longest mission. If you enter a free spins game, you will keep collecting what you're collecting but the spin count won't go up.
The free spins game will be triggered when you land three or more Bonus symbols, and you'll get 8 free spins, and when you collect three Scatters again – one by one if necessary – you'll get +2 free spins every time. You can also win more Wilds. In the free spins game, the reels are reversed so the board starts with the 6-symbol reels and ends with the 2-symbol reels. Overall, the free spins game can be incredibly rewarding, especially if you're lucky with those Wild reels. This game can just keep paying.
Wild Mine Slots RTP
Theoretical return to player (RTP) of Wild Mine is 97.13%, which is just excellent, and could be the only reason you'll need to play this game. Fortunately, there are also other reasons, so this is a case of a slot game which is both great to play and pays well.
Conclusion
Wild Mine feels like a very loose slot because it's so generous with the wins. Not many spins will pass between two big wins, and even if you're not very lucky with your spins you still got that progressive feature to fall back to, as the missions themselves can deliver huge prizes. Playing this slot sometimes seems too good to be true, and inevitably there will be long losing runs, but overall this game doesn't hold back the winnings for too long. It's definitely a recommended slot game, and you should try it out. The only thing that might stop you from playing it is if you really hate alternative reel setups. But if you can digest that, then Wild Mine is a real gem of a slot game.
full list of Kalamba games