Best Casino To Play This Slot for Real Money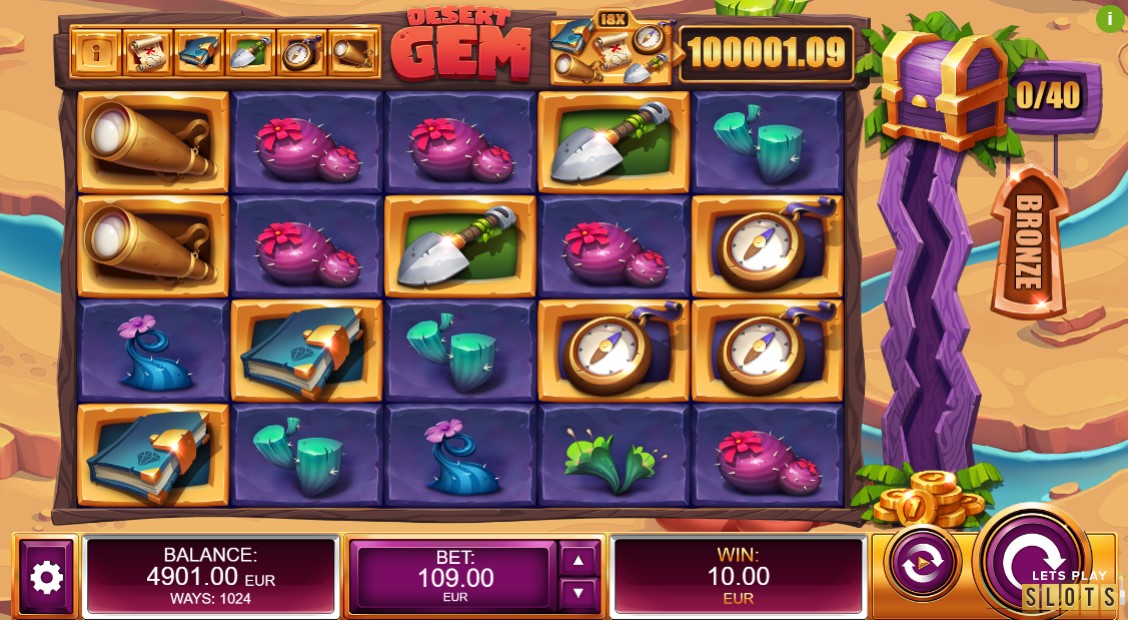 Rotate your device to start Play
Best Casinos to Play Desert Gem for Real Money :
I have to say that I wasn't expecting such a huge amount of quirkiness in one slot game, but Desert Gem might have just hit that mark. This Kalamba Games offering features various inbuilt perks, from its inclusive high-quality graphics to its special bonus feature rounds. The overall theme definitely comes to life, and this is one slot that I could invariably play every day without getting bored.
Main Game and Paytable
Accessing Desert Gem will allow you to see a layout of five reels and four rows. This also comes with a total of 1,024 ways for you to win. These ways to win aren't customisable, but on the other hand, you do have the possibility of changing the value of the wager that you place per spin. A minimum wager of €0.88 per spin is possible, and, depending upon how many of the symbols you want as "gold symbols", you can reach a maximum of €109 per spin.
The game's lower-paying symbols include a variety of desert plants, including aloe and various forms of cacti. These can all pay out a maximum reward of €25. The remaining symbols can all be left as standard additions or transformed into gold ones for an increased bet by clicking the relevant corresponding image of the symbol at the top of the reels. There's a telescope, a compass and a shovel first. Then comes the blue book and finally, the treasure map, which is always gold.
Bonus Features
The base game is one thing that's already impressive in Desert Gem, but the special features stand out even more to me. It features three different wild symbols – a standard one, a 2x wild and a 3x wild. These all substitute for the other standard symbols on the reels, and in the case of the multiplier wilds, will multiply your pay-out at the same time.
You'll also see bonus symbols appear on the slot's reels, which are present in the shape of purple treasure chests. Every time one of these shows up, you will collect it on the right-hand side of the reels. Once you collect 40 of these, the free spins bonus round will start. This occurs at either a Bronze, Silver, Gold or Platinum level. You can collect more treasure chests during this round to win a higher prize, too.
And if you remember back to when I informed you of the gold symbols, well, if you manage to cover the reels with 18 or more of these, then you'll win the game's bonus jackpot amount. That's a whopping €10,000 that is added to your balance!
Conclusion
As I mentioned previously, Desert Gem is one of those games that I can return to on a frequent basis and never get bored of playing. It's got something for everyone, and this is also reflected in its betting possibilities as well. Overall, Kalamba Games has created a great addition to its catalogue with this one.
full list of Kalamba games